Simple. Quality. no. 1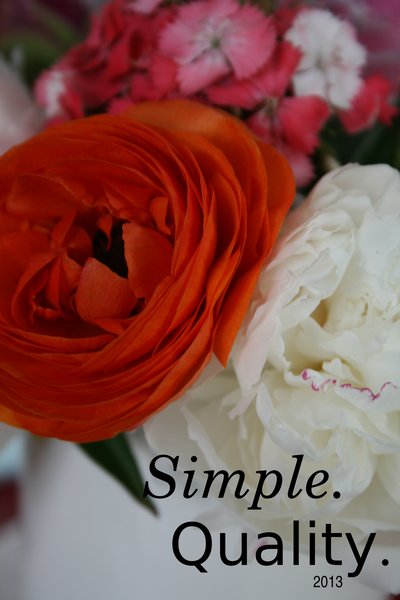 Tonight's post will be an incomplete one, as the year effectively begins in earnest tomorrow with our first full week back at school and so forth.
Still, I want to record a few victories we had in the first few days of the year.  Here goes, but very briefly:
S – smile and savor.  Nothing unusual to report, except that I did not savor the going to bed drama we just endured.  🙂
I – influence.  Yesterday I went with a friend to visit several families, some of whom I know well and some who were virtual strangers.  We went to introduce ourselves to their three year old children who we teach at church.  It made me feel so good inside to watch their faces light up as we talked with them.  I think both of us went home happy and excited about the year we'll spend with these darling children.  It was nice to feel like we were a positive influence, and also nice to bring to life our plan (which also falls under Live ahead.  This was small and simple, but we did it and it worked.)
M – my health.  I had my last taste of sugar tonight at my nephew's birthday party and am excited to start the challenge tomorrow.
P – participate.  Oh, I've had to take a deep breath of courage this week as I pushed "publish" on my post introducing the Scrappy Swoon Quilt Along.  I'm committed, which means I'm excited and nervous both.  Which leads me to…
E – embrace technology.  I've had to learn a lot of little things this week ( many of which I included in the introductory post) and it's been time consuming but healthy.
Q – quality of life factor.  Tonight was a miserable failure that I'll pay for in the morning, but every other day we've had great tidy up sessions.  We started a collection box and the children are slowly adding to it as we try to get their rooms to a place where they can clean easily and quickly.  I've been impressed with the wisdom of their decisions and hope that good things follow.
U – Today at church we were invited to make a "Family Conversion Plan" and it was fun to think that we already have much of one in place.
A – Aim higher.  Working on this, but haven't been specific enough with my goals for each child yet.  I need to spend more time identifying ways to help and to measure.
L – laugh.  We did it tonight at the dinner table when we were tempted to feel irritated.  Laughter is the best.
I – Inject the spirit.  Well, I haven't done it every day, but we have done it 4 times so far in very simple ways.  Like I said, an act of faith.
T – take inventory.  No progress here yet.
Y – Yes to youth.  We had a good experience last night.  Small but incremental.
So, since I've already subjected you to so much reading with my long list of goals, I'm going to leave it at that.  Off to a good start, I hope!
Jennifer