Simple. Quality. no. 2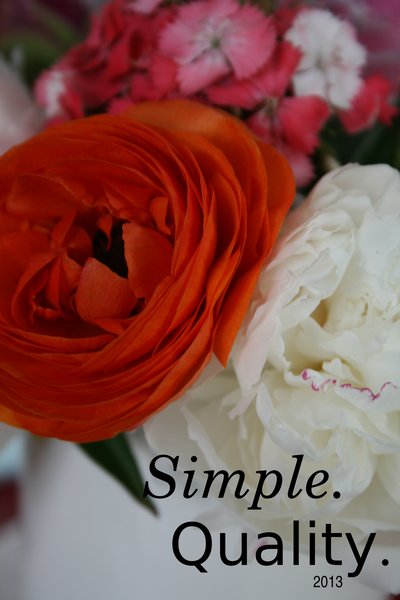 I sat in church today with a humble heart.   It was one of those mornings when, despite my efforts and planning, everything felt wrong.  As I walked around the van to my door I wondered if just getting there might be enough.  We sang these words in the sacrament hymn, "Bid thine heart all strife to cease; with thy brethren be at peace.  Oh, forgive as thou wouldst be E'en forgiven now by me.  In the solemn faith of prayer cast upon me all thy care, and my Spirit's grace shall be like a fountain unto thee."  I sang with tears on my cheeks at the though of the Lord's grace flowing to me and my family, over us, like a fountain.  I will take him at his word and trust that on my worst days when my best efforts are miserably insufficient, his grace can fill in all the holes.
In some ways it felt like a simple week, and in others it was crazy.   My elementary school students had half days all week, which meant extra down time and more time to play with friends, but also less time for many of my goals.  With a new term beginning this week for my older students as well, it almost feels like this week will be the real start to the year.  Except that January is already nearly half gone.
So, how did I do?  Here goes…
S – Smile & savor.  I started a gratitude journal, and in it I've been recording both things I'm grateful for (like a few patches of blue sky) along with moments/conversations I savored with my children (like the hilarious conversation I had with my three year old about how she was too little to know that anyone loves her because she's only three.  OH, how I wish I'd recorded that exchange!).  I also started one of the "happiness" books that I've had on my reading list for a while:  The Autobiography of Saint Therese of Lisieux.  I'm not far in yet but have loved it so far.
I – Influence.  I visited a friend, got our thank you notes written, found an opportunity to serve almost every day, sent an email I felt good about.  On one day I returned home from leaving a gift on a friend's doorstep to find a surprise package waiting on mine from a dear friend in Washington.  Are my gifts perfect?  Certainly not.  But being part of that exchange, of kindnesses darting here and there made me feel alive, happy, and gave me a deep sense of satisfaction and belonging.
M – My health.  I worked hard on this.  I quit eating sugar, and didn't miss it until yesterday, when something chocolate suddenly sounded incredibly tempting.  I didn't cave.  With a short school day all week it was difficult to fit exercise in but I did it, although the housework suffered as a result.  I've been eating 7 servings of fruits/veggies each day and while I don't feel like I'm doing everything the way I'd like to, I feel like this is good progress.
P – Participate.   So far my Scrappy Swoon-along has been a great experience for me.  It's been fun to answer questions, stick my neck out a little, and try to communicate well.  I also have a quilt top I'm hoping to put together before next week's Utah County Modern Quilt Group.   I haven't done anything about the classical book club I want to read along with, but my reading for the other two groups is done and I'm excited for the meetings.  Also, I'm having a blast sharing more with my sisters in the last week or two.
L – Live ahead.  We had a family goal setting session this week.   I have some ideas for my first goals in this area, and this week my job is to pick one and get started.  I'm also going to go through the seed catalogs which are waiting on my kitchen counter and decide what we want to plant this year.  Gardening fits nicely in this category.
E – Embrace technology.  When I had a 2 hour wrestling match with WordPress this week, I reminded myself that I wanted this.  I'm becoming more literate on my new phone.
Simple.  Life didn't feel very simple this week, and yet there were little gaps here and there that were perfect.   It was a great week.
Q – Quality of Life Factor – Until things exploded this weekend, the house stayed really tidy all week.  I did an end-of-day 15 minute clean up with varying levels of help from the children.  I remind myself that I'm building a habit and eventually they'll just join in.   I didn't get rid of 5 things/day, and comfort myself with the thought that there will be more time to sort and curate when the children are in school for the full day this week.   We did, however, fill our collection box of things we're choosing to live without.  Time to fill it again!
U – Urgency in Important Matters.  We got our teenagers to the temple this week.  This afternoon our family sat down for 30 minutes and worked on family history research.   I read more stories this week, some of them 8 or 9 times per sitting.  Not enough, but better because these things are on the calendar.  We'll keep at it.
A – Aim Higher.  With the end of the term nigh, it's been easy for my children to see their weak areas and they seem motivated to improve.  I hope I can help each of them see their goals through to completion.
L – Laugh.  I tried to do this more.  When my six year old was ready to throw a tantrum over homework, I grabbed his hand and started a goofy dance to the table, and to my surprise he joined in with some awesome dance moves of his own.  It always works better when I remember to laugh.
I – Inject the Spirit.  We're off to a good start.  I need to take 15 minutes during the day and plan something good so I'm not scrambling when everyone's home.  Again, having a normal school week should help a little with this.  One thing I'm loving about this goal is the conversations I'm having with my husband as we try to plan, anticipate, and encourage our children.
T – Take inventory, re-stock and use less.  I haven't really started this project yet.  Too many things going on, but I have been conducting surveys of sorts to get feedback from my children and it's nice to know how they feel about the products we have/use.
Y – YES to youth.   We had more friends over this week, largely because the house was tidy.  I also worked hard to make food that my teenagers like.  I want them to know how much we love them.
Quality.  I think we made progress.
I may have started too many things at the same time.  I did notice many times when my brain was spinning with all the things I've committed to start doing.  Trying to remember everything seemed to use more of my brain than I wanted it to, but habit will change this.  So, at the close of this week I feel moderately successful.  There is much more work to do, but I'm in this for the cumulative results of incremental efforts.  I will continue this week with the same goals in place and hope it will be a great one!
Jennifer