Simple. Quality. no. 3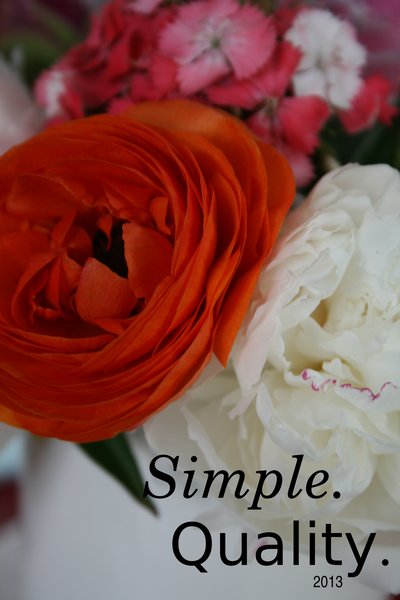 I sit here on Sunday night with a mostly-quiet house.  It's quiet in every bedroom except the one where a cousin is having a sleepover with my girls, and I can't help but smile at their muffled giggles as I type.  It's been an interesting week, not necessarily a week where I felt like I executed well, but certainly a week in which I learned.  And a week in which my focus, plans and ideas for the year seemed to distil in my mind with greater certainty and more specifics.  My gratitude for such moments of clarity is tremendous; the more often I really see the big picture the more successful I am at introducing it into my daily conduct.    Tonight I feel determined.
Let's see how I did, shall we?
S – smile and savor.  There were so many great moments, made greater by my noticing them and consciously giving myself permission to rejoice in them.  Comments from children, jokes from teenagers, games at a birthday party, conversations with friends… all of it adds such richness to my life.  And there was the moment today in our church class full of 3 year olds… we asked them if they wanted to tell us something about their week and after we'd done this, one little boy announced, "I want to show you a dance move" as he walked to the center of the room.  We said "ok" and suddenly he was on the floor break dancing with a series of 10 or 12 moves.  And then he stopped and walked back to his chair with no change of expression on his face.   I wanted to die laughing, but resisted.  I'm my eyes were dancing.
I – influence.    The resolutionary challenge this week included the invitation to talk to someone each day that I don't talk to regularly, to really listen to them and try to connect with them.  It was a great invitation and I took it, having wonderful conversations with old friends who live far away and I also spent a day with a friend nearby.  Very healthy.
M – my health.  I struggled more in this area.  The daily schedule was thrown off by random scheduling problems and it affected my exercise.  I keep reminding myself that every effort is a good effort, even when it's not perfect.
P – participate. I went to the Modern Quilt Group on Saturday and took my quilt top to share.  Amy Smart of Diary of a Quilter was speaking, and I took a deep breath before the meeting and introduced myself.  She was, as promised, the nicest person ever and I loved talking to her about life, quilting, fabric.  We live in the same city, not far from each other, and discovered that we both have daughters in 8th grade at the same school, and that our youngest sons are the same age and will end up at the same school in a few years.   I was so happy I opened my mouth and said hello, for I never would have discovered how much we have in common had I sat there and said nothing.  And since my sisters are the only people I "talk fabric" with, it is fun to know that there's someone living not too far away who likes the same things I like.
L – live ahead.  I've got my seed list ready to order for the garden this summer and have been researching grow lights and heat mats, trying to decide how big a splash I want to  pay for in this seed starting quest I'm on.  It's been SO COLD here for so long that I'm worried about many of my plants in our yard.  They're supposed to be hardy, but they haven't had to be this resilient since we landscaped and I really hope they make it.   I also set some deadlines for various goals and I'll be sharing more on that soon.
E – embrace technology.  I'm working on this, although the week felt scattered enough that I did very little.  I need a lesson on hash tags from someone, and my daughter laughed her head off at me for having to google how to get my phone off "airport mode" but now I know and that's the point.
Simple.  Definitely very small and simple progress, but it's something and I'm a believer that a lot of little somethings can sure add up over the course of a year!
Q – quality of life factor.  Honestly, I'm not sure I did very well here.  The trouble spots seem to be forever the same in spite of our efforts.   I didn't select 5 things each day to get rid of and I want to get going with that again.  I feel behind here and plan to devote more time to this area in the coming week.
U – urgency in important things.  We worked at this, spending time as a family on tasks that usually get shoved aside.  We've assigned a couple of these things a set time and it has helped us do them.  Along with our efforts to be consistent, I'm trying hard to remember to make them fun.
A – aim higher.  I've struggled a little with beginning this one, but in the past few days I read something that resonated with me.  I feel like I have a plan for this goal and am currently planning a family home evening lesson on it.  I think it will be well received.  I'll report back on this one!
L – laugh.  This week I found myself laughing so hard at dumb things I've done in the past.  I'm so sleepy right now that I can't remember any of them.
I – inject the Spirit.  I think that perhaps I feel better about this goal than any other.  I worked hard this week and I feel like we had some breakthroughs this week.  My heart has been full on this count.
T – take inventory.  I'm starting in the pantry.  It was scheduled for last week but other things took precedence so this is the week for an earnest beginning.
Y – Yes to Youth.  I feel like we lagged a little here, but at the same time we had lots of people over.    So I guess we held steady, but didn't make any improvements.
I think the last four goals have taken me 20 minutes to type because I keep dozing off, and we have another super early soccer game in the morning.  I'm sure I'll wish I typed more, but I'm going to end now and get some real sleep with hope that this week will be as effective as I need it to be!  We'll see about that… it all seems so simple in the planning stage, and much more complex in the actual living of it.  But that's what we're here for, isn't it?  To do our best and put our trust in God.  In so many ways, it's all an act of faith, and my confidence in Him grows with each passing year.
Have a fabulous week,
Jennifer