Simple. Quality. no.4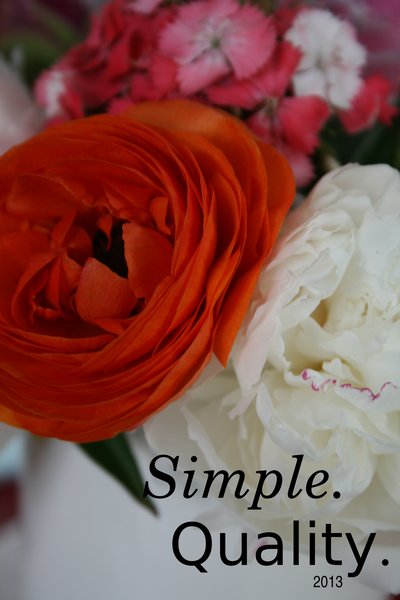 Oh, I had hoped that January would be more productive than it's been!   I have mixed feelings as we head into the last few days of the month.  I wish I'd accomplished more, but with our dreary weather I also feel delighted to be one month closer to spring.   I sit here on my couch with my oldest son at my side, laughing my head off at all the feedback he's giving me about how well I'm executing my goals.  He would call me a roaring success if there was a new bag of Doritos chips waiting for him to eat by himself every day when he comes home from school.   Oh, that life were that simple!  In spite of the lack of Doritos in my pantry and the ongoing gloom outside, it was a great week.  I worked through some of my middles and got back to feeling filled.  I feel blessed to have lived it.  Truly, I lack nothing.
Here we go:
S – smile and savor.  So many happy moments with each of my children.  Lots of laughter on Thursday night with my teenagers.  A few minutes today with my ten year old daughter as we basted a quilt together, a wonderful moment today when I got to watch my six year old son help at Church and my heart ached a little at how tall he's becoming.  He looked so handsome and, well, grown.  Countless wonderful moments with my youngest two girls.  Moments when I felt so proud of my twelve year old son, when I smiled involuntarily at the sight of my oldest walking to the car after school, and when I brushed my eight year old daughter's hair.  I am so very blessed.  Another thing I find myself savoring is the ongoing dialogue with my husband about our life as parents:  the things we're working on, worried about, watching for, dealing with.  It's a dialogue that resumes effortlessly each day when he returns home from work and weaves its way through all our time together.  I realize how much I rely on that rhythm as we encourage, remind, lift and report back to one another.
I – influence.  My first thought was that I did little to nothing in this area, but as I review my interactions with others I remember taking that leap of faith and sharing more of my heart than I otherwise might have done.  In most cases it led to a beautiful conversation and a connection with the individual I was speaking with.  So I wasn't as proactive as I ought to have been, but I didn't hold back when the opportunity arose.  I texted a friend I need to re-connect with and today ran into an old friend who I really miss.  It was so good to talk with her!
M – my health.  I feel like a failure here.  I did a little exercising here and there, but in general my eating and exercise  efforts were worse this week.  I have to be harder on myself and quit allowing silly excuses to throw me off.
P – participate.  I signed up for another six months of our Modern Quilt Group, and my sister decided to sign up with me.  How cool is that, that I have a sister who will drive 2 hours to come to a quilt group with me?  Seriously!  And I know this sounds ridiculous, but I helped some old friends in an itty-bitty way with a funeral this week and just felt so happy to be included by them.  I should have done more, but I had a little one at home with a tummy-ache and so my small offering was what worked best.  I'm also enjoying the experience of offering my Scrappy Swoon Quilt Along.  It's delightful to see people I've never met take my idea and do things more beautiful with it than I have done myself.  I've found a few new blogs of honest, thoughtful women that I'm enjoying.  The need to take pictures in daylight for photo quality has been a real challenge this winter, so I've been more stressed about it than I should be.    Still, it feels so good to offer a little something back to the community from which I have gained so much.  I'm also trying to pull my weight again and posted a couple of times on Sisterview.
L – live ahead.  I've started a few Valentines projects that should be done before my 2 week early deadline.  I plan to order some grow lights this week so I'll be ready to start seeds on time this year.  Oh, the thought of growing something makes me happy!
E – embrace technology.  I got my lesson on hash tags thanks to my savvy sister.  I think this week's goal will be to download the wordpress app to my phone.  And I need to make a "button" for the QAL.
Simple.  Definitely a so-so, simple week, but I'll keep working at it!
Q – quality of life factor.  I spent some time each day organizing different areas.  I got the paper/mail/everything everyone doesn't want to clean up spot taken care of, and bought an over-the-door shoe organizer to keep all our hats, gloves and scarves in for the duration of the winter.  We got our carpets cleaned in many areas this week, and in emptying the rooms I realized not all of it was necessary, so less was put back in.  One thing to do this week will be to drop items off at the local thrift store and to finish my silly pantry!  (if it helps, it's a room, not a closet, and I'm relocating almost everything in it, so it takes time, especially when working small stretches of time. And it's also becoming a series of projects within a project, like organizing canning supplies, etc.)  Yesterday was the kind of Saturday I dream of, with a minimum of activities.  This meant we had time to really get to work and clean the house TOGETHER.  So my children worked in bathrooms, bedrooms, toyroom, etc. and I loved it!
U – urgency in unimportant things.  We got the children to the temple for the third week in a row, and yesterday I made it there myself.  We missed our family history time tonight but will make it up during the week.  In all the "new" things I'm trying to do, we haven't been reading aloud as much, so I want to work on that this week.
A – aim higher.  I mentioned last week that I have a plan for this.  I'm sorry to say it hasn't yet been introduced for scheduling reasons.  I feel strongly that we need to do it when we're all together and the timing hasn't been right.  Tomorrow night is my deadline.  With this, I also had a series of conversations with my twelve year old and felt that they went really well.  He created a plan for himself to aim higher in a few areas and I have alarms set to remind me to follow up with him.  I hope he learns from it what we're praying he will learn.  He's such a great kid.  We're not back in the swing of effective music practice on the piano and violin.  This needs more attention this week as well.
L – laugh.  Ok, so if I'm honest I'll admit that I'm feeling run down by my teenagers.  I'm on feedback overload as they so regularly tell me how stupid the things I do are, and how "everyone else" has this or that and doesn't have to do "A" or "B."  But if I close my eyes and remind myself that they'll be gone soon and I'll miss it, I'm better able to take a breath and try to find something funny in the conversation.  We did a lot of laughing this week and I'm trying so hard to relax more.
I – inject the Spirit.  Well, this is closely tied to urgency in important matters.  Not every day was a success but I really do see an improvement.  We've had some awesome conversations and experiences both as a family and individuals.  I love this goal and what happens when I work at it.  It makes me happy and I want my children to see that living close to the Lord brings joy.
T – take inventory.  This began in earnest this week when I tackled the pantry.  We re-stocked lots of items there, drawing on our storage room supplies, which was the first step in putting that room in order.  I'm keeping a list of what we need so we can watch for sales and be wise in our purchases.
Y – yes to youth.  Does it count that while my house was upside down and carpet cleaners were here that I let my daughter have a bunch of friends over?  One of the things I'm doing in our pantry is adding an area that the children and their friends are free to eat from any time.  I have a list of little things I want to put in it from time to time to keep it fun (and healthy) and as a little "I love you" to my kids, especially the teenagers for whom food means so much.  And last night we piled in the car for a drive to Krispy Kreme, which they all loved.
Quality.  Ever so slowly, I feel like we're inching in the direction we're aiming for.  As I work at these goals, I am reminded of the words of Julie B. Beck who said, "Mothers who know do less."  If I want to do more of the most important things, I must do less of the unimportant or less-important things.  Some days I get the balance just right; other days I feel "off", but I always feel good inside when I am consciously working at whittling away the things we don't NEED to get to the heart of what's essential.  I hope, with the Lord's help, to do a great deal of that this year.
So I turn the page of a new week and go back to work!
Jennifer