Simple. Quality. no. 7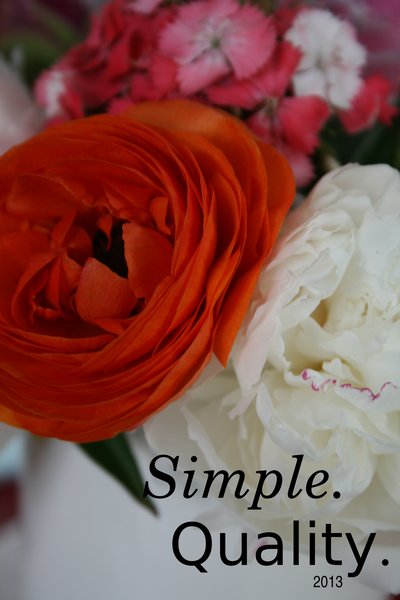 Last night I returned home from a brief trip to southern Utah for a soccer tournament.  It was a great trip:  perfect weather, great games, time with three of my daughters, hours of talking with a dear friend I haven't see in years.  A great weekend.  So great, in fact, that when it was time to pack up my three year old daughter was sobbing and screaming and pushing on my legs in an attempt to prevent me from leaving.  She accused me of not giving her enough time to play and told me she doesn't even like me.  This is the girl who prefers me above anyone and who won't really talk to anyone outside our family.  I think you could say she was in heaven there.  Toys to play with, a quiet peaceful basement to play in, a puppy to watch and pet, and two sweet older girls who doted on her while she played.  For the first hour of our drive home she was begging to turn around.  My friend's home is a lovely one in every way.  Beautifully but simply decorated, clean, calm and peaceful.  Every detail spoke of a commitment to live with intention, to keep first things first.  I relished being there and feel motivated to do a better job in my own home.
I loved the trip, too.  But I loved coming home even more.  I realized as I drove that no matter where I am or how much I am enjoying myself, I'm always anxious to get home.  This feeling is, of course, intensified if most of my family is already there and I am not.  It's where I belong, where I am most myself (for good and bad), where I work hardest, love best, and fail most.  I guess it's my life laboratory and I like being in it.  We pulled in last night and just hung out as a family much later into the evening than we probably should have.  But it felt so good!  All of us in one room, little groups doing different things, other groups talking, lots of laughing.  It's my favorite kind of together and I soaked it up.  I love being home.
Because of the little trip and with Valentine's Day falling just before it, the week was not a typical one but I did try to press forward in my goals.  Let's see how I did:
S – smile and savor.    I did lots of this.  I memorized the moment while enjoying dinner with my husband on Valentine's Day.  I did lots of snuggling with little ones and tried to enjoy what was going on around me.  In fact, I was so immersed in the moment that I took almost no pictures this week.  Since happiness is increased when we look forward to something, enjoy it as it unfolds, AND look back on it, I'm going to work on taking more pictures this week, thus preserving more memories.  I didn't take a single picture at the soccer tournament, or of my friend and I, or of our kids playing together and I'm so annoyed with myself for it!
I – influence.  Today my husband and I visited an elderly woman whose health has taken a terrible turn in the past year or two.  It was nice to be there, but hard to see how hard it is for her to function.  I realized that I need to make more time for visits of this nature.  I'm trying to give 29 gifts this month, but I struggled with it this week.  I gave some but not one every single day, so I need to decide if I'm going to start over or just keep going.  I will say that I'm getting better at offering spontaneous gifts because of this experience, and am also trying to offer more charitable gifts.  It feels good.
M – my health.  I drank more water this week, but did a lousy job of exercising.  This was largely due to having our schedule thrown way off course by the week's events.   I did snack on lots of vegetables during all the driving and was happy about that.  Once again, I really need to work harder at this.
P – participate.  I missed two of my favorite events this weekend while I was out of town.  I ordered a couple of books for book clubs and said yes to an invitation that surprised me.  I enjoyed talking to other moms at the school on Valentines day and also enjoyed visiting with parents on the sidelines at the tournament.   I would say it was a so-so week in this area.
L – live ahead.  Well, this week felt more like a live behind week.  Still, I'm on target with my gardening goals and am trying to keep my views focused down the road.  I devoted a lot of time to laundry and housework last week with high hopes of feeling like I'd come out "ahead" with more time to plan and execute life's special details.  In reality, I just got ahead enough to not be plunged too deep in a hole by being gone for 2 days.  Tomorrow I get to climb back out, and I'm very happy the children have a day off school so we can regroup.  I hope to plant some garden seeds this week but know that I likely won't get to it due to some other obligations on the horizon.
E – embrace technology.  My phone and I got along fairly well while I was mapping things out and finding my way around St. George and it's surrounding communities.  My friend told me about an app that I'm going to research this week.  I still have a long list of things to learn and hope to work on some of them this week.
Simple.  It was NOT a simple week, but it was a great week.  I am so blessed to have my family and the opportunity to work at mastering this motherhood business.  I don't feel very qualified for what I'm supposed to be doing, but I'm willing to work at it and have faith that the Lord will fill in the gaps.  Life is great.
Now for the family goals.
Q – quality of life factor.  It got a little better this week because I knew I was leaving town and then got worse while I was gone.  We need to get back in the groove this week.
U – urgency in matters of importance.  I felt like I did more responding this week and not enough acting.  We also had several concerns arise this week which need to be addressed in coming days.  It always seems that just when we feel like we might be addressing all the needs in our home, something happens and we're made aware of all sorts of holes.  I hope to do better this week.
A – aim higher.  Pretty much the same as urgency.  Needs work.
L – laugh.  We laughed.  A lot.  As I finally learn that when I laugh my kids open up faster, I'm really working on this and feel that I'm growing rapidly.  It's a great feeling.  I also feel like I'm generally better at the skill of choosing happiness.  It's taken me years to learn but I'm finally catching on.  Taking responsibility for my own joy makes me eager to laugh, eager to smile, eager to enjoy life.
I – Inject the spirit.  Moderate success here.  Some conversations went really well.  Some didn't.  It often hinges on me suppressing bad habits and being fully present as I try to communicate well.  I'll keep at it.
T – Take inventory.  Pretty much nothing happened here.  I don't know if it will this week, either, and I don't like that.  I need to make better plans and build them into my day so this isn't pushed to the bottom of the list anymore.
Y – yes to youth.   I think we did well here.  On Wednesday my oldest two kids each had other students come home with them to work on group projects for school.  I met them with a tidy house, cookie dough for baking, and a happy smile.  Both projects got finished and things went well.   The pantry is stocked with snacks they like and I'm trying to stay on the ball.
Quality.  Honestly, I feel like many details of  our family life suffered this week, but we also made good memories, supported one another, spent time together.  It was a good week even if I didn't make much progress on my goals.  I'm thankful to start another week.  Tomorrow we have my husband's aunt coming to stay with us for a couple of days and it wll be nice to see here, even if it also means that I won't start a normal schedule until Thursday.  So, it likely won't be a productive week, but we'll make it a happy one.  I have a long list of things to work on, pray about, think about.  I feel like I need to give more, be more.  I need to be more intentional, more purposeful in all that I do.  I'm ready to do my best.  After a good night's sleep, that is.  My pillow is calling.
Have a great week!
Jennifer