Simple. Quality. no. 8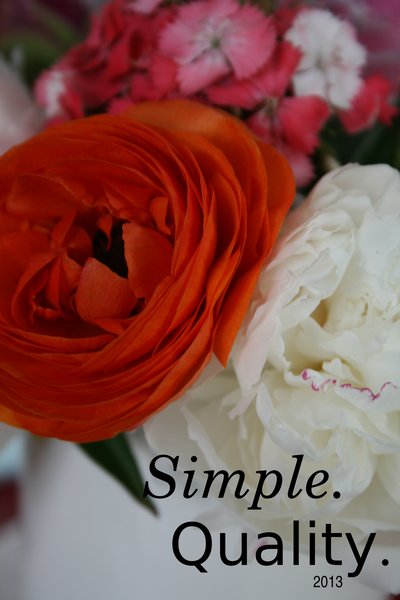 This Sunday night post is actually going up on Monday.  My husband spent some time over the weekend re-configuring out network and doing a bunch of other technical things that I don't understand (but should be eager to learn if I'm embracing technology this year, right?) so I jotted my thoughts down while the network was down and here we are!
The week was a very unusual one, but also a good prep for what lies ahead in the next three months.  Spring comes around, or at least it comes on the calendar and we're off on a mad dash until school is out.  So in the midst of all the craziness I had to keep telling myself to get ready for it to stay this way.  It was a week in which every day held several unusual elements so nothing happened on our normal schedule and no one got enough sleep.  Sunday afternoon saw several children sound asleep on couches and beds throughout the house.  Others are still fighting their exhaustion, and I'm seeing it in their behavior.  But it was a great week, a happy week.
Let's dive in.
S – smile and savor.  I had occasion this week to ponder some of the growth that has come to our family and to me personally over the last few years.   One of the most valuable lessons I've learned is that happiness is a feeling, but it is also a skill.  No matter what happens to me, I get to choose how I feel about it which means that I can choose to find something to be happy about regardless of the hard things.  I write this, knowing that I have not experienced life's most tragic afflictions, but also knowing my own past and my own walks through dark woods.  I feel like jumping for joy every time I think that I am learning and practicing daily the skill of choosing happiness.  There are so many things to smile about, so many things to savor in each day.  One of the funnies things my three year old said this week came as she ran for a tissue to wipe her runny nose.  She announced, "I have to wipe it because it you lick it, it turns into worms in your tummy and the worms eat your skin."  I asked where she learned it and apparently her five year old sister shared this nugget of wisdom.
I – influence.  I've been thinking this week that my influence is felt everywhere if you're inside my home, but outside of my family I'm not doing a very good job.  I type this knowing that these years are my most intense ones, and that as my family grows I will naturally be able to expand my influence more.  Even so, I desire to be of greater service, to be a better friend, daughter, sister, neighbor.  I did have the opportunity this week to have my husband's aunt staying with us.  I spent a lot of time with her, talking and playing with the children.  Because she lives alone and has never raised a family, I realize that she takes away all kinds of ideas and impressions about family life from us.  I felt good about my efforts and hope they were interpreted well also.  I put extra effort into meals and making things nice, drove her to meet her cousin, and invited her cousin and his wife in to visit when they appeared on our doorstep unannounced.  Which means I also got to meet a relative of my husband's whom he has never met.  It was a nice experience.
M – my health.  Well, I did a lousy job of exercising, but did enjoy drinking lots of green smoothies this week!
P – participate.  I haven't done much in this area, and have even been kind of a no-show here at Hopeful Homemaker.  On Tuesday night I went with my daughter to an activity and took extra time at the end to say hello and visit with people I don't see often.  Today at church I tried to do the same.  I love teaching the three year olds in our ward, but realize that I don't talk much to people when I'm racing to greet them, so it was nice to put some effort into being social after class.
L – life ahead.  The garden seeds didn't get planted, and I wasn't surprised.  Projects aren't the best thing with company visiting.  I'll plant them this week and get going!
E – embrace technology.  I have a list of 4 or 5 things in this category but haven't actually done them yet.  Not good.
Simple.  It was NOT a simple week, but it was a healthy week in many areas.  I am so grateful to have lived it!
Q – quality of life factor.  I feel like that's pretty much all I did this week was clean up, tidy, try to make things run smoothly.  I was so inspired by my friend Andrea's house last weekend that I just kept cleaning!  In my mind I could see her tidy pantry when I walked into mine and discovered dirty towels on the floor.  I could see her clean closets when I walked past bedrooms.  My house is very different and the traffic here is much heavier, but I'm so grateful for her example which motivated me to redouble my efforts.  We'll see how it goes.
U – urgency in important things.  Yesterday my husband and I went to a family history fair where we both learned some things we have been puzzling over.  We got out oldest three to the temple along with a friend, and took them for ice cream afterwards.    We had my husband's aunt sit and talk about her parents and we heard great stories about relatives we've never met, many of which were funny and the children enjoyed them.
A – aim higher.  My eighth grade daughter and I met with her school counselor to work out her educational plan for high school.  As we talked and weighed options I kept looking at her and being a little amazed at the awesome track she's on.  It will be a difficult one academically but I know she can do it and I'm proud to see her willing to tackle hard things.  I left the school a little dazed by all the feelings I felt:  she's growing up so fast, she's so amazing, and many others.  I also had occasion this week to initiate an important conversation with a coach that went well.  I  watched my daughters step it up in their soccer conditioning.  We also worked harder at practicing the piano and violin.  I should also add that my younger children really enjoyed having their great-aunt dote on them and help them with homework.  They were much more agreeable with her than they are with me so we got a lot done.  She also taught my eight year old how to write a bunch of letters and words in cursive and that little girl of mine hasn't stopped since!  Every time I turn around I see here intently focused on forming her cursive letters perfectly, knuckles white and lips pursed in total concentration.  I love seeing her work hard!
L – laugh.  I might be getting good at this!  This afternoon, for example, my oldest son was really irritable and my husband was headed that direction because of him.  I cornered him on the couch, leaning on him, tickling him, stealing his popcorn, asking about 100 questions, some of them serious but enough of them obvious or even dorky so that big son of mine was laughing at his goofy Mom but unloading all kinds of good information without really intending to.  We must have sat like that for at least 30 minutes and he was a different kid when we got up.  We had a tickling/poking match which I totally won (he even admitted it) and we laughed so hard.  I spent another 30 minutes tickling my youngest three.  I'm really trying to be more fun, have more fun, and laugh at much of life.
I – inject the spirit.  I need to work harder at that.  Without proper planning it's not easy to do this every day, so I need to get back on track here.
T – take inventory.  I've started a list of things we need to re-stock.  This area needs more attention and probably has since the beginning of the year.
Y – yes to youth.  More success this week.  For example:   The house was nice and clean on Saturday afternoon (except for one bedroom that someone put a bomb in, I think) when all of a sudden people started calling and coming over.   One son came home from a campout and brought a friend with him who stayed till late that night.  A daughter's friend showed up.  My brother in law came over and stayed for 6 hours or so.  We went from a quiet house to a crazy house, feeding 15 people dinner without notice, and then my daughter came home and brought a few friends with her as well.  The missionaries stopped by and we invited them in for a visit.  When one girl's dad came to pick her up, he visited a while and brought his fiance for us to talk to.  I drove a group of teenaged girls to get slurpees in a snowstorm at 10 p.m.  It was nuts.  But it was fun and happy and very, very healthy.  When we went to bed that night my husband and I concluded that neither of us had accomplished what we set out to do that day, but that it had been full of people and that we loved it.  I always like it when it quiets down again, but I must also say that every time we have a night like this there's a little voice in my head saying, "get ready, cause it's going to be like this all the time, and soon."   Other days were busy like this too, and my efforts to keep the house running smoothly really helped me stay relaxed when it got wild.
Quality.  In the family department, I think it was a great week.  We're learning and trying to become the best family that this particular group of ten people can become together.  I love them so much.
In the absence of a connection when writing this, I also jotted down specific goals in each area for next week, so I should have good things to report!
Jennifer