Simple. Quality. no. 9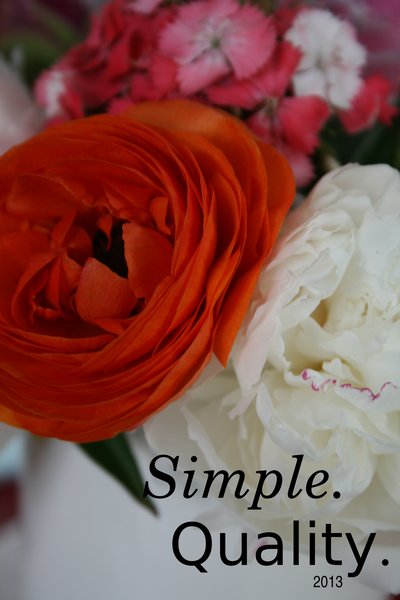 I can hardly believe that it's March.  February ran away with me and as I review it I find some things that please me and some things that need correction.  Our lives usually hit the super-busy season in March but this year it came a month early.  Knowing that the next three months will be equally crazy, I need to make some adjustments, and quickly.  Pressing most heavily on my heart is the habit of thoughtfulness.  I've always been a thinker, someone who examines human behavior for patterns and lessons, who loves thinking through things until I reach the point where I've distilled the lesson from the experience and properly recorded or shared it.  It's kind of a second layer to life and I'm a better person when I have it.  I guess it's the layer that butts right up against margin, for it seems to have been the first thing being squeezed out in February.  It's not that I wasn't experiencing, thinking, talking, sharing.  It's that I didn't make the time to record it, to sift my thoughts and share them, and now they're gone.  Along with this layer comes thoughtful service, injecting the Spirit into our home, careful planning, reading, etc.  I feel determined to work harder during the school hours to both maintain the house AND spend more time in this second layer.  My emotional well being is secured there, course corrections happen there, and better writing on this blog happens there as well.
That said, it was a great week.  Full of worthwhile things and much laughter.  Let's get specific:
S – smile and savor.
I – influence.  This category suffered in the hurry of the week.  I did have a pleasant telephone conversation with a friend a great talk with one of my sisters.   Today at Church my heart felt so full of love for the children I teach, as well as my old class.  I worked to greet each one individually and connect with them.  And I spent more time on my knees this week in behalf of people I love.
M – my health.  I had a couple of things I wanted to research this week.  I'm happy to report that I did the reading and am anxious to learn more.  I loved my green smoothies and worked to make healthy meals for my family.
P – participate.  Not a lot to report here.
L – live ahead.  Got the seed growing system set up, but no seeds planted yet.  Ridiculous.
E – embrace technology.  I blew it again this week and just coasted on what I'm comfortable with.
Not a simple week, but a good one, a week which reminded me how intentional I need to be in our living.
Q – quality of life factor.  I worked super hard here and hope to keep up the momentum.  My goal is to go through every bedroom before Easter.
U – urgency in important matters.  I felt good about this.  I made a list of all the things I feel worried about with the children and plans to work on them., then implemented some.  We took the children to the temple again.
A – aim higher.  I loved seeing many of my children aim higher in their personal lives this week. One daughter increased her commitment to practice her two instruments.  Two daughters increased their efforts in soccer..  My son entered his first snowboarding competition yesterday and I am so proud of him for trying.   When he came home he said "It was the most fun day of my life."  My youngest son is working hard in reading.  Really, all of them were aiming higher this week in some area.
L – laugh.  I'm learning that when I laugh my kids relax and are more teachable.  So I laughed a lot.
I – inject the spirit.  Needs more work, but I have two plans all written down.  We did have a very nice day today witth a special spirit in our home.
T – take inventory.  On tomorrow's list of things to do is to hit a particular sale to stock up on some things we've run out of.
Y – yes to youth.  Again, doing pretty well with this.
Quality.  Many things about our daily lives were great.  We're working hard and having fun, praying and trying and hoping.  It feels great.
I'm also dozing, so I'm going to cut this short and get some sleep.  Have a great week!
Jennifer