Simple. Quality. no. 10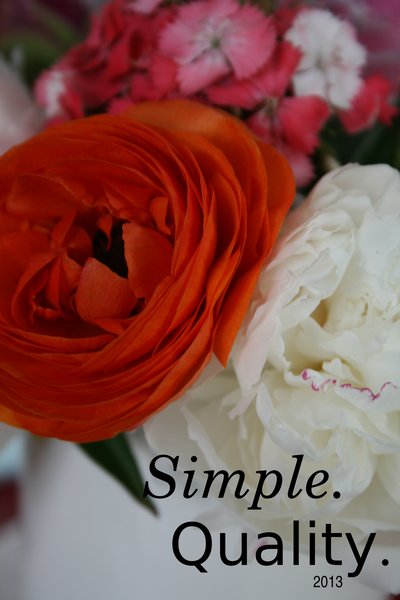 Things were pretty quiet here at Hopeful Homemaker this week, but were anything but at the Harrison residence.  What a week we had!  Emotional highs and lows, lots of stress, lots of prayers, lots of laughter.  More time in the car, more to worry about, more opportunities to ditch the worry and trust the Lord.  And work.  Lots of work.  It was a week that left me exhausted and energized at the same time.  My parents have been in town now for nine days and will likely be here a few more before they return home and while the reason for their trip has been nothing to relish, we are drinking in their presence in the cracks in our days as their love, compliments and kindness seep in and fill us all up.  It will be interesting to see, when it's all over and we're looking back, how this time with them here is remembered by everyone.   I have learned a lot about love from my parents this week and hardly know how to express the impression it's made on me.  I've watched them walk into an experience that is entirely foreign, watched them bend and adjust as things change, putting their expectations aside to do what is best.  I've watched as they rise early to drive away for one exhausting day after another, never complaining but simply doing what love requires that they do.  I have watched them choose to be there, even if being there means sitting in a hallway while the future of their child is worked out on the other side of closed doors.
I could go on and on.  It's been quite a week.  Let's see how I did, shall we?
S – smile and savor.  There's been a lot to savor, like watching my Dad give all the children – even my three year old – the paint roller to take turns helping paint a bathroom in my house.  (You know, the yellow one that's needed help for two years?).  I'm trying to work on smiling while I talk to my children about the things they don't want me to say to them, like the big "homework" word, to see if it will help me sound more cheerful while we work on it.  I got to help my sister with a quilt block and that was lots of fun, and being able to talk so much with my parents has been a gift.
I – influence.  I gave a few gifts this week that I felt good about but want to do more.   Today we had some friends invite our family to their home to share a loaf of freshly baked bread and talk for a bit.  I was grateful not only for their gesture, but for the reminder that simple is good, even best.  I also had the opportunity to have my brother and his family join us for dinner tonight and it felt good to have them come.  I loved watching their toddler wander around the house but realized when the night ended that I spent way too much time in the kitchen and dealing with hysterics on the part of one or more of my children.   I never really sat down and visited with my brother!  Duh!  I need to fix that.  (And I wish there was a quick fix to the daylight savings time change… it's not going to be pretty in the morning and it certainly wasn't pretty tonight.)
M – my health.  I did a good job of drinking more water.  Otherwise, I need to work harder in this area.  Again.
P – participate.  Well, this week will see the end of my Scrappy Swoon Quilt Along.  I'm so happy I had the opportunity to do this and am thankful for what I've learned in the process.
L – live ahead.  I finally planted my garden seeds on Monday night, and by Friday I had a bunch of little sprouted plants.  Wow!  I probably shouldn't have been, but I was shocked by how fast it was.  So far I have several little tomato starts  and some tomatillo starts as well.  Yay!   I'm getting started on our plans for Easter and spring break.
E – embrace technology.  Another brother of mine was in town and stayed with us on Tuesday night.  He was giving me a hard time about not having any cool widgets on my phone so I sat next to him and told him to show me what I needed.  A few minutes later I had several new apps and he will be happy to hear I've been using them.  I also had to learn how to use InLinkz on my blog and I'm happy to have had my husband's help with it.  I'm working on it!
Simple.  I think I'd say it was a fairly good week.
Q – quality of life factor.  I worked hard here and it was a good week.  I did 35 loads of laundry this week and you'd think it would mean I could take a break or something, but that's not how things work around here.  Getting ahead in one area usually means falling behind in another but I feel like I'm inching my way forward and I like it.  My dad was the force behind an overhaul of one bathroom that began yesterday afternoon and is already much closer to completion than I would have predicted.  Life is definitely getting better in that corner of the house!
U – urgency in matters of importance.  I think we did fairly well here, trying to really pound the homework, and also making time to talk and hang out with our children.
A – aim higher.  We're all trying to be better and I like seeing my family as they choose the things they want to get better at and then work at them.
L – laugh.  Well, we laughed really hard when my husband dropped a full pitcher of water across the kitchen table on Monday night.  When I dropped an even bigger pitcher of water on the floor, had it land upright, then launch all the water up into my face on Tuesday night, we laughed even harder.  And yes, it should have been on video because it was terribly funny.  My ten year old daughter said something awesome last night:  "Mom, you know what we should do?  We should try being rich.  Because then we could buy a castle and swim in our own indoor pool and I could play soccer on my own indoor turf and we could roll up the turf and have futsal mats underneath it.  Wouldn't that be cool?"  I loved the way she worded it as if it was an outfit we hadn't tried on yet, or like a recipe option we ought to consider.  They're so much fun!
I – inject the spirit.  We had a good family home evening lesson on Monday.  We had some tough conversations throughout the week but I think they ended well and I would say we were fairly successful here.
T – take inventory.  I have a shopping list ready to take to the store tomorrow!
Y – yes to youth.  It was more of a family week but it was a great one.
We have had a great week.  I am so thankful for the family I belong to, both the family I come from and the family I am raising.  Life is fantastic!
Jennifer