Simple. Quality. no. 11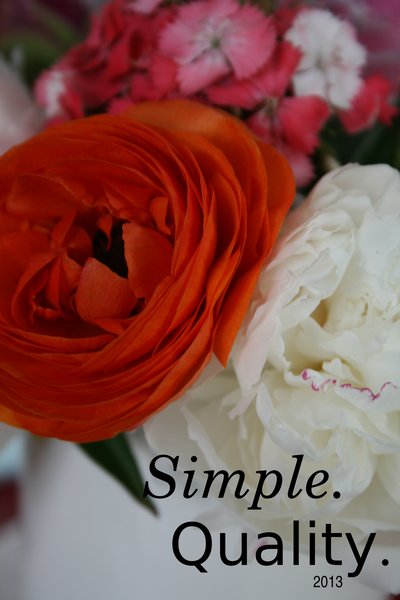 This was a week of highs and lows, one that tugged enough on our anchor to remind us of several things:  first, that we have one, and second, that it is, indeed, made of the right stuff.  I've also been reminded that anchors need maintenance and that they're very much a part of life.  Tonight my heart is a mixture of many things:  gratitude, weariness, determination, resignation, hope.     Late Wednesday night my parents and brother suffered a terrible disappointment, the kind that rocks you to the core, one that collectively knocked the wind out of all of us, near and far.  Thursday was an exercise in finding my way in the dark, grateful for the mundane parts of life that kept humming while my brain and heart wrestled with the hurdle.  Things will work out.  They always do.  But how they'll work out is a mystery as the path that made sense has been closed.  I am so grateful to belong to a family.  I'm even more grateful for that anchor – faith in the Lord Jesus Christ – which has held fast and will continue to do so.
On to the goals:
S – smile and savor.  On Monday night we had an 80's glow stick dance party as a family, courtesy of my parents.  What a fun memory it is!  I enjoyed many great moments with my mom and dad in town for so long, and will always treasure the time we spent together.  I made some fun memories with my sister, and today I really enjoyed having my three year old sit on my lap with her arms clasped tightly around my neck.  There is so much love in those little ones, and I'm grateful for how freely they share it.
I – influence.  Well, I honestly don't know if I influenced anyone for good this week.  I did remember a couple of birthdays which made me really happy.  Not that what I did was so great, but it's better than forgetting again!  Here at home I think I got worse as the week wore on.  Lots of little things have been getting to me this weekend, and I'm not proud of my over-reactions.  I was very aware this week of the blessing of the family I grew up in, of their positive influence on me, and how much that unit means to me.  I want to be a better sister and daughter, to nurture those relationships more and be a better part of their lives.
M – my health.  I did a bit of research on some things this week and tomorrow am going to start an overhaul of what I eat that is different and more restrictive than I've ever done before.  I'm not at all excited about it, especially because I still have my large hungry family to feed, but I can't put this off until the perfect time because there won't ever be one.  I am starting this at the craziest, most stressful time of the year for our family, so I'm a little nervous about the timing but I feel good about not waiting.  Wish me luck!
P – participate.  Well, my Scrappy Swoon Quilt Along is officially finished.  It took more time than I anticipated but I'm so happy to have done it.  That's one big thing crossed off my list for 2013.  Thursday night was a wild night but I'd been invited to a sewing group that night with a few ladies I'm acquainted with.  It didn't make sense to go, but I went anyway (a little late) and had a great time.  Friday night my sister slept at our house and the two of us went to our Modern Quilt Group meeting together.  It was so much fun to be there with Kristen, and to wander the shop and talk fabric together afterwards.
L – live ahead.  Today was my deadline for Easter prep, and I haven't even started.  I'm also behind on planning a birthday party for my son at the end of the week.  My garden seeds are all growing at a rate that amazes me every day so that area is looking good.  In the past couple of days I've spent a few hours planning and getting dozens of games, scrimmages, deadlines, meetings, camps, etc. on the calendar for the next 6 months.  I'm already a little dazed by how busy we are, but it's a good reminder to me that I need to make the most of what time we have as a family.  This afternoon I found myself looking at the calendar on one hand and my list of goals on the other hand, honestly wondering if it will be possible to have any merging of the two.  It will take careful planning and more work at intentional living, but I'm going to do my best.
E – embrace technology.  Thanks to my brothers, I have new widgets on my phone and all my calendars are in sync, including text reminders of certain events and practices all set up.  It took time but every time I see it I smile for two reasons.  First, it actually works and I was a part of it, and second, it reminds me of my two youngest brothers who know 100 times more about my phone than I do.  With my husband's help I got the link party all set up on my blog for the quilt along finish, and the giveaway is taken care of.  I have a bunch of things I need to change about my blog, little things to add and so forth, but I've hardly posted in the past two weeks.  I've got to get back on the ball.
Simple.  The week was anything but simple.  In fact, it was so completely different that I'll never forget it.  But I'm a lucky girl and I have a great family, both the one I was raised in and the one I have now.
Q – quality of life factor.  The big accomplishment in this area belongs entirely to my Dad, who in about a day and a half completed a transformation of the 1/2 bathroom on the main floor.  All the things I've been picturing and carrying over on my list of projects to tackle for three years were done, but even better than I pictured.  I can't wait to share pictures with you, and although the week was such a disappointment for us, I have this bathroom as a reminder.  Every time my husband looks at it he says to me, "Your Dad loves you so much!" and he's right.  My dad loves me more than I deserve, and I am so thankful for his gift of love (and work).  On the other end of this category, spring sports are now in full swing and I'm spending a lot more time in the car.  Often my best option is to leave the little ones home with my oldest to babysit because if I take them they'll fall asleep for a nap at 4:30 in the afternoon and then the evening is shot.  Leaving them has it's own difficulties, like the house being messier and having less time to supervise homework and the practicing of instruments.  I keep telling myself that those during school hours need to be more productive… maybe things would stay better longer?  And on a totally random note, this has been the week of broken and missing objects.  Every day something new is destroyed and something else mysteriously vanishes.  As the week has gone on I've found myself struggling to be cheerful when it happens; last night I left to run an errand at 8:45 pm because I felt like yelling about the most recent unnecessary damage.
U – urgency in matters of importance.  The busier we get the harder this is.  I have a plan in mind for our Family Home Evening lesson tomorrow night which will hopefully help us work on this more.
A – aim higher.  It's easy to work harder at the things you're already good at and leave your weaknesses undeveloped.  I see this tendency in me; I see it in my children.
L – laugh.  We found lots of things to laugh about, but the week certainly could have used more laughter.  I've got to lighten back up this week!
I – inject the Spirit.  We had some great moments and others that didn't go as well as I hoped.
T – take inventory.  I bought 40 pounds of chicken for our freezer this week and we organized part of the storage room.  Progress.
Y – yes to youth.  It's been a different week, but I think they know that we love them.
Quality.  We're doing our best.  I'm oh, so tired.
Have a great week!
Jennifer