Simple. Quality. no. 12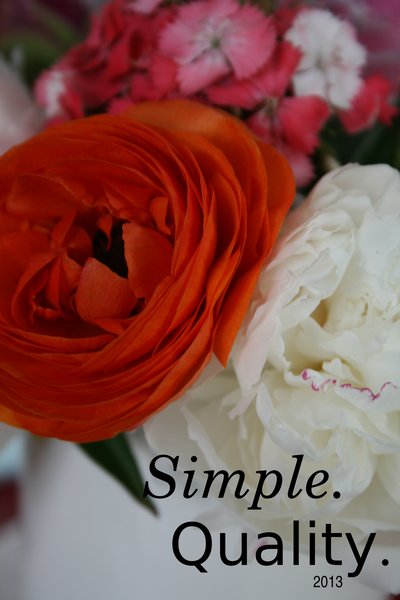 There's a word that has been floating around my head and heart all day.  Strengthening.  A simple word and familiar concept, but I've been pondering how much of life's work is meant to strengthen.   We work to strengthen bodies, minds, hearts, relationships, habits, organizations, communities.  I need strengthening; I seek to strengthen.    It is an integral part of life.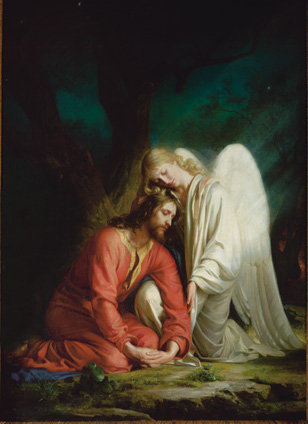 Painted in 1879, Carl Bloch's Christ in Gethsemane is one of my favorites.  Two years ago I went to the Carl Bloch exhibit at Brigham Young University's Art Museum, where I stood in front of this life-sized painting.  The exhibit was a life-altering experience for me that I have not forgotten.    I love this sensitive depiction of the angel so lovingly offering strength to the Savior as he wrought the Atonement which would offer strength and victory to all mankind forevermore.    Today the word "strengthen" encompasses all that Christ sought to do, all that he seeks now to do.   I am reminded that strengthening is also my purpose, and am resolved to see my role from that place, weighing my choices and opportunities in the context of strengthening my family and those I interact with.  I feel humble, yet full of joy and gratitude.  I am so grateful for the Atonement of Jesus Christ.
Our family has spent the evening sitting together watching videos from the life of Christ, having our hearts moved with sadness, appreciation, awe, joy.  We've been piled on the couch, elbows and knees slowly molding into the folds of the couch and each other, heads slowly leaning to rest on nearby shoulders, tender feelings expressed, questions asked and answered, and a few eyes slowly drooping shut.  It was the moment I memorized today, reminding myself to treasure this pause and the togetherness we felt as the Holy Ghost testifies to our hearts the goodness, glory and divinity of Jesus Christ.  A truly beautiful evening.
From this perspective I am reviewing my week.
S – smile and savor.  I had a tough week and on Friday morning felt overly worried about the upcoming birthday celebration for my son.  I prayerfully considered how to get enough done and realized something I haven't before.  It dawned on me that in addition to having more work, more noise, more laughter, hugs, fun and laundry because of our large family, I also had more creative potential to draw from and it was time to tap into it.  I picked up four of the children from their half day of school and explained the help I needed, detailed what I pictured for the party and asked for their input.  Because the weather had turned cold, we changed our plans and moved all games indoors.  Together we pushed the furniture to the edges of the room and the children volunteered for various assignments.  I sketched posters and they all laid on the floor together to color them.  And guess what?  It got done.  Letting go of my desire to have things "just right" allowed us to have a fantastic afternoon as a family.  The party was cowboy themed, and by the time it started my seven other children were wandering downstairs in cowboy themed outfits they had thrown together spur of the moment.  They were helpful and everyone had fun, and for the rest of the day I was smiling in wonder at it all.
I – influence.  I'm struggling a little with this goal.  I feel like the busy life too often overtakes the intentional life and I end the day/week feeling like I didn't offer what I should have.  I also feel like much of the busy life is a direct and positive influence on my family and am aware that my responsibility is to that group first.  I am their boundary, the person at the edge of all they do and my influence in that sphere is immense.  I am at peace with this arena as my center stage but desire to exert myself more purposefully in the spheres of influence on the edges of that stage.  Today I followed a spontaneous impulse to serve someone in a simple way and felt joy in the process.  I had a conversation with a neighbor that felt good.  I visited a couple of friends this afternoon and we had fantastic conversations about what really matters in life.  On the second visit, my friend was across the street at her mom's house so we walked over there and were invited in.  I've talked to her mother before and have always been amazed at the way she welcomes me with open arms and an invitation to visit.  I want to live with my door open in that way.  I want to be approachable and welcoming.  I have a long way to go, but in my efforts today to visit others I was rewarded with a fantastic picture of what I can become.  I was also on the receiving end of a kind gesture this week which really touched my heart and … again… made me want to widen my sphere of influence.
M – my health.  Lots of water, lots of vegetables, little else.  I also got a cold this week, so haven't been feeling as well as I'd like to, but feel grateful for my health and strength.  Lots of room for improvement here.
P – participate.  My involvement with soccer teams has increased this week, and it's fun to enjoy the camaraderie we have on the sidelines.  Our indoor seasons ended this week and it's all outdoor from here – except that it snowed yesterday.  I need to do more reading for book groups.
L – live ahead.  The birthday party worked out in spite of some last minute stresses.  I'm planning for Easter and spring break right now and hope it all goes smoothly.  Most of the summer is planned and it's nice to be working on that.  I have a project I want to start in the basement but won't have time until April.  I need to be more diligent about my self-imposed deadlines in this area.
E – embrace technology.  I feel like I'm moving forward here, getting better at using various tools together to organize life and be effective.  I still have a list of specific items, though, and they need to be taken care of.
Simple.  While it doesn't feel simple, I realize that there are some ways in which we are carving out the simple life we crave for our family.  I didn't do anything fabulous, but I did do some small and simple things this week that I'm pleased with.  I keep saying to myself, "just keep at it.  Things will work out."
Now for the family goals:
Q – quality of life factor.  I had a major payday moment on Thursday evening.  Lessons, games and a mandatory meeting kept me away from home for several hours on Thursday afternoon/evening and my kids were awesome.  I left a package of fudge-dipped mint flavored Oreos on the kitchen counter and left a few specific instructions for my children to fulfill before opening them.  They took care of each other, helped one another with homework, cleaned the kitchen and tidied the house, then cooked pizzas for dinner.  I came home tired and worried to discover a clean house and happy children.  It was one of the best gifts they've ever given me and I nearly cried for joy.  I was so proud of my oldest son for being the leader and motivating with kindness and love.  It was great.  They're learning.
U – urgency in important matters.  This has been tough in the past couple of weeks with so many new events on the calendar.  I'm not doing enough in this area.
A – aim higher.  It was fun to register my son for his 11th grade classes this week, but very sobering.  Is he really that old?  The term just ended and I think we're all happy to have a bit of a fresh start.  We're trying to be consistent in the areas that matter most.
L – laugh.  When I laugh, the kids laugh.  When I laugh, the whole family relaxes, especially the teenagers.  There's nothing like tricking a smile out of a stone-faced kid who's determined not to show happiness of any kind.  I was able to do that a few times and it is fun.
I – inuject the Spirit.  We did this today.  I need to do more of it every day.
T – take inventory.  I didn't spend any time on this goal.
Y – yes to youth.  I'm still feeling happy with this.  I think we're on the right track.
Quality.  I wish I'd done much better but am pleased with what was accomplished.  I'm grateful for a new week and new opportunities to focus on my goals.  Life is great!
Wishing you a terrific week,
Jennifer