Simple. Quality. no 14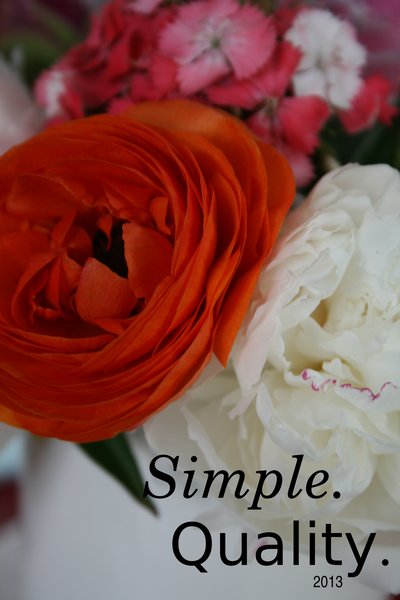 Another late Simple. Quality. post this week.  We had a fantastic week and an awesome weekend, but I spent yesterday walking around with one eye shut due to an ugly headache and felt that staring at a computer screen would be counter-productive.  Since both eyes are functioning this morning and the headache is much improved, I'm typing this late.
Our week at the beach was fantastic.  I've got pictures to go through and then I'll post some.  The children had a wonderful time, the weather was beautiful, and we crammed quite a bit into the few days we had.  I learned some good things through quiet introspection, enjoyed watching my children and the waves, and drank in color and beauty all around me.  Relationships among the children improved, and we also strengthened relationships with grandparents, aunts, uncles and cousins.  We ate good food, laughed, worked on volleyball skills, found crabs and starfish, and generally forgot the world we'd left behind.
While we drove home Friday my brother and his family arrived at our house from Spokane.   We didn't know they were coming when we left, so I learned a little lesson in leaving the guest room in a perfect guest-ready state as my mind reviewed the things I hadn't bothered to put away before we left.  At least the towels and sheets were clean, and we had a way to let them in!  Perhaps it was because their visit was unexpected that we had such a great time with them, but the children were in heaven and played together beautifully and I was equally delighted to spend so many hours talking with my sister-in-law.  We had legos and Strawberry Shortcake dolls everywhere, paints all over the table, Playmobil heaven upstairs.  We took the kids to a soccer game (our first for the spring season, which was a win), roasted marshmallows and ate S'mores with the neighbors, let the children stay up way too late, made cinnamon rolls and had some late night ping pong.  They left early Sunday morning and my younger children were in tears when they awoke to empty beds nearby.  It was a gift of time that we thoroughly enjoyed.  *Thanks, Matt and Kate, for coming!
We also spent the weekend watching the April 2013 General Conference of The Church of Jesus Christ of Latter-Day Saints.  It happens twice a year and I love everything about it.  I love gathering the children in, having nowhere to go on Sunday, making our traditional breakfast, snuggling with quilts and having our hearts touched.  I have a long list of things to improve and a grateful heart.  I'll be watching these messages again and again in coming weeks.  More ping pong in the evening and an attempt at getting everyone to bed early.  (Attempt would be the key word there.  It was a little brutal getting them all moving this morning after living on "beach time" for a week.)  This morning everyone was properly dressed and we found all the backpacks and *I think* all the proper papers were signed.  We're diving back in!
Once again I'm sticking with this general report and will return again next week to more specific reporting on individual goals.  This week my intent is to re-orient us all to school life and do a lot of planning to get us through the spring rush.  This also means lots of prayer for ideas and inspiration.   I feel keenly aware of how little time I have to do so much and am anxious to make the best of it.
Right now I'm off to snuggle my girls a bit, and we'll be off to pick up my sewing machine, which was taken in for servicing while we were away.    And yes, I'd better re-stock the fridge.  It's good to be home!
Have a great week!
Jennifer