Simple. Quality. no. 15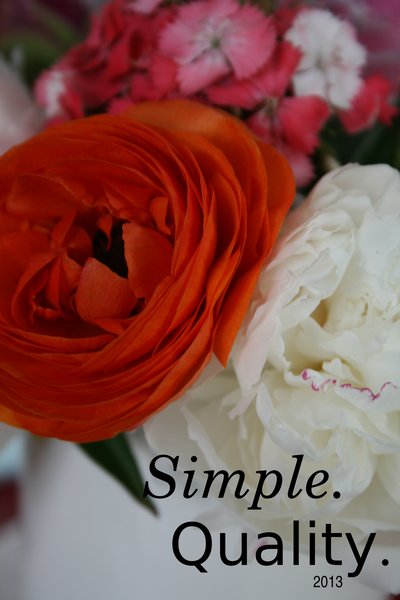 After last week's welcome vacation, this week's re-entry to normal life was turbulent but not without memorable moments.  For some reason it was also a week when I felt sick of being me.  Not in a depressed way, but in a way of feeling weary of myself.  I feel tired of fighting the same weaknesses for years on end without feeling like I've completely rid myself of them (or changed them into strengths), tired of being me.  Now, I know I've been blessed with strengths that others might wish to have, that someone else might happily trade their set of strengths and weaknesses for mine, and I know that my particular set is nothing to complain about.  I found myself wishing I could live a few days in the life of someone who has my particular set of weaknesses figured out, just to see what it feels like, how it's done, and then come back to my life with fresh perspective.  It was just kind of a hard week, a feeling of heaviness in my heart, wondering if I'll ever "figure it out" like I hope to.  I felt squashed by the weight of my very own life.  Alongside the heaviness, however, was a keen awareness of my blessings and of my great responsibilities as a mother which helped me rally.  I knew I was tired but had no time to fix it.  I had to just keep trying.  In the end it was a very unusual but good week.
Soccer seems to the the word that's trumping most everything around here right now.  Monday night we stood in strong winds and driving rain to watch my daughter play a game.  We were literally soaked to the skin through every layer we had on.  Came home to warm taco soup waiting in the crockpot and a fireplace to sit by while we did homework.  Thursday brought another game, more time on playgrounds.  Game Friday night, and two games Saturday.  Yesterday I drove first to Spanish Fork for a game and from there we drove directly to Logan for the second game.  In all, I drove 300 miles yesterday for soccer and hauled 8 children with me for 12 hours to make it all work.  My sweet sister and her husband invited us to dinner after the game for a welcome break from the car before we drove back home.  I learned that when you have a long drive at night and a group of car-weary children, glow sticks can fix all your problems.  We passed them out and they kept everyone happy until eyelids began drooping shut.  They aren't easy days, but they're fun days and I hope we're living them happily enough to make good memories.
Twice this week we heard a loud noise at 3 a.m. but weren't able to figure out what it was.  Wednesday morning I woke up my 15 year old son and discovered bandages on his head and blood around his eye.  He had sat up in his sleep (having fallen asleep with his head at the foot of the bed) and whacked his head on the corner of a bookshelf, but didn't wake up.  A walk around the house by Dad showed everyone asleep.  A little while later a throbbing in his head slowly wakened our son, who sat up and discovered his head was bloody.  He had a small but deep cut above the corner of his eye which he slapped a few band-aids on and went back to sleep.  We got the other children to school and took him to the doctor for the first time this year.  I couldn't help but laugh that it was this same week last year that we had our first injury as well.  Same kid, broken ankle.  I'll take a cut eye any day over last year's adventure.   The second loud noise at 3 a.m. was the sound of our home being egged.  Lovely.  Because we were twiddling our thumbs the night before wondering what on earth we would do with ourselves on Saturday morning, so scrubbing egg off the house was just what we needed.  And yes, my fingers are dripping with sarcasm as I type that.  My husband had worked his third almost all-nighter this week and was getting ready to head to the office for an extra day of work while I was preparing for a day long soccer trip.  We managed to get everything cleaned up and still leave on time and I hope our children learned a lesson that will cause them to be the voice of dissent if ever their friends suggest such an activity.    Never before has it occurred to me to pray for nothing to happen at 3 a.m., but now I'm doing it!
My personal goals:
S – smile and savor.  I generally had a  more difficult time with this, but I did have a great afternoon on Thursday with my little girls.  We read books, practiced writing letters, baked mini-apple pies.  They were so happy and I enjoyed them so much.  My housework didn't get done that afternoon but the memory sure lasted longer than clean floors seem to last!
I – influence.  I prepared some food for a funeral this week, talked to some people I don't see often enough.
M- my health.  I feel kind of trapped here.  What I need to do and what my family needs are such different things that I find the family needs winning out.  It may be a losing battle until we have fewer children living at home but I will continue to do my best.  Drank lots of water.  Need more sleep.
P – participate.  Most of my time was spent helping my children participate in their activities.  I haven't been blogging regularly.  I did spend a couple of hours away from home on Thursday night with some women I admire.
L – live ahead.   Yesterday I drove 300 miles for two soccer games and was well prepared for having 8 children away from home for 12 hours with almost no access to restrooms.  It went really well, we had fun, and I felt like I did a good job of making it all work out.   Have plans for some spring activities that I need to get working on.  My garden plants are doing well.  I need to make time for more yard work as soon as it warms up a bit.
E – embrace technology.  I've transferred most of my planning/lists/ etc. to my phone, which is kind of a big step for a girl who really likes having a pen in hand.   I'm getting better at using various devices to have everything "sync" correctly with each other, and was grateful for the GPS in two different cities yesterday.
And the family:
Q – quality of life factor.  Honestly, this is where I hoped to spend most of the week working.  I did clean the car out… twice.. and got rid of things in a few areas of the house, but this area needs more work.
U – urgency in important matters.  Struggling a little here.  It's hard to do this when you're just not home as a family at all, and that was how our week went.   My oldest daughter went to the Salt Lake temple for baptisms, but the boys didn't get there and that needs to be fixed.   I did purchase some awesome motivational/spiritual messages to listen to in the car since we're spending a lot of time driving lately.
A – aim higher.  This is taking a lot of work right now.  I'm trying to set a good example of this in my own efforts as a mother and hope that someday my efforts will make an impression.  Tuesday night I was up till 1:30 a.m. re-hemming a choir dress for my daughter because she's grown since November and had a choir festival to participate in.  It was so hard to stay awake but I think she learned that I love her.  She looked lovely in the adjusted dress and their choir rocked the house, out-performing every other school in the festival.  Her glowing reports reminded me that it's worth staying up too late sometimes to get things just right.  All our soccer driving is making homework difficult, but my goal is to be thorough on every homework assignment this last term.  The standard bedtime this week has been 10:30, even for my little ones, because it's taking 2-3 hours to get everyone's homework done after we finally get home, but at least it's getting done.  One of my daughters participated in the battle of the books at school and her team won, which was fun.  I was happy to see her sign up for something and go for it.
L – laugh.  We had some good things to laugh about, like the stitches in the head.  Friday night my husband and I took our two youngest girls to see the BYU Ballroom Dance team perform.  It's my favorite performance of the year, a 2.5 hour production that feels like it's 30 minutes long.  I always feel happy while there.  We bought some licorice to share with the girls, which our three year old really liked.  On our way home afterwards, I asked them if they got to eat lots of yummy licorice.  With the most sincere face my three year old asked, "Oh!  Did you want some?"  We laughed and I assured her that no, I didn't need any.  Then she said, "Well, Dad made me eat SIX!  And I almost got round and puffy."  So many awesome things to laugh at with these darling children around.  And today in church there were so many darling children making hilarious comments that I had to work hard to keep the smile from turning into laughter.
I – inject the Spirit.  Once more, I need to get back on target with this.  We're not doing enough of it in the constant coming and going.
T – take inventory.   Still needs more work.  Lots more.
Y – yes to youth.  I wonder if our kids have any clue how hard we're working for them.  They don't realize how tricky it is to get them to the mountains for snowboarding, or to get them to all their practices, pay all the fees, put off yet another thing to help them with a project.  I feel like our soccer trip yesterday was a big YES.  That we somehow got our son to the slopes yesterday was a huge YES.  All the games of ping pong this week have been a YES.  The food, the $5 bills for activities, field trips, parties are all YES.  I didn't do anything super awesome, but I did manage to have every YES come from a heart at peace, offered as a gift of love and not as an inconvenience I want them to be aware of.  I do feel good about that.
So, after meals on the run, freezing soccer games, piano & violin lessons,  late-night hemming, two tanks of gas, stitches, checking/correcting 400 math problems, running forgotten lunches to schools, scrubbing eggs off the house, driving, driving and more driving, I think back to the feelings of discouragement I battled this week and realize that it's all ok.  I chose to be a mother.   I think they know I love them.  And maybe, if I'm lucky, next week will be boring in comparison.
Life is great!
Jennifer