Simple. Quality. no. 16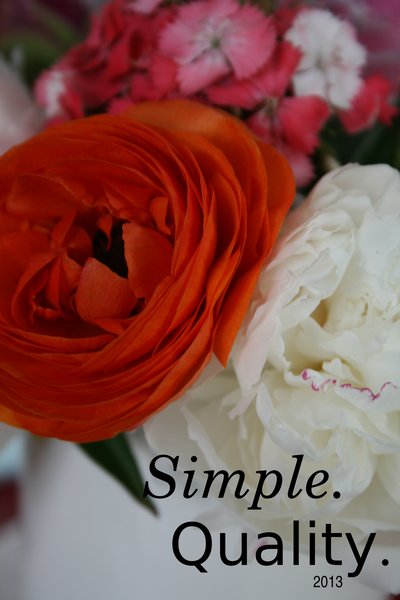 What an interesting week it was.  On a national level, I can't remember a week so bizarre.  In both local and national news there was much to break your heart.  Yesterday was also the 14th anniversary of the Columbine shooting which always brings some quiet moments of remembrance and contemplation for me.   In our own little world at the end of the street, things were better this week.  No stitches, no eggs on our house, no 12 hour long soccer excursions.  Having given a lot of thought to my frustrated feelings from last week, I concluded that I had better choose some WIGs (wildly important goals, term from Stephen Covey) and make them happen.   I chose three things, all of which are related to each other, and my deadline is the last day of school.  It helped, every day, to remind myself that I had something wildly important to work on.   I was also fortunate that my wildly important progress helped keep my mind off the state of the world.  As I type this I review the week and part of me still wonders how it could possibly be real, until I think of the people whose lives were permanently altered.  Then my heart aches again.
S – smile and savor.  I was more sincere this week about being happy.  I also ended up sorting through old papers and many of the things I found made me smile.  First grade artwork from my 10th grader, Mother's day notes from 5 years ago, to-do lists I made in what now seems like a former life when I had half the children I have now, and a journal entry that filled me with compassion for myself and recognition that I just need to keep trying.  Yesterday I memorized the way my daughter looked in her violin recital as tears pricked at my eyes.  So many things to be grateful for, so many memories to treasure.  I also found joy in the beautiful flowers and blossoms in my yard, tipping their faces to the sun and bringing a smile to my face.
I – influence.  I missed some birthdays this week, but have begun to fix that.  Tonight my husband and I stopped by at the home of some friends with a belated birthday gift and were reminded – again – how blessed we are to call them friends.  We visited an elderly couple who just returned home after their winter in the south.  We visited a couple we admire and exchanged favorite gardening ideas, recipe reviews, and generally enjoyed talking with them.  I was able to help once again (in a very small way) with a funeral.  I spent time with my sister who is one of my best friends.  I am giving more gifts – some of time and others wrapped in pretty ribbons on doorsteps, and love the way it feels.  I shared the second vase of flowers cut from my yard this spring – a goal I've had for many years.  We went to a surprise birthday party for a friend we haven't seen in months and loved every minute of it.  I am continually reminded that every effort I make to be a good influence leaves me feeling like the beneficiary of the good influence of others.
M – my health.  I ate well this week and am happy we're headed into the summer.  I love all the variety and beauty available in fresh vegetables over the next several months.  I got busy working on my WIGs and forgot to drink enough water.  I didn't get more sleep and find myself feeling exhausted when the children go to bed at night.
P – participate.  This week I attended the monthly meeting for the Utah County Modern Quilt Group and really enjoyed it.  I did a lousy job of blogging, mostly because I couldn't find my camera cable to upload pictures!
L – live ahead.  One of my wildly important goals involves something I want to do for my children this summer (a secret at the moment) and I spent time every day working on it.  I am enjoying planning for summer, but am not particularly excited about all the immunizations, registration, etc which needs to be taken care of.  My little garden plants are looking good and I'm excited to plant them outdoors soon.
E – embrace technology.  No real progress here.
For the family:
Q – quality of life factor.  A good week in this category.  I went back to my 5 things/day rule and got rid of a lot of things.   I decided that it's time of the two youngest girls to have their own room, so the toy room has been cleaned out.  I prepped the walls and it's now ready for painting.  I hope they'll be sleeping in there by week's end.
U – urgency in things of importance.  My daughter has done a good job this week of preparing in advance for a big report due next week.  I've enjoyed teaching her how to break it down into steps and do a little every day.
A – aim higher.  I watched my daughter plan a surprise birthday "kidnapping" for her friend.  We worked hard to get/stay caught up on homework.  The violin recital yesterday was a good look back at how far you come when you don't quit.  The children are working towards the goal of their best grades of the school year in the closing term and I'm proud of their efforts thus far.   We need to make paino practice a higher priority.  Three of them went through their bedrooms this week to really organize everything, and did it on their own as a surprise.  I was pleased with their efforts to be thorough and they did a great job.
L – laugh.  Lots of laughter at goofy things, and we needed it between the conversations with children of various ages trying to understand the crazy world we live in.
I – inject the Spirit.  We had a better week with this, but still far from where I want to be.
T – take inventory.  I purchased hundreds of pounds of food this week to re-stock our food storage.  I also went through the existing storage and checked expiration dates, re-organized the shelves and then stood back to admire my work.  Big deal.  Feels good.
Y – yes to youth.    The kids are busy.  I feel like I'm handing out money and rides like crazy.  Trying to simplify the management of the house so we can deal more with people and less with stuff.
Simple.  Quality.  We did better this week and I like having tackled/beguin some larger projects.  Tonight I'm thankful for the sweet family that's piled on the couch around us as we look forward to another week.  Lots of hugs and kisses, happy moments and yes, fighting.  This next week will be another wild one, requiring great focus on my part, but for really great reasons.  i hope I can accomplish much.
Have a great week!
Jennifer