Simple. Quality. no. 17 & 18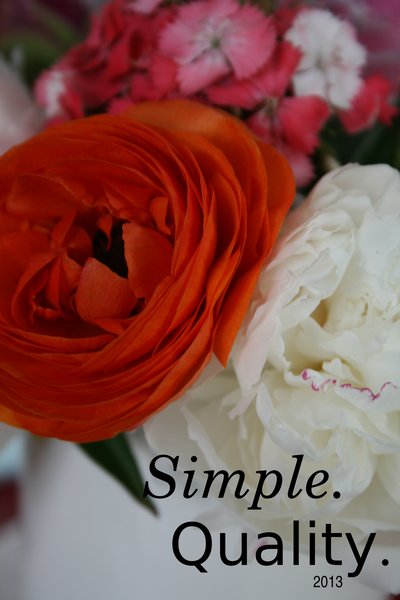 My heart is a jumble of emotions tonight… gratitude, happiness, worry, relief.  What a wonderful, crazy time of year this is!  We've had a good week and I'm so very grateful for my blessings.    We've had a couple of really late nights this weekend and my husband and I are feeling beat.  The house is a funny blend right now of giggles and crying as some of the kids melt down from lack of sleep.  We're all a little run down.
A quick summary for week 17:  I painted a bedroom and we moved our youngest girls into their own room.  It's been fun to watch my three year old enjoy her first big bed, and such a relief to have the room stay clean with little effort for more than a week now!  I must be getting better.  The bedroom they moved out of went from 4 to 2 girls in it and so it's also stayed clean.  Huge success!   My brother and his two boys came to stay for a night and we also saw my parents for a couple of hours.  My husband went on a short trip with his brothers and took our second son with him for some memorable father/son time.  While they were done we finished reports, attended performances, played soccer games and worked hard.  At one performance I slowed down enough to talk to the relatives of a friend who were visiting from Canada and discovered that they knew my great-Aunt, the older sister of my paternal grandmother!  What a small world, and what fun it was to talk.  It was a VERY busy week but we managed things well and I felt like I took big steps toward my WIG:  going through every room in the house to eliminate clutter before school is out.  There is much more work to do, but I felt great about my efforts.  On Sunday night we felt like we needed to escape the neighborhood, so we jumped in the car and went on a walk as a family.  Two locations and a couple of hours later we came home with our children saying things like "this was the best Sunday ever!" and we finished the night with a picnic on the lawn.  It took effort, but we were able to take a hard afternoon and turn it into a good memory.  It was a great week.
Now for this past week.
S – smile and savor.  Working on this.  I keep pushing back a wave of worry and laughter is definitely most effective.  Today I laughed a lot with my oldest son about goofy things and it felt good.  There have been so many moments to enjoy.  Things like the afternoon my seven year old son followed me around for hours sharing little thoughts and jokes with me, tickling my five year old while doing her hair this morning, telling the kids about a voicemail I left a friend in which I sounded like a total dork.  Life is funny and oh, so good!
I – influence.  Hmmm.  I would say it was a so-so week here.  I had plans I didn't execute.  I missed another birthday and I also missed my Dad's birthday (how lame can you get?!?).  But today I felt like I was able to notice several people and make time to hear how they're doing.  I had a good time yesterday with my sister at a sewing class.  I had a few opportunities to be thoughtful and tried to chase each one of them to completion.
M – my health.  Well, my success here is all over the map right now and it's directly related to how busy the day is.  I am doing my best and I'm not going to beat myself up over my failures.  I will simply keep at it.
P – participate.  I mentioned the sewing class, which has actually been a blessing as I feel like I'm starting to make some friends through my sewing hobby.   I'm also enjoying opportunities to visit more with neighbors as the weather draws us all outdoors.  I need to blog more.
L – live ahead.  I don't feel ahead on anything right now, but we are managing to get things done in a timely manner and I feel like, so far, we're doing better in this wild season than we have in the past.  Of course, I have four wild weeks ahead and I may quickly lose all sense of order!
E – embrace technology.  I downloaded a new app this week that I love for my phone, and am doing all sorts of planning on my phone which I never thought I would enjoy.  I lost it somewhere today (with the volume off, of course) and am a little worried about starting Monday without my checklist.   I never thought I'd quit making paper lists, but here I am.  Let's hope I find the phone!
Simple.  The week felt anything but simple.  My work on personal goals definitely wanes when we're so busy.
Q – quality of life factor.  In this area I'm doing great!  The house is getting better every day as I make my way through every room to simplify what we have.  I'm probably spending the majority of my "free" time here.    Because of this it was easy to have a houseful of extra kids over on Friday and we also watched a little girl overnight while her Dad was out of town.  We're getting better in this area.
U – urgency in matters of importance.  Well, thanks to my husband the oldest three all got to the temple this week.   We got our 7th grade shots taken care of, along with kindergarten shots.  I have a list of non-urgent important things to make urgent which I look at every day.  Another reason to find my phone!
A – aim higher.  I feel good about this area too.    Today I watched my daughter bake a batch of cupcakes and put together a pretty birthday gift for a friend.  I watched my oldest son quietly coach another young man through his first experience with passing the sacrament at church.  This young man has autism and our son handled everything with sensitivity and kindness.  I was so proud of him, and felt so much love for both those young men.  It was fun to look around and see how many people were smiling with joy at the sight of this young man being successful.   In fact, it made me a little weepy, and that weepy feeling has followed me through the day (thus explaining my heart all in a jumble tonight).  The payoff moments are few and far between but they are sweet when they come.
L – laugh.  We're trying to do a lot of this.  We had some good moments and some tense moments.  I'm working on it.
I – inject the spirit.  We had a great night on Monday after a soccer game, taking a drive as a family and listening to a fantastic cd.  We're trying to be creative, do things differently every once in a while to get the attention of the children and make them feel like we're keeping things fun and interesting.  It's fun to work together with my husband on this goal.
T – take inventory.  Not much done this week.
Y – yes to youth.  Our busy schedule is making it hard for most of the kids to do what they want, but I'd still say that life is good in this area.  I'm getting better at adjusting our life to include extra teenagers and we're having a great time.
On the whole I'm very pleased with the week.  Tomorrow I need a good planning session or I'll be trailing behind before I know it.  I love this family of mine so much and am so proud of them.
Have a great week!
Jennifer