Simple. Quality. no. 20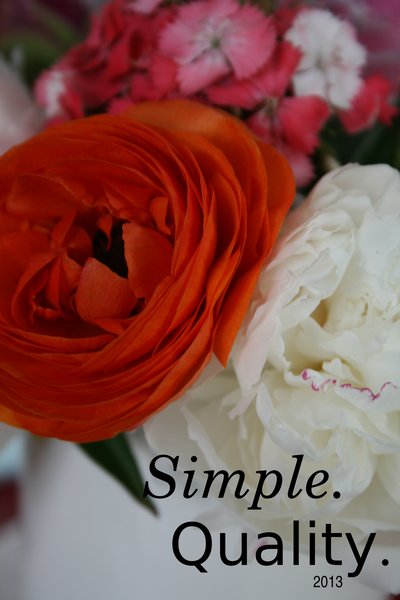 This has been the strangest month.  It is flying by and yet I can't believe there are still two weeks to go.  For the most part I am pleased with what has been accomplished this month and hope I can maintain my mental energy for all that remains.  It's a sprint to June!  And now for my summary:
S – Smile and savor.  I started my 15 days of Happiness series here on Hopeful Homemaker, but was so busy that I didn't report on Friday or Saturday.  I need to do that.   There have been a lot of happy moments this week, even though it was a tough week.
I – Influence.   I blogged more, which is good.   I realized there is someone who I have felt for years did not like me, and so I tense up when I know I'm going to be around this individual.  In an honest evaluation, I realized that my tension was probably half of the problem and possibly made the other person feel like I did not like them.  I took a deep breath and explained my feelings, then apologized for not being bigger and more gracious.  It turns out I was right, we both felt like the other person didn't like them, although neither of us had any real feelings of dislike.  I am so glad that I repented!
M – My health.  I had a good week, drinking tons of water and fitting in exercise where I could.  I look forward to the summer schedule which accommodates this priority much more easily than the school year does.
P – Participate.  I went to my quilt group yesterday and had a great time with my sister.  The winding down of soccer seasons brings bittersweet feelings.   I have come to really like the mothers of the girls on that team and after two years of following our daughters around to support them, they've become friends.  I will miss the conversations we have together and hope things go well with try-outs!
L – Live ahead.  I feel good about my planning for the activities we have coming up.  Last night I threw a party for my daughter's soccer team and it was a complete success.  I feel like I have a good start on all the things I'm responsible for in the next 6 weeks.
E – Embrace technology.  I'm doing most of my planning on my phone lately, so I'm making fewer paper lists.  I never thought I'd like it but my husband introduced me to Google Keep and it's perfect for me.  I love being able to have a list for each of the different things I'm working on, each a different color, and all of them right there together for me to scroll through.
Simple.  Life is not simple right now, but I'm trying to do simple things to improve.  My attention to my personal goals has been spotty in this month that requires such focus on school and other family matters.  It will be nice to balance my focus more during the summer.
Q – Quality of Life Factor.   This area is still going well and I'm thrilled!  I keep getting behind on laundry, but the house in general is holding up under the pressure of the season and I'm getting rid of things daily.  We didn't have to scurry around much to get ready for last night's party and it felt good.
U – urgency in important matters.  Well, everything feels urgent right now.  I'm doing my best to keep track of it all, write things down, and when I feel like I can't do it all just take a deep breath.  I have a couple of friends who inspire me and when I feel tired or overwhelmed I ask myself what they would do.  Then the smile comes and I'm happy to keep working so that I can become more like them.
A – Aim higher.  It's interesting to watch all my students as deadlines pile up and projects are due.  For the most part they're all doing a good job of working hard.   My 12 year old son approached me on Thursday night and asked if we could kidnap one of his best friends for an early morning birthday breakfast on Saturday.  I looked at the calendar and it was rather full, but then I thought how great it was that he had this desire to do something fun for his friend.  These impulses are the things I need to encourage so my kids will form habits of excellence and thoughtfulness.  I called the friend's mother and told her our idea, and the sound of her voice when she heard it told me we were doing the right thing.  Big time.  So the two of us got up early to go pick up friends and have a fun breakfast.  I'm so proud of him for thinking of it and making it happen.   I also enjoyed watching my 3rd grader work hard on a history project.
L – Laugh.  I've been pretty stressed with my oldest son and today I've completely relaxed and am trying to reboot our relationship a little.  I'm smiling, laughing, complimenting.  I still have much to learn as a mother, especially with the older children.  Yesterday when I had 15 teen-aged girls at my house playing Snatch the Rat I turned and saw my husband laughing as he watched them play.  I was laughing too, laughing so hard my cheeks hurt.  I realized I need to laugh more every day.
I – Inject the Spirit.  We memorized a quote as a family this week.  I didn't feel as successful with this, although today has been better.
T – Take Inventory.  I haven't addressed this lately, other than to get rid of things.  I'm on a mission to let it go and simplify as much as possible.
Y – Yes to youth.  Huge success this week with the team party.  One of my specific goals has been to do things that will help my daughter WANT to have friends at our house.  The party was an opportunity for her to have a large group of girls over and I think she felt good about it.  I certainly did!  Things like this are NOT a natural talent for me but I'm making myself learn the skill of planning fun parties and it's nice to have a success.
So, with the family I feel successful.    There's a lot I haven't taken care of but it seems to be working out and  the Lord has been kind to us as well.  While we're still under stress, I'm exhausted, the children are all over-tired, and life feels crazy, I think this is the best May we've had in years.  We're weathering it well.  (Knock on wood!)  And when it's hard, I remember last year, with a son on crutches and how much harder it was.  In all, I suppose the best feeling of all is the sense that I might actually be growing into this new stage of motherhood.  I feel like I have a shot at getting good at it and I cannot tell you how happy that makes me.  And so I work harder, pray more, and remind myself that right now is all I really have.  Life is great!
Have a good week,
Jennifer