Simple. Quality. no. 23 (because I skipped 21 & 22)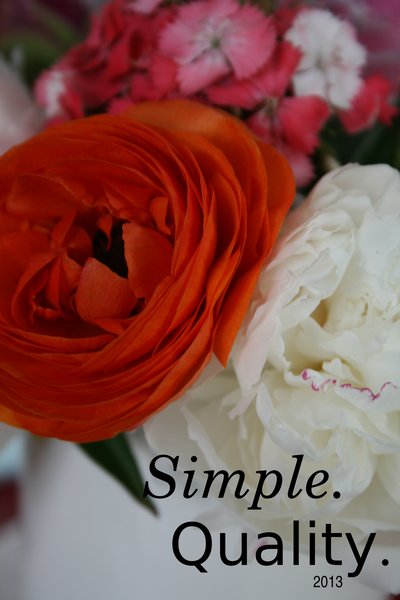 Hello there!  I'm back, after an unplanned extended absence while we polished off the school year and have been spinning at a dizzying rate.  School has now been out for more than a week but it feels like tomorrow is our first day of summer.  I'm pausing early in the day to type this post, afraid that waiting will mean missing it again.  I have a birthday dessert in the oven and while it bakes I'll write.   Life has been painfully rugged for the past 6 weeks or so, but today my heart is full.  I am grateful for the times when the Lord opens my eyes to the abundance around me and I can see, even while knee-deep in mud, how very good life is.   Once again I remember that the downward, backward pull can bring the launch of an arrow.
Let's begin.  Simple.  (If only that word described my life!)
S – smile and savor.  There have been some good opportunities for this lately, especially with my oldest son.  He celebrated his 16th birthday this past week, and the whole "2 more years at home" concept has been pounding on my heart.  Lots to treasure with that boy.  I paused to savor my youngest 5 children trying to play volleyball together yesterday, sat and listened countless times to very long speeches from my 7 year old,  sat up late at night to listen to our teenagers unload the experiences of the day.  I enjoyed watching my husband be fantastic in so many settings.  I have had to remind myself to smile and need to do it more.
I – influence.  Last Sunday I had a prompting concerning something I need to do that will influence my children down the road.  I plan to implement it tomorrow and am praying it goes well.   There are a few things I feel I should do that need immediate attention.  None of them large, but it's important.  As I was walking out of church this afternoon I met another sister on her way in with awful news.  A friend had passed away unexpectedly and the shock of it caught me totally off guard.  Her name is Kathy and we threw a huge birthday party for her last summer.  I cannot express how unprepared I was for her to be gone, but as I've thought of her this afternoon my heart has swelled with gratitude.  None of us had any reason to suppose it would be her last birthday here on earth, but God knew it, and he planted an idea.  I am so glad I acted on that feeling.  It had been a tough summer and would have been easy to tell myself I could do it next year.   If I had chosen that path I would feel rotten right now, but instead I feel so thankful that we did what we did when the feeling said "now."  I love my picture of Kathy wearing her birthday crown, and have decided to frame it as a reminder to me to "act now."  We don't know when our opportunity to influence someone will disappear, and I want to be swift to act instead of slow to start (which too often describes me).
M – my health.  The stress of the past while has definitely not been a good thing, and I realize I need to relax and calm down.  I've been brainstorming ideas for this and hope to be inspired in setting up our summer so I can make room for this goal in greater measure.
P – participate.  I feel like I've been kind of a hermit, although I had the opportunity to help at a community soccer camp one morning.  I'll also be helping with team parties again for a soccer team which will be fun.
L – live ahead.  Things have been sneaking up on me lately and I need to work harder at planning ahead.  Which means I've got a lot of work to do for a couple of events coming up!
E – embrace technology.  I haven't worked on this habit lately.
Simple.  As I swept out the garage a couple of days ago my heart was craving more simplicity.  I really want to master simple living, even in this wild stage of life.  I will get better at it over the summer.
And now for the second half of my goals:  Quality.
Q – quality of life.  We haven't found our groove for the summer, but I'm excited to focus on that this week.  Generally speaking, we're doing better all the time in this area, although there are a number of organizational projects I hope to take care of.
U – urgency in important matters.  We made room in schedules for good activities this week, including a FANTASTIC youth conference for our oldest two children.  Yesterday my seven year old had a friend and his mother come over for a while so we could plan a lesson for them to teach today in Church.  Our youth have a theme this year to stand in holy places, and with that has come a summer challenge to be in a holy place, or make a place holy by our actions/heart at least once a week all summer.  I'm excited to work at bringing this to life in our home.
A – aim higher.  Once again, this is closely tied to what you just read above.  I do feel that we're getting better, and I continue to be motivated by friends of mine who seem to always go for excellence.  Sometimes the difference being average and excellent in a child's life is nothing more than the energy a parent invests.  The same seven year old who taught a lesson also had to prepare a talk to give in front of his peers in Primary.  I was so proud of how many times he practiced it and how seriously he took it.  He popped out of bed this morning and was ready for church before the other kids were awake.  It's interesting how much our attitude can be altered by feeling like we have an important work to do.  Seeing this little guy today made me anxious to give more important work to all my children.  My eight year old daughter also had her first violin lesson this week and I'm so excited to have her learn to play.
L – laugh.  Last night my husband and I stood in the kitchen till well after midnight laughing with our oldest children at their stories.  Our three year old has kept us cracking up all week long.
I – inject the spirit.  A lot of awesome people did that for us this week, and I'm indebted to them.  All of them.
T – take inventory.  No progress here.
Y – Yes to youth.  We built a new fire pit this week and the volleyball net is up.  S'mores ingredients are stocked.  Life is good in this area and we hope to make it better.  I'm going to become a good mom of teenagers yet!
Generally speaking, today has been one of those rare pay-days when you look around and feel like all your children are in a good place.  In addition to the busy day our seven year old had, our 12 year old volunteered to work in the nursery today, our two teenagers spoke briefly in church and were awesome, and my husband got to ordain our oldest son a priest in the Aaronic preisthood.  It feels good to see them growing and trying to be good.  My husband turned to me a little while ago and said, "This has been a good birthday.  I'll take these moments with our kids over the Ferrarri that (so-and-so) is driving any day.  This is so much better."  And now you know why I love him so much.  He's got it figured out.
So I'm off to cook dinner and finish a cake so he can blow out candles in a couple of hours.  Life is very, very good!
Jennifer