Simple. Quality. no. 24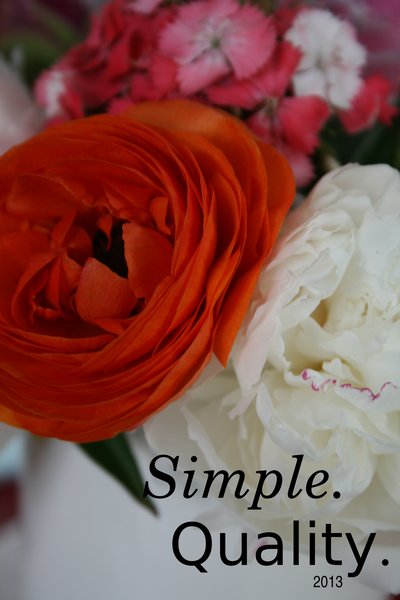 It's Father's Day!  We've had what I hope has been a nice day at our home, at least for my husband.  I feel grateful to be married to such a good man who is also a patient and loving father.  With a group our size, I suppose the day has been predictable, with some of the children rising to the occasion and some of them struggling.  Life is certainly interesting with a group like this, each with their own personality and strengths!  Our gifts were simple but thoughtful with a bit of humor and I feel happy about it.  We also took a gift to the sweetest 86 year old man who lives nearby.  I guess we've kind of adopted him as a great-grandpa.  He reminds me so much of my own Grandpa who passed away two years ago and doing nice things for him makes my Grandpa feel closer.
It was an interesting week.  I feel like I haven't relaxed yet and realize it's because we haven't found our way into the right summer routine.  While we accomplished the housekeeping tasks I assigned to the children each day, at the end of the week I felt like it wasn't enough.  We need to do more.   Beginning tomorrow the chore lists will be longer.  I'm also working on ways to consolidate my driving so I'm not in and out of the car all day.  Generally speaking, I feel dissatisfied with the week and plan to improve  immediately.  I've had a hard time shaking some of the discouragement of the past several weeks and know that firmly putting it behind me is another big key to getting the summer on track.  Another thing I remembered is that I started this blog to give myself a place to say "I did this," because so much of a mother's efforts are cyclical, requiring constant re-doing.  It's easy to feel like I'm not getting anything done, and when I blog I prove to myself that this is false.  There is more of worth going on here than I tend to recognize and give myself credit for and it's time to pick it back up in earnest.
One great thing about the week was an abundance of opportunities to serve.  We also attended Kathy's funeral yesterday morning and I had the chance to help with it.  My children got to be part of a small choir to sing in her honor, and the picture I took of her last summer with her birthday crown and cupcake was the photo chosen by her family to use on the cover of the funeral program.  So many gentle reminders of the goodness of God and his ability to take our small efforts and use them for good in ways we could never predict.  I can't tell you how many times in the past week I've been grateful beyond words that I followed the prompting and threw that party.  I learned a lot of good things this week.
It was a good week for exercise and it was also fun yesterday to attend a birthday party for my niece.  I'm grateful and happy for the many good things we were a part of.
And that is my report for tonight.  I've been on my feet all day and am off to get the children to bed, then hope to get a good night's rest myself.
I'm going to do better.  I promise.
Have a great week!
Jennifer