Simple. Quality. (Summer's half over Edition)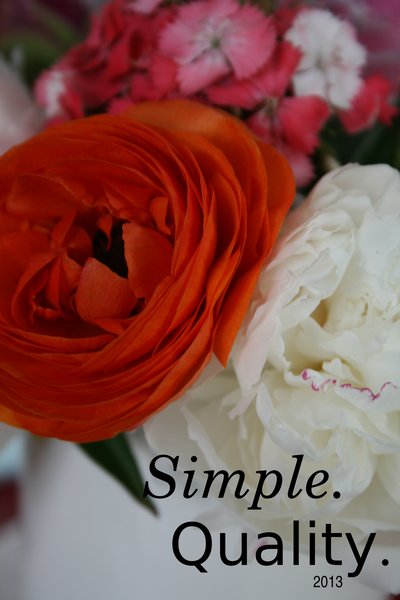 It's shocking, I know, that I'm writing this post.  Having suddenly abandoned my 3.5 year habit of reporting on personal goals each Sunday evening, I'm going to try to sum up life for the past month and sketch my course for the coming weeks.  Time is marching on at an alarming pace and I already feel like the school year is nearly staring me in the face.  It's been a different summer this year, and while I have moments of sadness over it, I'm generally at peace with things.   I can't remember the last time we didn't take a family vacation in the summer, but here we are, home-bound with the sole exception of a three day family reunion an hour from home.    The reunion was fantastic and we're so happy we went.  For the most part I believe the children have been busy enough that the summer's been enjoyable and I remind myself that it's their perspective that matters more than my own wishes  (although we ALL wish we were at the beach!).
So what have we been doing?  My husband has been swamped at work, usually working three or four 16 hour days each week so I've been on my own more than we would prefer.  We didn't get a single day's break from soccer and if there's a day without a practice, there's a home workout that's been assigned in its place.  This has been both a burden and a joy.  I want so much for my daughters to accomplish their goals so I wake them up at 6 am and we all go together to do the running, shooting on goal, footwork and ab workouts each day.  Sometimes the three of us are all doing the same thing and other days they each have different assignments, but it gets us up and out the door and I hope I'm teaching them to keep commitments.  I also hope this will serve as a building block in our relationships for many years to come; it's especially nice for me to discover that I've got a support system for exercise accountability right here in my home.
The house has been like a revolving door; in three weeks' time we'll all be together for two days this month as every week we welcome someone home late Saturday night and send someone else off before dawn on Monday.  I'm happy for them, grateful they have these opportunities.
An area of focus this summer has been to master the morning cleaning routines and for the most part it's worked well.  We just spent the last four days in alternating rain and scorching heat for a soccer tournament.  I loved being there, but we also had a couple of kids down with a fever and flu bug at the same time so things sort of fell apart.  Today I'm walking around looking at all the messes that multiplied in the chaos and have to fight off a nagging feeling of discouragement.  The reality of my stage is that maintaining a home for a family our size requires many hours of work and when no one's home to do the work it shows.  I have to remind myself to just keep going, keep working, keep trying.  It will all work out.
Ok, quick run-down of specifics:
S – smile and savor.  Honestly, I don't feel like I've done this enough.  I have felt worried about too many things and haven't relaxed to enjoy the moment much.  Yesterday I worked on fixing this and after a few hours of effort I found myself laughing and smiling for the rest of the day.  Today, for the most part, has been the same.
I – influence.  We've had guests in our home a bit more, spent more time rubbing shoulders with friends, tried to uplift and encourage in more directions.  I was on time with birthday wishes four times in the past week.
M – my health.  I'm so happy with the time I spend jogging in the mornings with my girls.  I'm not fast like them and my endurance also lags behind theirs, but every day I do more and it's awesome.
P – participate.  I stuck my neck out a few times in the past month and tried/applied for things that were outside my comfort zone.  None of them were dream-come-true opportunities; I did it for the experience of simply trying.  And while nothing came of any of them, I'm happy that I made an effort.  It's healthy.
L –  live ahead.  In this area I struggle in the middle.  It's easy to look down the road, come up with a vision and sketch it out.  It's easy to pull things together at the end as a deadline approaches.  What I find gets postponed is the 15 minutes of effort when there are 3 to 4 weeks yet to go before an event.  Right now I'm planning a party that will take place in two weeks but I'm behind on the preparations.   I often have to remind myself not to be too frustrated with this.  It's not that I don't see it coming or don't try; life is just so complicated that living the day leaves no room for it.  I know I can improve, but changing plans to spend time with a child will always be the best choice.  As far as gardening goes, I've been a total flop.  We're raising mostly weeds and I'm avoiding it because I feel disappointed and overwhelmed by the work.  I also need to get out there in the cooler hours of the day, but on both ends of the day those hours have been completely dominated by my children.  Sooo, better luck next year?  (So frustrated with myself on this one!)
E – embrace technology.  I did a bit of work on the blog which I've intended to do for months.
Simple.    I know there's more to write, but when you don't write it down along the way it escapes you when the summary is due.  Summer life is a bit simpler without homework at the end of the day, but it's been much busier than I foresaw this year and I need to carve out more time for the simple joys of life for my family and for myself.
Q – Quality of life factor.   I think we continue to improve here, or at least we were until the above mentioned soccer tournament.  With as busy as things will be in the next month I'm grateful for the realization that I have to really work hard to keep things flowing.
U – urgency in matters of importance.  It's been off and on in this area and I'm ashamed to admit it.  Of all the times, now should be the easiest time to push what matters most.  The rhythm of each day is often so different than the day before that sometimes my memory fails me, or I fail to plan well enough, and things don't get done.  I did better this week, but not good enough.
A – aim higher.  My daughter took her violin to our reunion to play a short song there.  Two daughters are rehearsing for a simple children's choir performance at the end of the month.  My oldest daughter has earned her Young Women Recognition Award and should receive it next week.  I'm proud of her efforts and thankful to have been a part of them.  I've noticed my ten year old telling her piano teacher and other parents about a recipe of mine that is her favorite and which she has mastered making.  it's fun to watch her take pride in her skill and recommend it so enthusiastically to others.  I'm trying to focus on the things that are going right and I see many small evidences that some of them are pushing harder.
L – laugh.  Tonight we sat and played games together.  Our almost four year old has been so packed with personality the last few days that we hardly know what to do.  Tonight as I went to kiss her goodnight she was holding perfectly still on her bed in the most awkward position.  I complimented her on staying in bed and she replied, "I got surgry.  I can't move."  I looked closer in the semi-darkness and saw one leg wrapped carefully in a scarf, propped on books, and her big brother's rocket launcher balanced precariously across her shin.  As my husband says, she came straight from the comedy section in heaven.  I'm really thankful we have her, for she makes all of us laugh.
I – inject the spirit.  Moderate success here.  I need to do more planning.
T – take inventory.  This is an area that I intended to focus on over the summer, but we've been so busy that I've completely ignored it.  Fixing that is on my list for the coming week.
Y – yes to youth.  I'm happy with my performance here.   I've had the opportunity to make some personal sacrifices for my children in the past few weeks and as they have unfolded I've felt the most wonderful sense that what I'm doing is right and good.
Quality.  It often seems that the harder I try the harder it gets and the more I mess up.  There is much to pray for/about while on my knees and my experience has been that rarely do I receive an answer to prayer that doesn't increase my work load.  But if the list gets longer, the assurance also grows and the enthusiasm is rekindled.  I am committed to being a better mother and raising a better family.  I know I'm not doing this alone and feel grateful for the Lord's help in this work.  Life is good.
Jennifer
P.S.  I mentioned in this post that I'd made a list of things to tackle during my last 30 days before my birthday.  I've kept track of them, and will be sharing a list in the next day or two.  I have three things to finish in one day to reach my goal.  Wish me luck!