Simple. Quality. {week 39}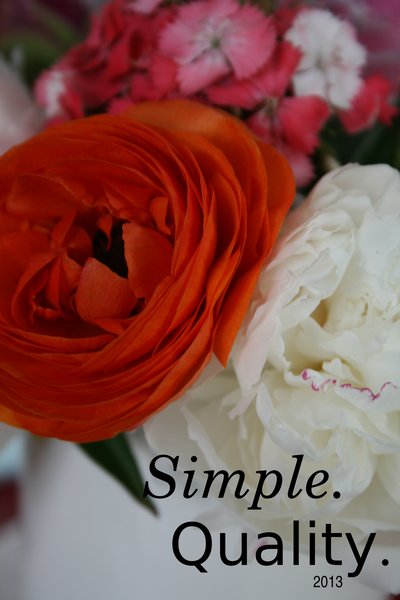 {Deep breath.}
Tonight I am full.
Full of gratitude for the many things – expected and unexpected – which filled our lives this week.  Last Sunday night my husband and I attended a lecture by an accomplished family therapist and came away with a long list of things we wanted to improve… immediately.  The Lord took us seriously, and accordingly our week exploded with opportunities to get right to work.  I'm grateful beyond words.
My Dad came to town for a day to attend a funeral, so my youngest two girls and I drove to meet him.  I love funerals and cemeteries.  I always glean something from the stories told in these settings that prompts ideas or observations about my own life, widening my perspective and sharpening my focus.  The funeral was for a relative of mine and provided the opportunity to wander my favorite cemetery with my girls when they became restless.  They ran excitedly to every grave with flowers on it, chased a rabbit, noticed the pictures of young children on some gravestones, and explored to their heart's content.   We ate a quick lunch together and I felt so LUCKY to be out to lunch with my Dad and my girls.  They've been talking ever since about their lunch with Grandpa.
We spent another evening at the temple to witness the sealing of a family we love.  No dry eyes in that room!  It was a night to remember.  My oldest son was asked to the Sadies dance and following the sealing and open house to celebrate, eight of us were at Walmart to round up supplies for his answer, put it together, and find her house.  Friday night brought the unexpected chance to take some of the kids to the BYU football game while my husband took the younger group to a movie and then to Denny's for a late night breakfast.  Last night, after a full day, I sat down in a dark chapel to watch the General Relief Society meeting of the Church of Jesus Christ of Latter-Day Saints.  Today we were in Santaquin to support my nephew as he prepares to leave for a full-time LDS mission.  It all sounds so simple typed here, but when you add these things in addition to our already full lives it meant a week of adventures, good memories and laughter.
In addition to these things, I did a major overhaul on my pantry (which is a small room at our house, not a little closet) in the hope that a simpler plan will encourage everyone to keep it clean.  I took several loads of things to the thrift store, almost finished refinishing a small piece of furniture, visited the dentist, got the kids to the temple, watched my 7 year old play his first flag football game, read the same books to my 4 year old over and over again, helped at the school for a few hours, flew solo while my husband worked some ridiculously late nights, helped a friend with her boy, caught up with an old friend, was reminded that everyone is dealing with the hard realities of real life no matter what we see on the outside, and tried (unsuccessfully) to keep up with the laundry.  While fighting a nasty cold.
I don't list these things to toot my horn.  I'm not alone.  Every mom I know is living like this.  Doing them makes me feel good, but it also fills me with yearning.  Yearning to do more, but more importantly, yearning to somehow find and recover a layer of my life that seems buried under all the doing.  I wrote last week about my need to sift and sort, learn and tuck things away where they belong in different corners of my heart and memory.  I felt it again this week, more strongly.  Perhaps my emotions were heightened by the sneezing, runny nose, watery eyes and headache I was battling.  But I miss it.  I miss that layer so much.  Things are happening fast around here – growth exploding in multiple directions at once and I'm trying to nourish and capture it all.  I know that there is so much living going on here that I have countless lessons to learn – big lessons and analogies to ponder – but they're disappearing in the cracks of my days.  I've even lost the layer of perspective and memory that comes from blogging, having touched this blog only once in two weeks.  Last night I laid in bed and shed a few tears over it.  How do I regain this layer before the stage is gone and I missed the hidden meaning that is the lingering gift?  I feel like my mind has been overtaken by checklists, for homework, emails, meals, lessons, practices, reading minutes, prepping lunches, spending time with children.  That feeling is why I'm typing this post, an attempt to preserve something – anything – for myself.  I tried to write in my journal several times but was interrupted each time and never made it back to finish the thought.
As I look back at the month of September, the thing that stands out most is how often I have been the one away from our home.   More parent meetings & conferences, more one time events, more commitments.  I cannot remember a month where I was the one most heavily scheduled, but such it has been.  I was careful and only attended those things that were necessary yet still I was gone, and it bothers me.  It also feels a little like a taste of things to come as our family continues to grow up and I want to make this transition very carefully and purposefully.   Interestingly,  I  realize that many of these experiences buoy me up.  When the kids were younger I could see the fruits of my efforts more readily in their lives; the tween and teenaged years are lived on faith.  Listening to a family therapist share her insights, listening to the loving memories of an extended family for their mother and grandmother, listening to a Prophet speak to me, connecting with a friend on the sidelines of a game – it reminds me that I am not alone, that things tend to work out, that I can work harder and exercise more faith.
If happiness is enhanced by anticipating something, enjoying it as it plays out, and then looking back on it, then we've added a lot of happiness to our home this week.  The kids are excited about some upcoming events and I'm amazed at how many good things come into our lives.  I am grateful to have another chance this week to work and pray and try.
Last night I walked through a darkened room, picking my way in the moonlight to avoid stepping on a wayward toy.  I thought how nice it will be when they master the keeping of their spaces and no one has to worry about what might be underfoot when suddenly I had the smallest peek at a night not as distant as I might think.  I pictured myself walking through the same room MISSING THEM.  Missing the sight of sleepy heads and bodies snuggled under blankets.  Missing the comfort of simply having them here, the peace of tucking them all in and knowing that for the night, at least, they are all home and safe.  AND IT HURT.  The stab left as quickly as it came, but I've reflected on it several times since.  That feeling will come whether I savor this or not, but it's up to me to make these years count.
So I will laugh more, tickle more, and put my arms around them more and say "I love watching you play.  I love hearing you talk.  I love seeing you serve.  I love listening to your performance.  I love how hard you work.  I love being around you.  I love you."  And I'll write.  I've got to write it down.
Off and running,
Jennifer