Simple. Quality. {week 44}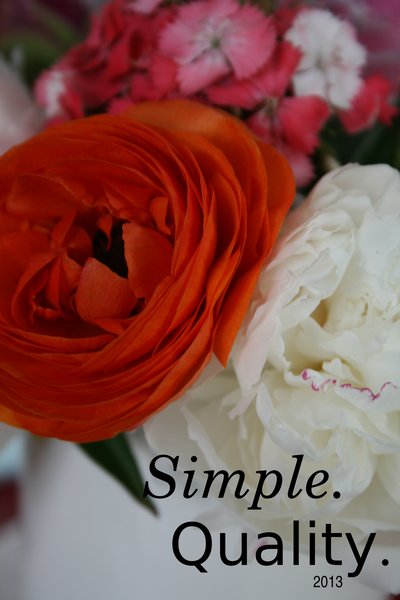 Last night I got in the car to go pick up my daughter from a concert she'd been looking forward to for months.  As I made my way down the freeway in the darkness my heart felt full to overflowing with happiness.  I felt happy about so many things.  It had been a day of much laughter in our home, laughter that came thanks to children.  I had laughed at the things my 7th grader said about his life, laughed at the antics of our 7 year old, laughed at the seriousness of my daughter when I asked if she really had to leave so early for the concert and she replied, "This is important, Mom."   And the text that came hours later:  "Front row seats, BABY!!!  Ha!"   Early in the day I went to a favorite quilt shop for a couple of hours of sewing; it wasn't the sewing that drew me but the people who were going.  I like them so much.  At a futsal game I ran into old friends and enjoyed seeing them.  During the game I sat and talked with another mom as the minutes flew by and realized how fortunate I am to know her.  My husband makes my life fun and happy and full and I love him so dearly.  In every direction I felt full and happy and appreciative.  It's the kind of joy you want to bottle.    It dawned on me that I'm getting better at living happily and the thought filled me with warmth.  I'm finding my stride in this crazy season of life and while I still have far to go in mastering it, I have noticed lately that things I used to feel overwhelmed by now feel mostly "everyday."
Simple.  So many moments savored, shared, laughed about.  I remembered a birthday – on time!  The main goal for my health this week was to see a good doctor about a worsening pain in my foot that started early in September.  The appointment went well and the rest of the week has involved treating tendonitis and looking forward to resuming my workout routines.  I'm working on Christmas gifts and plans and have big goals for the holiday season.  I loved volunteering at the school this week; we made the best Thanksgiving bulletin board ever and helping the children with it made me smile all day.  I enjoyed the sound of leaves crunching beneath my feet, the sight of flocks of geese flying overhead at 7 am, pink sunrises and blazing sunsets.  What a beautiful world it is!
Quality.  I continue to work every day on making our home a simpler place for ten people to live in.  I try to tackle a hot spot every day and get rid of as much as possible.  My girls and I went through the wardrobes of four of them, passing on and donating and sorting what isn't needed.  The children are working on pieces for holiday recitals and I love hearing them play their instruments.  The ski resorts opened on Friday, so the fun began on Saturday which means I have a crazy happy 16 year old.  I feel like my sense of vision and purpose for our family is becoming more focused and powerful.  This is going to be a busy month with most days on the calendar already full.  I hope by Thanksgiving to look around and see that many things have been taken care of.  I feel like my children are thriving.  All of them have things we're working on, but they seem to be moving forward and doing well.
As I type this, the house has quieted and with it my eyelids have become heavier.  The backpacks are packed, homework done, clothes set out and another week awaits.  My lists are long but they are full of good things and so I'll wish you a fabulous week.  Best wishes for good things to come!
Jennifer