To Make the World a Little Better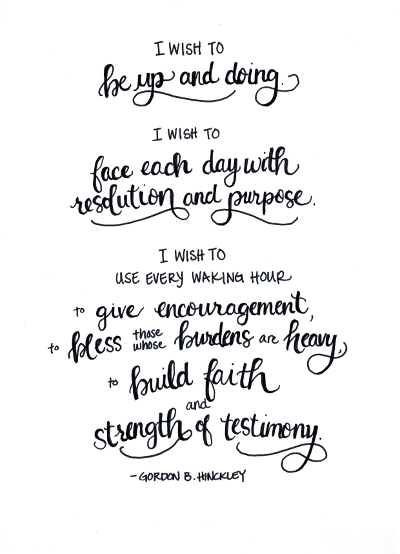 A little over two years ago my family and I faced a challenge that changed us.  We're not unique; life is supposed to do that for all of us in some way.  It left me reeling emotionally for some time, and it's still hard.  There was a sudden need for a Plan B that hadn't been written, that I didn't want to write, and a road ahead that looked bleak.  I remember thinking to myself that I didn't know how I would get through it, or even if I wanted to.  It was tough.
As we've walked the road now for a couple of years, I've learned that you do get through it – even the things you would give anything to avoid – and that there is a gold mine of opportunity to learn, ask questions, grow and overcome.  The interesting thing about growth is that much of it is invisible on the outside.  From the outside, some might think our family has more holes than ever, and from their perspective they may be right.  But on the inside, where so much is happening that really matters, my heart sings gratitude.  When life requires you to live on a really deep level, it's natural that things on the surface won't always look perfect, and it's also natural that you don't worry so much about that surface that once seemed to tell the entire story.  It's an inaccurate reading.
Even so, I have times when I worry and wonder and doubt.  A few months ago I was feeling vulnerable and concerned when the voice of the Spirit came into my mind.  This is what I heard:
"Never in the history of the world has there been a family exactly like yours.  Why are you worried that yours looks different from all the others you can see?  Quit looking around!  Spend more time asking Heavenly Father what he wants your family to look like, to be like.  Let Him teach you about your potential and what he wants you to do."
This lesson hit me like a thunderbolt.  It was one of those things that I knew, but in being told it was like hearing it for the first time.  It's true.  Like every other family out there, mine is unique.  We're not supposed to look like every other family.
And so I've been asking more.  Asking Heavenly Father what he wants our family to be like, what things I need to start or stop doing, or do differently.  Interestingly, the conversation has been a lot less about the specifics I thought I'd learn, and a lot more about service.  So far my biggest lesson has simply been that God wants us to be serving.  He wants us lifting, blessing, and strengthening others.  He wants us working to make the world a little better.
I was asked last-minute to teach a class in Church today, and the topic is service.  The lesson is full of quotes from Gordon B. Hinckley, who is one of my heroes.  When I read this quote everything inside me went still.  He captured my heart:  "I wish to be up and doing.  I wish to face each day with resolution and purpose.  I wish to use every waking hour to give encouragement, to bless those whose burdens are heavy, to build faith and strength of testimony."
I want so much to be this sort of person.  I didn't want to teach the lesson and forget a few weeks later how much these words meant to me.  So I dusted off my pen and practiced some lettering.  This handout was the result.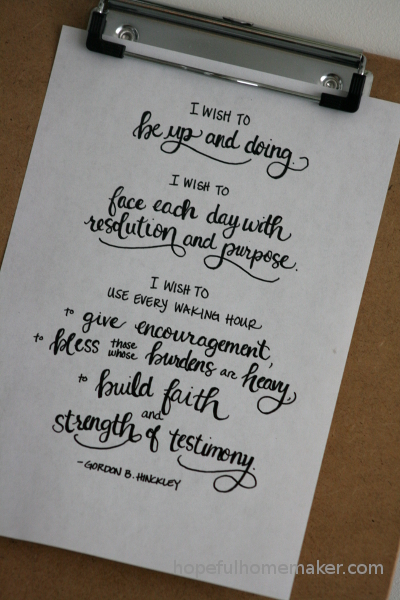 If it resonates with you, too, feel free to download the PDF, which includes a full page and a half page format.  The world would be a pretty amazing place if we all lived each day with this desire in our hearts!