About
My name is Jennifer.  I am married to the most amazing man in the world.  We've been married 20 years.  He is my Mr. Wonderful.  We have eight children, ranging in age from age four to sixteen.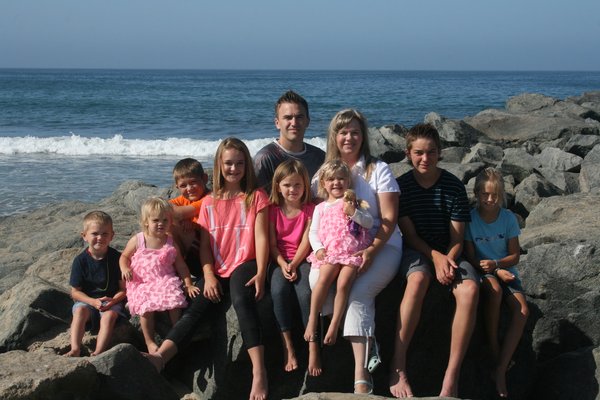 We live in Utah, a unique state with many strengths.  It's not where we intended to raise  a family, but you might as well put down roots where God plants you.   Five years ago we built a white house on a little street nestled in an older part of town where we are surrounded by wonderful, down to earth people.
I love my husband, love my kids, love my house, love being a Mom.  My experience so far has been that motherhood is both harder and more wonderful than I anticipated.  It's also been an effective way for God to show me MANY personal weaknesses as well as an opportunity to develop skills and talents that could have come in no other way.  I feel like I've been stretched a lot by my large young bunch.
I love making things.  Creating something that stays done helps me tackle the cyclical work of motherhood with a happy heart.  I love fabric, quilting, decorating, embroidery.  I also love to read (when it doesn't make me fall asleep!)
I've never been a Mom before, never created a home before.  This life is my first go at it.  I am far from perfect, but I am hopeful.  Hopeful that I can create an atmosphere that my children will remember fondly, an environment where we can all grow and learn and reach our potential.  Hopeful that we will always love one another and enjoy the journey of life with each other.  Thus, I call myself a hopeful homemaker.
Welcome!
If you'd like to contact me, please go here: Contact Page