Refuge Quilt : A HOME Quilt block quilt
If I had to choose just one quilt that captures my life's work, my goals and hopes, it would probably be this quilt.  My Refuge quilt, made with my

HOME quilt block

, is

a quilt about home and family

.  And now it's finished!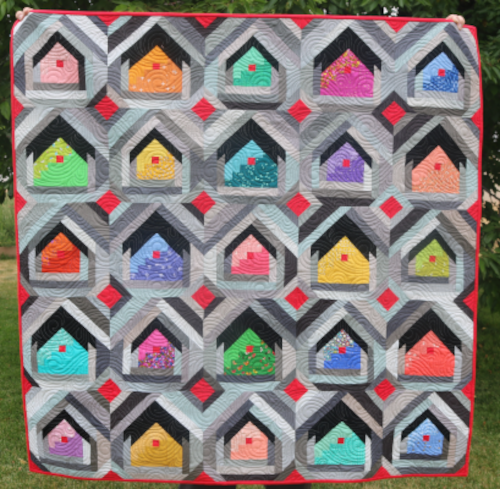 I used the largest Home block for this quilt, in a grid of 5×5 blocks, but within the blocks I made the houses themselves two different sizes.  These also alternate across the rows.  I chose bright colors and fabrics that read largely as solids to convey the many personalities, cultures, and stories of different families.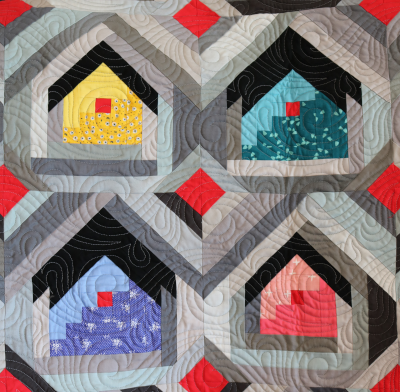 The background is a different story.  Life is hard.  The world we live in gets crazier all the time.  And people are facing storms.  Not just real storms, though there are plenty of those.  I was sewing about metaphorical storms, equally threatening and debilitating.  For these I chose more than a dozen different gray fabrics.  Blue-gray, green-gray, light gray, dark, and black.  I wanted to suggest storm clouds, wind, overcast skies, dark days.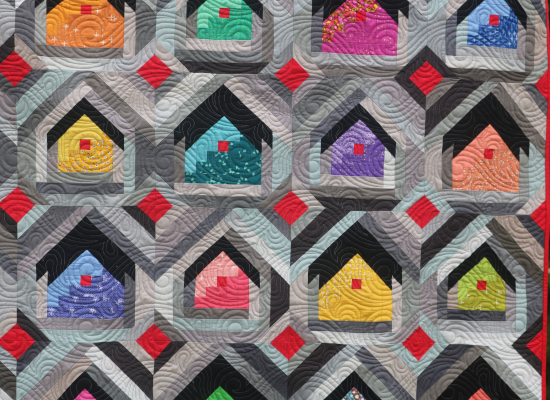 Melissa quilted it for me, and I requested this pattern because the movement in it reminded me of strong winds.  And I named it my Refuge Quilt because I believe that families are the fundamental units, the basic building blocks of society.  It's where we learn fundamental values about how to treat others.  And I believe that families are worth working hard for.  To preserve them, strengthen them, keep them together.  They are, or can and should be, the bright spot in the storm.  Home should be a refuge from the world.


We all know that the heart of every home and family should be love.  I used the traditional red as the center square for each house, as well as in the corners.  It represents love, tradition, and urgency.  Everything we can do to strengthen families and individuals matters.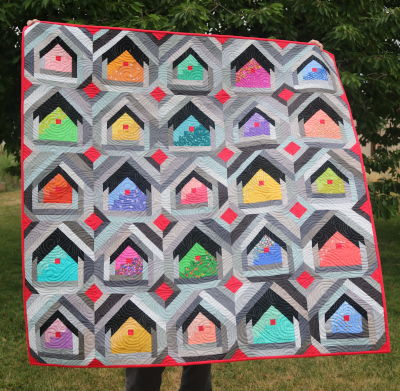 This time of year is exciting, with a new school year signaling the start of a fresh chapter for many of us.  But it's also a time of transition and stress, and can feel tumultuous or daunting.  I've had this quilt hanging to remind myself that we will get through all the changes, everyone will adjust.  And I can try to be the calm in the storm, working to make home a refuge for the people I love most.
God bless you in all your efforts to create a refuge, too.
Jennifer