Sausage Souffle
My mom has been making this my whole life, and now I make it all the time for my family.
It's a great, make-ahead breakfast dish that everyone always loves.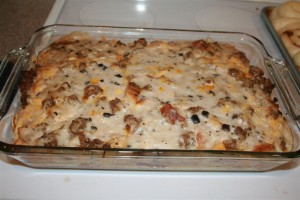 To begin, start by cooking 13-16 ounces of sausage.
You can cook the little links if you want, and then cut them up, or you can buy
it packaged like this.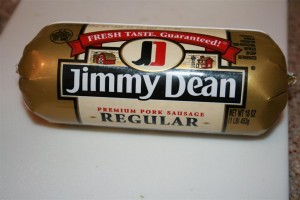 I prefer to just use the Jimmy Dean, but I usually buy the 50% less fat variety
because there is so much less grease involved.
It was out of stock, so I had to go for the regular.
Cook the sausage.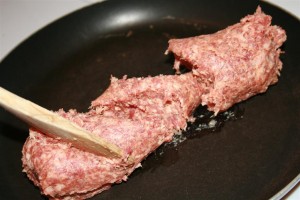 Meanwhile, lightly spray a 9×13 inch pan with non-stick spray.
Break about 10 or so pieces of bread and even cover the bottom of the pan.
(I prefer to use wheat bread with this recipe, but feel free to substitute with white.  You do want the bread to have a little substance to it.)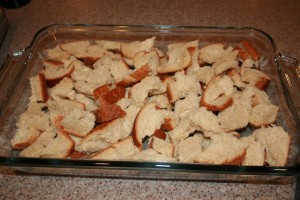 Next, sprinkle about 1 cup of shredded cheese over the bread.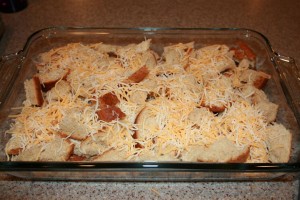 When the sausage is browned, rinse it if it's too greasy.
Then spread it over the bread and cheese.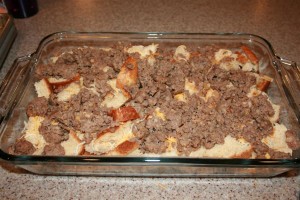 Sprinkle with one more cup of cheese.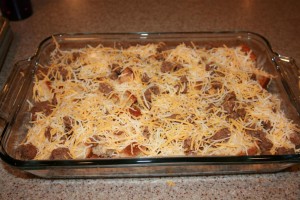 In a mixing bowl, beat 6 eggs.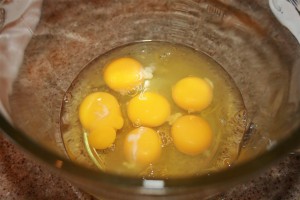 Add 1 teaspoon mustard and 2 cups milk.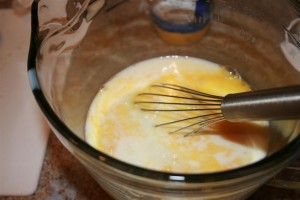 Mix well and then pour evenly over bread, sausage and cheese.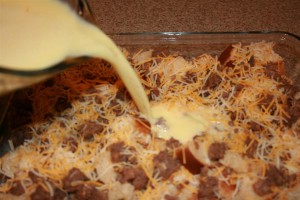 Cover with foil and refrigerate overnight.
In the morning, preheat the oven to 325 if you're using a glass pan,
or 350 if you're using  a metal pan.  I prefer glass.
While oven heats up, pour one can cream of mushroom soup and 1/2 cup milk into a bowl.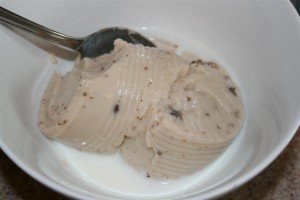 Mix together and spread over egg and bread mixture.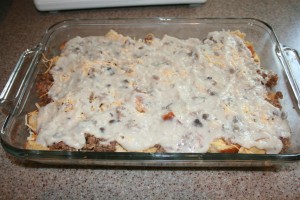 Place pan in oven and bake for 1 hour.
Remember:
325 degrees for a glass pan
350 for a metal pan.
When it's done, pull it out of the oven, and good luck keeping people from eating it while they wait for the meal to begin!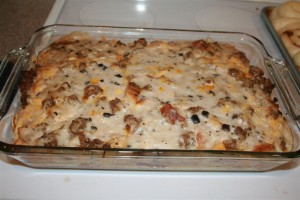 Let stand about 5 minutes, then slice and serve!
Sorry I don't have a great picture.  Everyone was too hungry!
Enjoy!