Grapefruit Slush
This is a recipe that my Aunt shared with me a few years ago.
In my recipe book it's written on a 3×5 card in her handwriting.  I like that.
I've modified it just a little, but it's super yummy.  It has more substance and less sugar than the  Slush that I grew up eating.
And it's so pretty!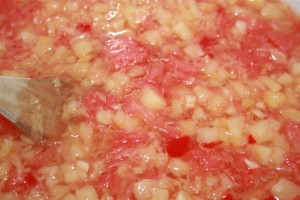 The recipe is very simple.  You just have to make it at least 24 hours before you want to serve it so that it has time to freeze.
First, combine 3 cups sugar and 3 cups water in a saucepan.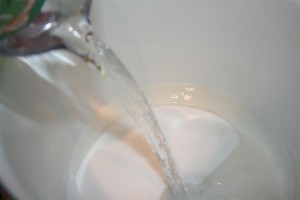 Bring to a rolling boil for 2 minutes and remove from the heat to cool.
Meanwhile, open two cans of grapefruit.  With a fork, remove the grapefruit from the cans while preserving as much juice as possible.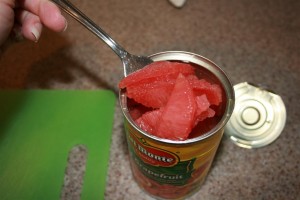 Place the grapefruit sections on a cutting board.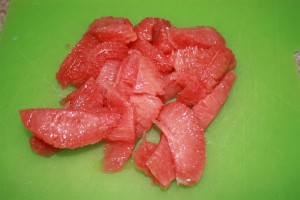 Slice the grapefruit into small pieces.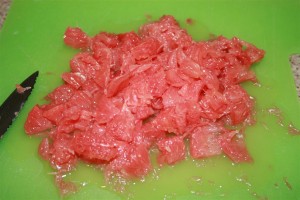 Put the grapefruit back into the cans.  Drain the juice from a bottle of maraschino cherries.
Pour them onto a cutting board.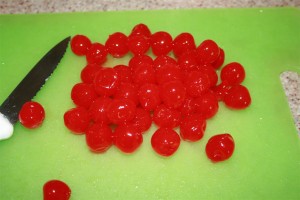 Now chop them up!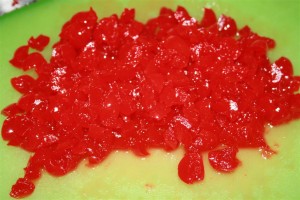 When the sugar syrup has cooled, add the grapefruit to it.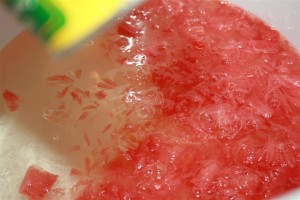 Then add the chopped cherries.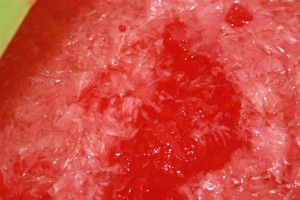 Now open two cans of crushed pineapple and dump them in.  No draining!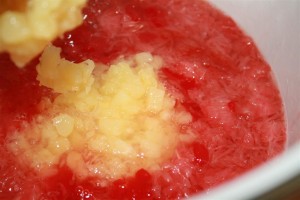 Stir it together.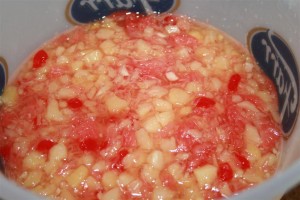 Pour the slush into a large freezer-safe container.
I like to save the big plastic buckets that we sometimes buy ice cream in.
They are perfect for freezing things like this.
Now freeze the slush for 24 hours or until firm.
To serve, remove from freezer and let soften until you can scoop it.
Place slush in a cup and add some 7-UP or Sprite.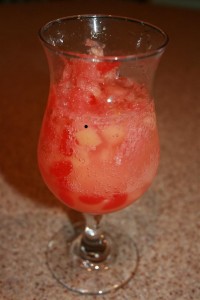 Grab a spoon and enjoy!
This is a great summertime refresher.
Here's the recipe:
Grapefruit Slush
3 cups sugar
3 cups water
2 cans grapefruit sections (around 14 oz.)
1 jar maraschino cherries
2 cans crushed pineapple (20 oz.)
2 liters 7-Up or Sprite (you could also use ginger ale)
Combine sugar and water in large saucepan and bring to a boil.
Boil for 2 minutes and remove from heat to cool.
Remove grapefruit from cans, reserving juice, and chop.
Drain jar of maraschino cherries.  Chop cherries into small pieces.
When sugar syrup has cooled somewhat, add grapefruit and grapefruit juice.
Add maraschino cherries.  Open cans of pineapple and add.
Stir well.  Pour into large freezer-safe container and freeze 24 hours or until firm.
To serve, thaw slush at room temperature for 10-15 minutes.
Spoon in to glasses, top with 7-UP or Sprite.
Enjoy!
Makes about 1 gallon of slush.