Happy Flag Day!
Is it a holiday at your house?
It's a holiday at mine!  June 14th.
Today is Flag Day!
I just want to wish you a happy one.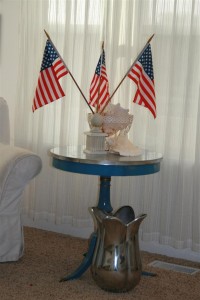 What is it about the red, white and blue?
I could go on and on about how much I love the flag of the United States of America.
For me, summer is about a lot of things, and the flag is undoubtedly one of them.
For me, red, white and blue are the colors of summer.
At the beginning of June I start craving the sight of flags, and Flag Day is a great excuse for me to start celebrating!
I can't help it, flags start popping up all over my house.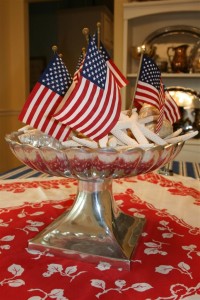 I start sticking them anywhere it pleases me.
I just love the sight of the flag.
It represents so much.
Sacrifice.  History.
My heart swells with gratitude every time I see the flag unfurled to the breeze.
It really is sacred to me.
Today, I invite you to ponder for a moment what the flag means to you.
Learn a little more about proper use and care of the flag, if you need a brush up.
And if you have a flag, PLEASE get it out!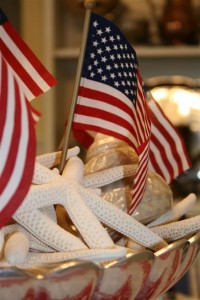 Have a wonderful holiday!