Grilled Eggplant Burritos
These burritos were my husband's request for his birthday dinner this week.
They're packed with flavor and soooo delicious!
Start by rinsing 2 medium zucchini and 1 eggplant, then slicing them into long strips.
I double the amount for my large family.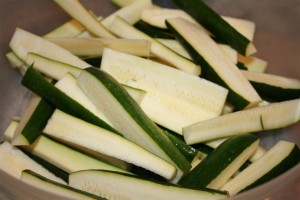 I usually do the zucchini first and the eggplant second because the eggplant will brown a little.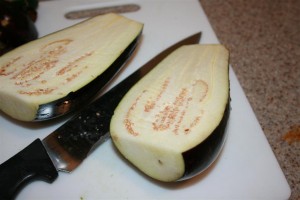 Don't peel the eggplant; just slice away.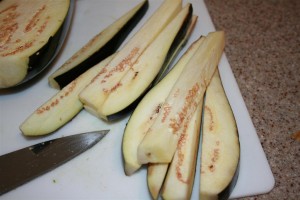 Place the vegetables in a large shallow bowl so you can marinate them.
For the marinade, pour 1/2 cup vegetable oil, 1 cup 7-UP or Sprite, 1/2 cup soy sauce and 3/4 cup lemon juice over the vegetables.
Now chop 2 cloves of garlic and add them as well.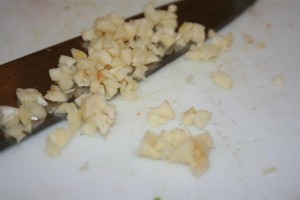 Thinly slice 1/2 cup green onions to add to the mix.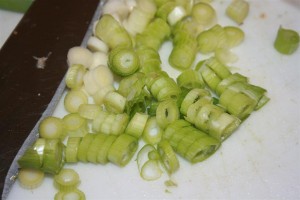 Now add 1/2 cup chopped cilantro and add it, too.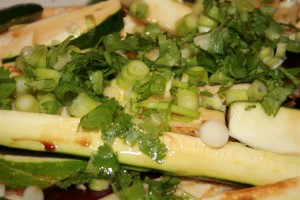 Sprinkle on about 1/4 teaspoon ground ginger and 1 teaspoon ground cumin.
Mix it all up, then cover and refrigerate.  I like to let the veggies marinate for several hours, and I try to get them out and mix them up every hour or so.  That way they have tons of flavor when you grill them later.
Now, I think this meal is fantastic without any meat, but because he requested it and because I love him, I marinated some chicken tenders in the same marinade (same recipe, I mean; different bowl) for the meal.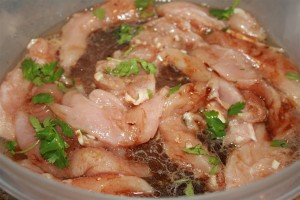 Cover and refrigerate that, as well.
Shortly before we started grilling, I prepped the rice.  You'll need 1/2 cup cilantro, the zest of 1 lime, 1/2 cup sliced green onions and 1 or 2 cloves minced garlic.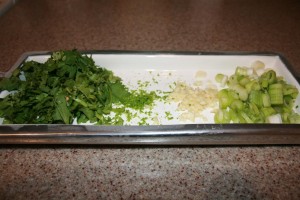 You'll also want a couple of tablespoons of fresh lime juice.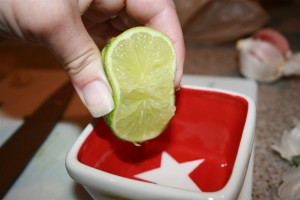 In a small skillet, melt 2 tablespoons of butter and add the onions and garlic.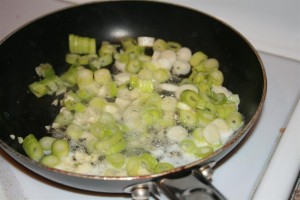 While the onions are cooking, fill a large pan with 4 1/2 cups of water and add 4 teaspoons chicken bullion.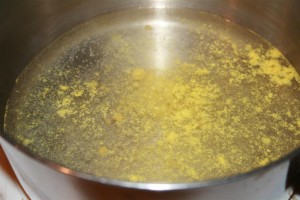 Bring it to a boil.  When the onions and garlic look nice and browned like this, remove them from the heat.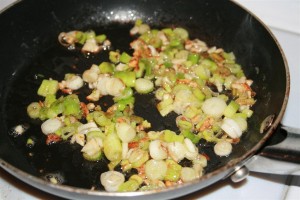 As soon as the water is boiling, pour in 3 cups of rice,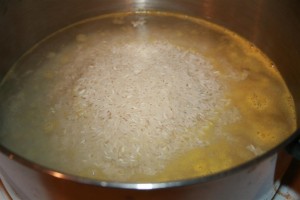 add the green onions and garlic,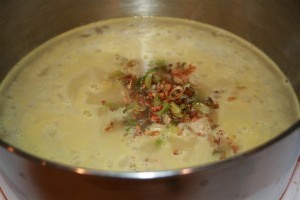 1 can of diced green chiles,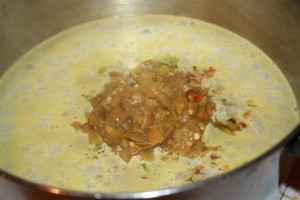 the lime juice,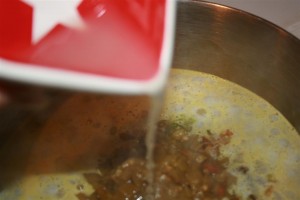 and the lime zest and chopped cilantro.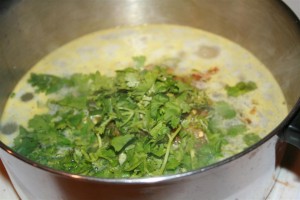 Mix it up, then reduce the heat and simmer for 15-20 minutes or until the rice is tender and looks like this.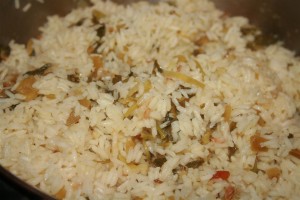 You'll want to grab a fork and just start eating, but resist.  You still have vegetables to grill.  And the wait will be more than worth it.
Fire up your BBQ and put the chicken and vegetables on to cook.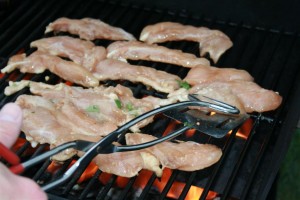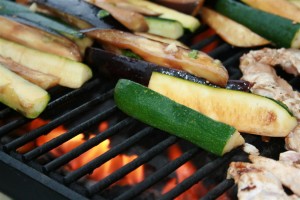 Grill the chicken until it is done.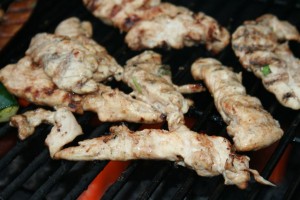 and the vegetables until they look like this.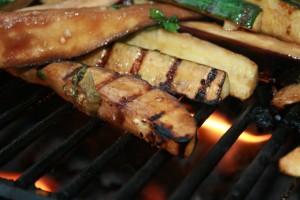 Remove them from the heat, placing the chicken in one bowl and the vegetables in another.
Cut the chicken and vegetables into bite sized pieces.  (Kitchen shears come in handy right about now.)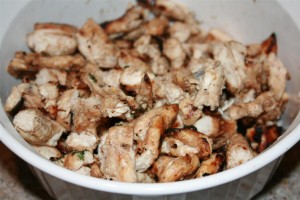 Delicious!  And the vegetables look fabulous too.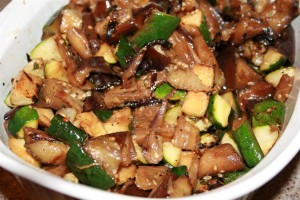 You'll be amazed at how much flavor the eggplant absorbed.  It will be strong but tasty, and the more mellow flavor of the zucchini will balance it out.
Now for the assembly.  On a tortilla, layer rice then vegetables and chicken.  We top it with salsa and sour cream.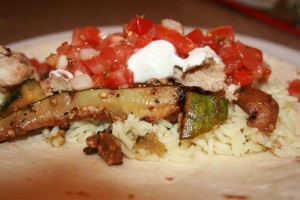 Wrap it up and have at it!  You won't regret it!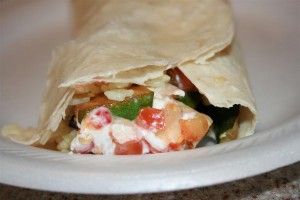 Tip:  if you have leftover eggplant and zucchini, it's tasty on top of hamburgers, too.  Good flavor.  But if your house is like mine, you don't stand much chance of getting to try it.  Or, if you don't want to make burritos, you can add some tortilla chips and serve it taco salad style.  It's delicious many ways, but our favorite is the burritos.
Enjoy!
Grilled Eggplant Burritos
2 medium zucchini
1 eggplant
1/2 cup vegetable oil
1 cup 7-Up or Sprite
1/2 cup soy sauce
3/4 cup lemon juice
1/2 cup sliced green onions
1/2 cup chopped cilantro
2 cloves garlic, chopped
1/4 tsp. ground ginger
1 tsp. ground cumin
Rinse and slice zucchini and eggplant in long strips.  Place in large shallow bowl.  Pour remaining ingredients over vegetables and mix to marinate.  Cover and refrigerate 4 or 5 hours, mixing once an hour if possible.  If you want to do chicken as well, then mix another batch of marinade and marinate chicken the same way.
for the rice:
4 1/2 cups water
4 tsp. chicken bullion
3 cups rice
2 cloves garlic, chopped
1/2 cup chopped green onions
zest of one lime
2 Tb. fresh lime juice
1/2 cup chopped cilantro
1 can diced green chiles
In small skillet, saute garlic and green onions in 2 Tb. butter.  Meanwhile, heat water in pan and add bullion.  Add rice, garlic, green onions, lime zest, lime juice, cilantro and chiles.  Bring to a boil, then reduce heat and simmer 15-20 minutes or until rice is cooked.
Remove vegetables (and chicken, if applicable) from refrigerator and grill until done.  Cut into bite sized pieces.  On flour tortillas, layer rice, vegetables, chicken, sour cream and fresh salsa.  Wrap and enjoy!