Cupcakes and Friends
My girls had some friends over earlier this week, and I let them loose in my kitchen for an adventure in baking cupcakes.
Part of me wishes that I'd taken pictures of them while they were making the cupcakes.  They had a great time.  But I think it was best that I didn't get the camera out until the end of the project because I think they would have been a little intimidated by the camera.  They would have felt more like they had to do it "right" and less like they could have fun.  So it all worked out well, I believe.  I just sat in the other room and listened as they mixed batter, poured it into muffin tins, baked, checked for doneness, mixed up frosting, decided how much sugar they should add to the frosting to make it thick enough, and on and on.  It was great.
And in the end, the cupcakes they produced were great, too.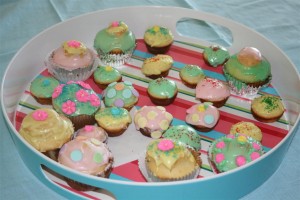 The icing set well, and they were very cheerfully decorated.  The cupcakes themselves even tasted good.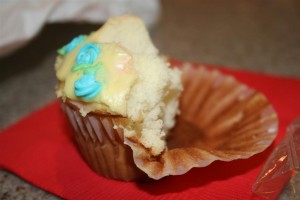 Best of all, we had five happy girls who were very proud of their creations.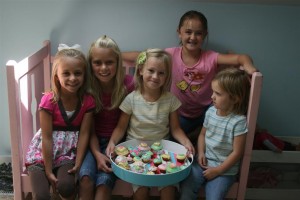 We also had an amazing kitchen counter when it was all said and done: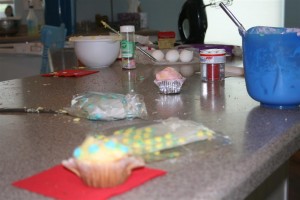 Have you ever seen a batter bowl like this?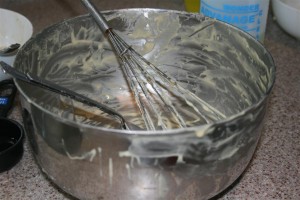 Yep.  We had a pretty decent mess.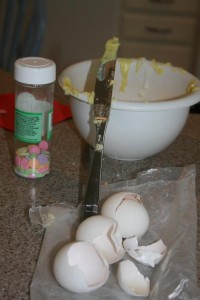 And some scrubbing to do.


We even had a few cupcakes that had been forgotten.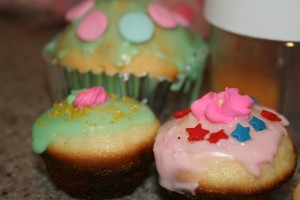 But more importantly, we had happy faces.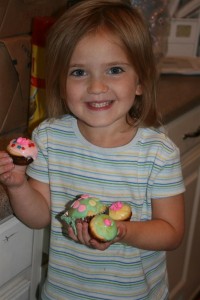 And a fun memory, not to mention sweet treats.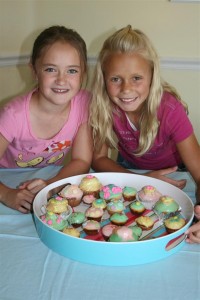 I also think they learned.  This was a building block in their baking skills experience.
It will help them get better at it.  (In fact, my girls baked some miniature cakes the next day for their dolls, and they did it in less time and with much less mess.)
Sometimes I forget that learning makes some messes.  But we get better at it, if we keep trying.
It gets easier to clean up, and we make fewer messes as we learn and grow.   But isn't it wonderful that we can try?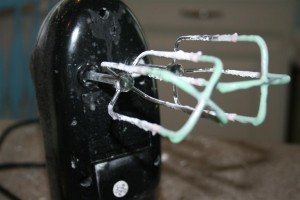 I know that I make a lot of messes, both in my kitchen and in many other aspects of life.
I'm grateful I can keep trying and make fewer messes as I improve.
And hopefully, in the end, I'll have some yummy cupcakes to show for it.