The Giant Jam Sandwich
Fresh rolls and strawberry jam always make me want to read this book.
I think it is my favorite book from childhood.
I really love it.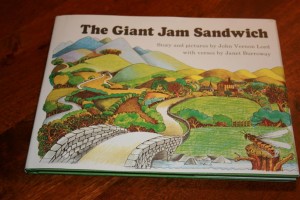 First published in 1972, I'm so glad it's still around.
It's called the Giant Jam Sandwich, by John Vernon Lord and Janet Burroway.
The story begins with this verse:
"One hot summer in Itching Down,

Four million wasps

flew into town."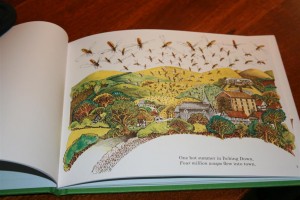 In a fun, rhyming, sing-song text the book chronicles the disruptions of the wasps.
The town gathers to find a solution, but no one has any good ideas.
Until… the baker suggests making a giant jam sandwich to catch the wasps.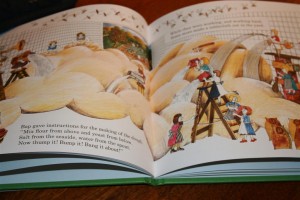 They set to work baking a two-story sized loaf of bread, which is then sliced
and hauled to a farmer's field where they spread out the jam.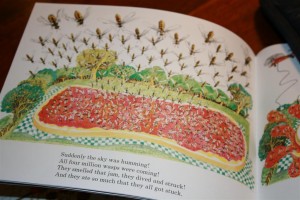 "Suddenly the sky was humming!
All four million wasps were coming!
They smelled that jam, they dived and struck!
And they ate so much that they all got stuck."
You learn how they ultimately get rid of the wasps and the wasp-filled sandwich, and the town returns to normal.  It's a great story of cooperation and creativity.
This book is so much fun to read aloud.   I have always loved reading it to my kids.
My children love finding silly things in the illustrations, like the farmer whose tractor is somehow flying with the help of balloons and a propeller.
In all my years as a mother, I have never met anyone who knows of this book, but I think it's a gem.
Enjoy your jam sandwiches!