Soup for Lunch
Picture this:  my 3 little ones have eaten and gone upstairs to play.  The baby is asleep and my husband is working from home.  I like moments like this, when there is a brief pause in the hubbub of a busy day.  The sun is shining, but it's cold and windy outside.
On most days, I don't eat much of a lunch.  Oh, I don't mean for it to happen that way, but more often than not, it does.  I get the food ready for everyone, and while they eat I sit down in the other room to feed the baby, and when she's done eating I go back to the now empty kitchen and clean up.  A couple of weeks ago I was so hungry around 8 pm and couldn't figure out why.  After all, I'd spent much of my day in the kitchen preparing food for everyone!  Then I realized that when the food was being eaten I was in the other room with the baby and I hadn't had a bite to eat all day!
Well, this day is different.  My pause was spent making lunch for my husband.  Leftover soup from last night, with crispy quesadillas made with provolone and cheddar cheese.  It was so nice to sit in the sunshine and eat!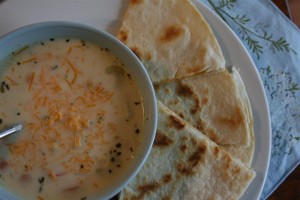 It made me happy just to look at it… the soup in my lovely blue bowl, one of my favorite vintage place mats, the color of the soup with the spices and a sprinkling of cheese on top… what is it with me and color?
The soup was made last night using mostly what was in my fridge.  No recipe, just a little of this and a little of that… but it tasted really good!  This is basically what I used:
Leftover Soup
1 cup chopped cooked chicken (it was originally cooked in lemon seasonings for a different recipe)
1 cup chopped steamed carrots (carrots were steamed with a little bit of butter and some green onions)
1 cup sweet corn
1 cup chopped celery
1 large russet potato, peeled and chopped
2 cups cooked fettuccini noodles, cut into 2 inch long pieces
1 can great northern beans
1 can evaporated milk
1/2 cup sour cream
1 1/2 teaspoons rosemary
1/2 teaspoon pepper
1/2 teaspoon basil
1 tsp. salt
3 tsp. chicken bullion
3 cups water
I brought the water to a boil, added the bullion, potato and celery.  Cooked until potato was tender.
I then added everything else except the milk and sour cream.  I heated it through and added the evaporated milk.    Heat and add sour cream.  Ladle into bowls and serve.  Garnish with a tablespoon of  shredded cheddar cheese.