Tomato Topped Chicken
There's nothing like a dish that looks beautiful and yet is simple to prepare.  This chicken has been a go-to recipe for me over and over again.  It also tastes delicious.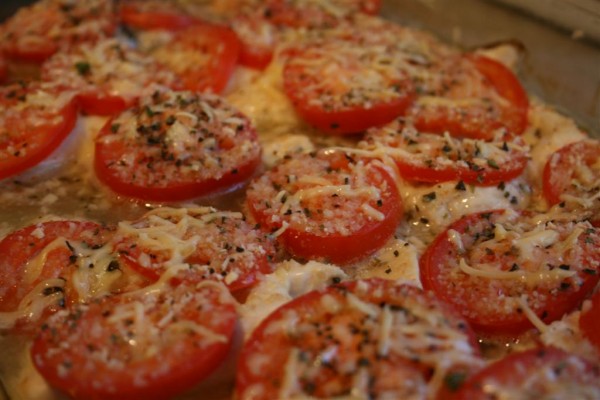 I like to use chicken tenders in this dish.  They allow for smaller servings (ideal for my children), they cook faster, and they don't dry out as much.  For this dish I use as many chicken tenders as it takes to cover the bottom of a glass 9×13 inch baking pan.  Then drizzle them with 1/2 cup Italian salad dressing.  Cover the pan with foil and bake at 400 degrees for 10 minutes.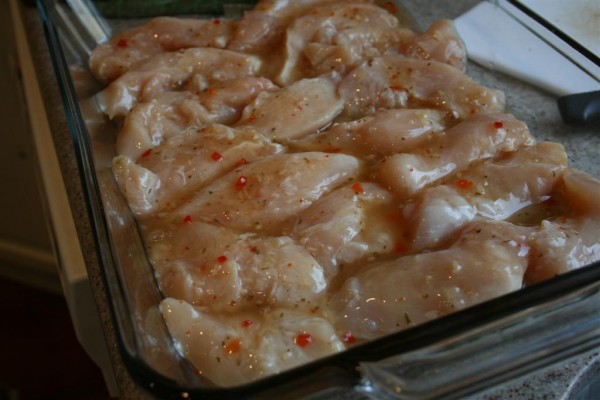 After ten minutes, remove the pan from the oven and cover the chicken with tomato slices, sliced about 1/4 inch thick.  I like to use Roma tomatoes for this because their diameter tends to match the width of a chicken tender.  Then I sprinkle a little bit of grated Parmesan cheese over the tomatoes, followed by a sprinkling of dried basil, salt, pepper, and dried parsley.  Then I sprinkle just a touch of bread crumbs over it all.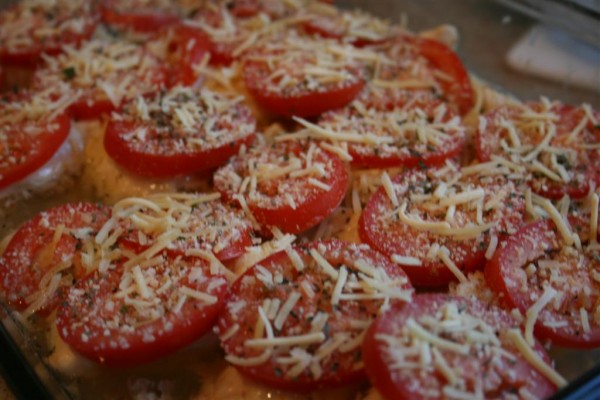 Now cover the pan with foil again and return to the oven for about 10 more minutes.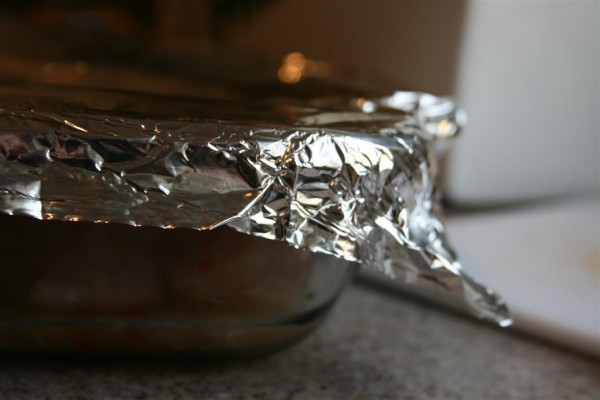 Remove the foil and continue to bake until the chicken is fully cooked and the cheese is melted.  (About 10 minutes more, but I usually check it when I take the foil off so I don't overcook.)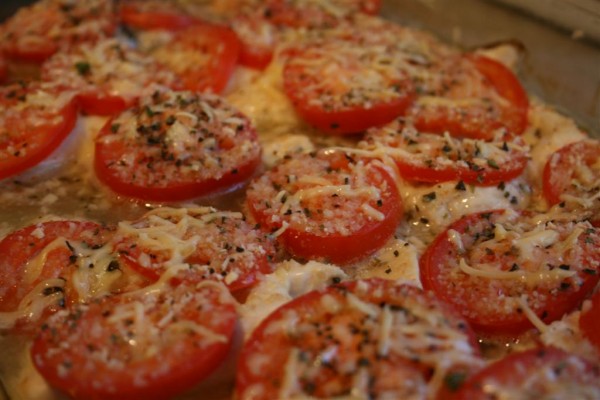 And that's it!  You're done.  A delicious, pretty main dish with just a handful of ingredients and almost no prep work.
Hope you like it!  Hint:  it's wonderful served with my Almond Rice Pilaf.
Tomato Topped Chicken
1.5 pounds chicken tenders
1/2 cup Italian salad dressing
4-5 Roma tomatoes, sliced 1/4 inch thick
1/4 to 1/3 cup grated Parmesan cheese
1 tsp. dried basil
1 tsp. dried parsley
1/2 tsp. salt
1/2 tsp. pepper
4 tsp. dried bread crumbs
Cover bottom of 9×13 inch baking dish with chicken tenders.  Drizzle salad dressing over chicken.  Cover with foil and bake at 400 for 10 minutes.  Meanwhile, slice tomatoes 1/4 inch thick.  Remove chicken from oven and layer tomatoes over the chicken tenders.  Sprinkle tomatoes with cheese, seasonings, and bread crumbs.  Cover and return to oven for 10 minutes more.  Uncover and bake 10 minutes longer or until chicken is fully cooked.  Enjoy!