Seven Months of Life
It's hard to believe that my little one is seven months old today.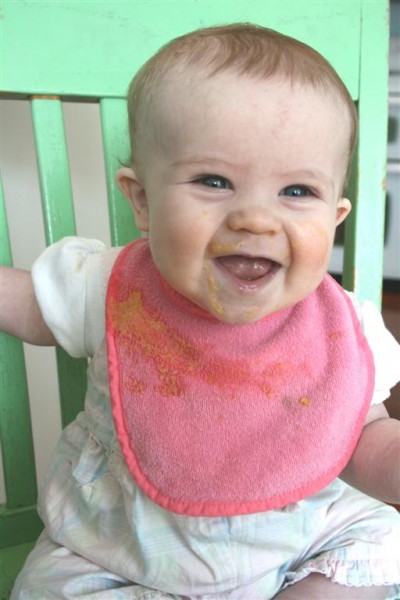 I had to snap a picture of her doing her favorite thing:  eating.  She gets so excited that her arms and legs are flying in every direction between bites, until she starts filling up and then she leans back and relaxes.  So funny!
I wish I could say it's been seven months of constant joy, but it hasn't.  It's been seven months of real life.  Seven months of trying to balance the lives of 8 children, each of whom is unique and has individual needs.  It's been seven months of learning, seven months of growing, seven months of reminding myself to treasure and remember as much of it as I possibly can.
So, for the record, here are some tidbits about her at seven months:
She likes to try and steal her two year old sister's pacifier when she can get to it.
Her whole body wiggles with joy when she sees me.
She likes to stand on her head (picture a baby on head and toes with bum in the air).
She likes to pound on her toys.
She enjoys her Dad's music.
She can't get enough of watching her big brothers and sisters.
She loves to move around, and will zero in on something and go for it (which means I'm vacuuming A LOT).
She laughs when people sneeze.  (Seriously, she really gets a chuckle out of it, and will notice it even if no one else does.)
She's sleeping through the night (for the past 5 days).  Hooray!
So far there isn't a baby food she's tasted that she hasn't liked.  This is a departure from most of my children who refused to eat baby food.  It made them gag.  I'm wondering if she's going to turn into a little chunk.
In all, she's adorable.  She makes all of us smile.  I'm so excited to show her the miracle of spring, and to have her with us during the lazy days of summer.   She has brought so much joy to our home.  Life is good.
Jennifer