One Step Report #18
I started this blog a year ago.  Tonight's post is #301.  It's funny how I've taken to blogging in the past year.  I didn't anticipate how much I would enjoy it or what a healthy outlet it would be for me.   I also didn't realize how much it would help me keep commitments I make to myself.  All in all, it's been a good experience.
This week's report:  64 steps.  It was a good week.  In spite of the insanity of May's schedule I felt happy and calm, which means it was a good week for the rest of the family too.
Just for fun, here is the result of our attempt at a picture of  me with the kids today after church.  Gotta love it.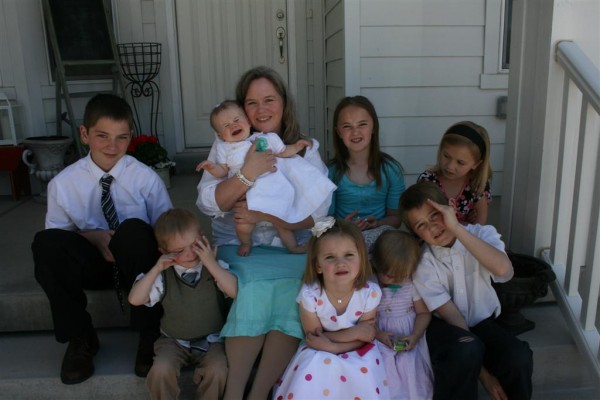 A few highlights from the week:
1.  The only medical issue we dealt with this week was the unexpected extraction of two abscessed teeth in one of our boys.  I'm happy to report that he now takes us seriously when we ask him to brush his teeth!
2.  It was a fun week with seven soccer games.  We enjoyed good weather and had a lot of fun.
3.  I am enjoying snatching minutes here and there to read.  Why I let that habit lapse is beyond me.
4.  I had a great visit with an old friend who was in town.  (Thanks, Andrea!)
5.  I enjoyed a good conversation with a friend about parenting.  I was inspired to say certain things that I'd never considered before and which taught me a lot.  It felt good.
6.  This week I felt happy to be a mother, undaunted by the laundry and toys that seem to cover my entire house, and motivated to learn.  I'm so excited for school to get out.  Three more weeks!
Have a great week!
Hopeful Homemaker