One Step Report #21
Greetings from Littleton Colorado!   Yes, we survived our last week of school and the drive to Denver.  In general, things worked out.  The cake actually tasted good, so it became the dessert we needed for the gymnastics dinner.  We ended up with enough clean clothes (barely) to get in the car (thanks to my sister's efforts in finding what we needed in the mountains of clean clothes).  There are plenty of little things I forgot, like my makeup which is sitting on my bathroom counter at home and our toothbrushes, which we bought more of.  In all honesty, I think I forgot my brain as well since I'm having a hard time thinking and speaking since I've been here, but at least I'm here.  The house didn't get clean, but I'll deal with that next week.  The drive was eventful enough to be memorable, but gratefully we were safe.  And let me just tell you, our kids said some hysterically funny things on that drive!
So we're here, loving every minute spent with grandparents and cousins, enjoying fabulous weather and the beauties of the foothills.  It's been so long since I've been here, I'd forgotten how pretty everything is.   I'm loving the flowers my parents have everywhere, making me regret my decision to leave these at the garden center a couple of weeks ago.  I love geraniums!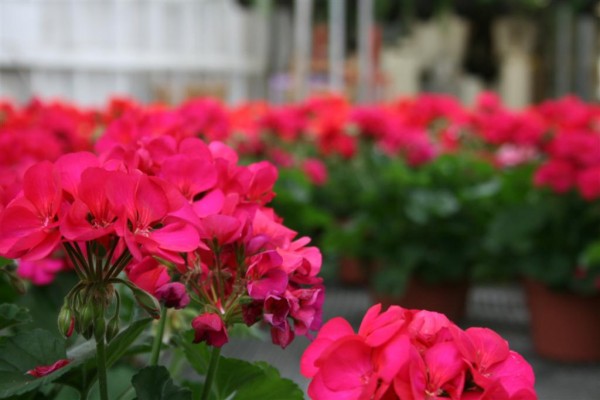 Ok, this week's report:  48 steps.  Good enough.  Some weeks it is enough to have lived through it all, and this was one of them.  It was pretty ugly, but it's over.
Highlights:
1.  Yesterday we attended the baptism of my niece.  Everything was wonderful and it was a privilege to be there.
2.  On Thursday I took my son to a soccer practice with a new team and a coach I'd never met.  It was amazing.  I was very impressed with the coach and feel thrilled to have my son play for him.  I feel like my prayers in this area of his life are being answered.
3.   Yesterday my mom, 2 sisters, sister-in-law and I went on a marathon shopping day together.  We had a great time, found some fun stuff, and completely exhausted ourselves.  It was so much fun.  I can't remember the last time I was able to do something with my mom and both of my sisters.
4.  Today I was able to visit for a few minutes with an old friend, which was refreshing.
5.  I'm feeling inspired and motivated by my sister's cute house.  I might actually get mine clean this week after being in hers.
6.  Yesterday morning a few of us jumped in a couple of cars and hit as many garage sales as we could find.  I found a couple of cute things that I'll share soon.
7.  I love working in my mom's kitchen with her.  She is amazing, and such an example of joyful service.
And with that short list, I'm headed to bed.  My baby didn't sleep much last night and I'm starting to fall asleep as I type.  I hope your week is great!
Hopeful Homemaker