Crunchy Poppyseed Chicken Salad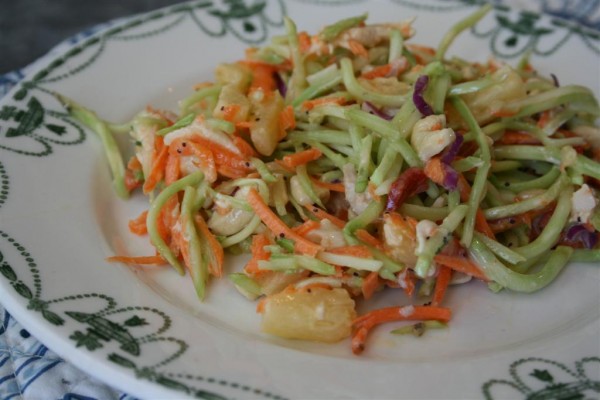 This salad tastes fresh, has a TON of flavor and crunch, and is very healthy.   I like to make it at lunchtime so I can eat it for lunch, then refrigerate the rest as a side salad for my family.  It's also a yummy main dish on those hot summer nights when you want something super light and healthy.
Crunchy Poppyseed Chicken Salad
4 cups broccoli slaw (1 package; these can be found in your produce section near the shredded carrots, etc.)
1-2 red bell peppers, chopped
2-4 medium carrots, grated
1 can pineapple tidbits, drained (I usually use the regular size, but you can use the little 8 oz cans if you like)
1-2 cups chopped cooked chicken
1/2 cup creamy poppyseed dressing (I use the Kraft special collections)
1/2 cup cashews
Combine broccoli slaw, red peppers, carrots, pineapple and chicken in a medium-large bowl.  Add dressing, toss to coat.  Sprinkle with cashews.  Serve.
Note:  this salad, unlike many, is also delicious as a leftover the next day.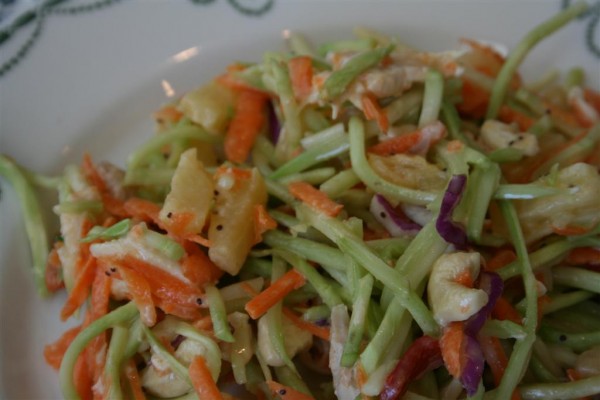 Hope you like it!
Hopeful Homemaker