Enchilada Pie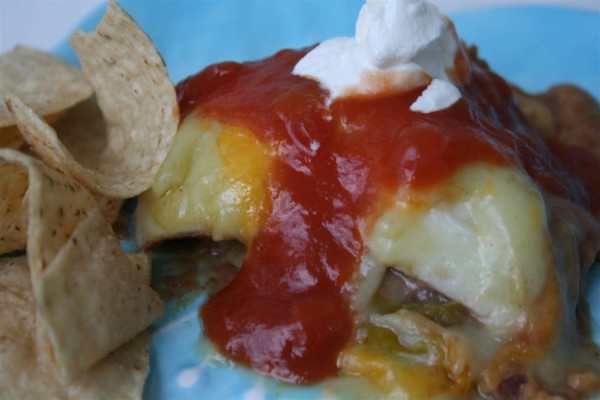 This is one of those simple, inexpensive recipes that you can put together in just a few minutes, especially if I'm using leftover rice.  It's also one of my food storage recipes.  It's certainly nothing fancy, but my children will eat it.  I simplified it recently, and am happy with the results.
Ingredients:
1 can refried beans
1 tsp. cumin
1 can enchilada sauce (I used green)
1 cup cooked rice
1 1/2 cups cheese
3 flour tortillas
In a small bowl, mix together refried beans, cumin and cooked rice.
Spread 1-2 tablespoons of enchilada sauce on the bottom of a pie pan.  Lay 1 flour tortilla on top of the enchilada sauce.  Spread 1/3 of the bean mixture over the tortilla, 1/3 of the remaining enchilada sauce over the bean mixture, and 1/2 cup shredded cheese over the sauce.  Cover cheese with another tortilla, and continue to layer in the same order.  Repeat layers one last time, finishing with the last 1/2 cup of cheese.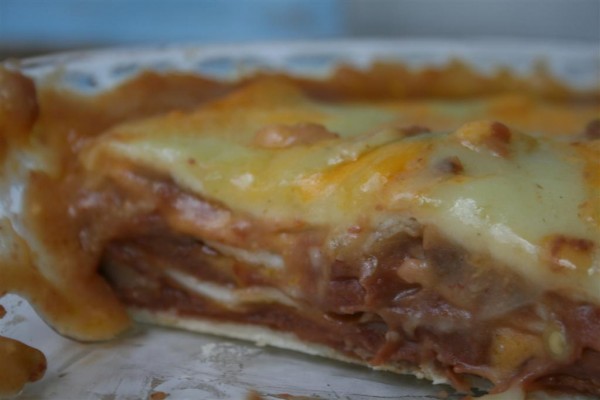 Bake in a 350 degree oven for about 20 minutes or until bubbly.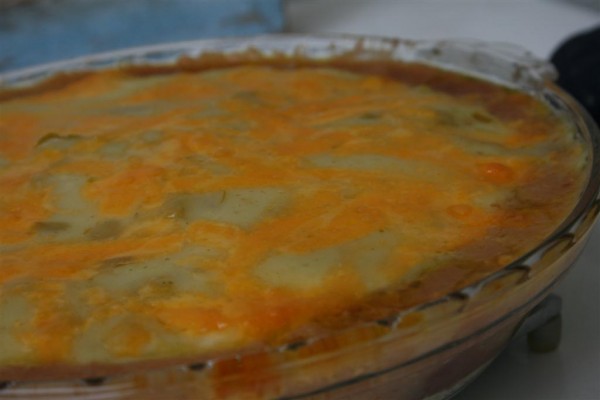 Serve with sour cream, salsa and chips.
Note:  if you're in a hurry and don't have cooked rice, you can skip it and it will still taste great.  I make two of these for my family, and one batch of my green enchilada sauce is sufficient for both.  In fact, I usually have enough sauce left to add a 4th tortilla on top.  I then pour the remaining enchilada sauce over the tortilla and sprinkle with cheese.
Enjoy!