Baked Fruit Salad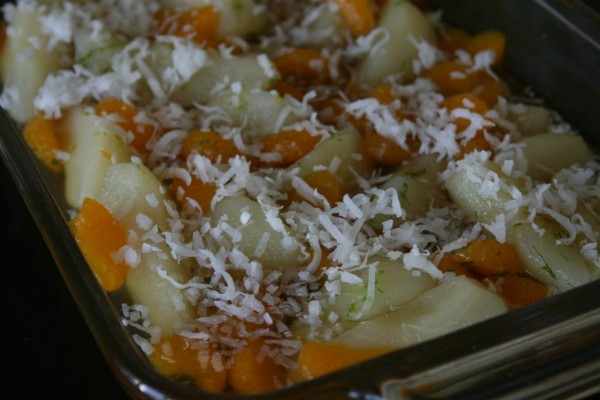 Served warm, this fruit salad has a surprising twist of flavor.  We like to serve it with brunch, but you could use it as a side for an evening meal.  It's nice to use in the winter when good fresh fruit is unavailable.
Baked Fruit Salad
1 can (29 oz) pear slices
1 can (11 oz) mandarin oranges
1/3 cup packed brown sugar
1/2 cup flaked coconut
1 tsp. lime zest
Drain mandarin oranges, discarding juice.  Drain pears, reserving 1/2 cup juice in a small bowl.  In an ungreased 11 x 7 inch baking pan, combine pear slices, mandarin oranges and lime zest.  Add brown sugar to pear juice and mix well. Pour over fruit.  Sprinkle with coconut.  Bake, uncovered at 350 for 20 minutes or until heated through.
My husband hates mandarin oranges but likes this salad because the lime zest adds unexpected flavor.  I like this salad because I tend to have all the ingredients on hand, which makes it easy to throw together.
Hope you enjoy it!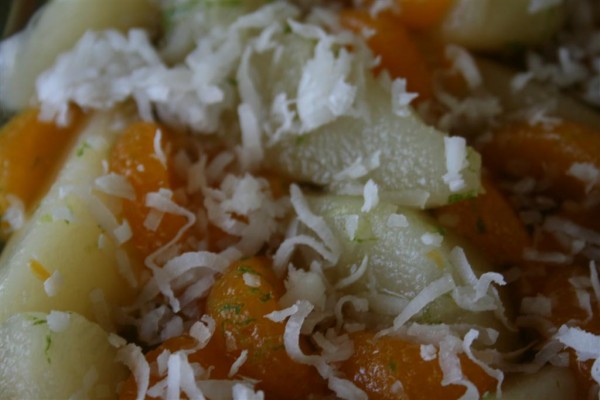 Hopeful Homemaker