Basil Shrimp Pasta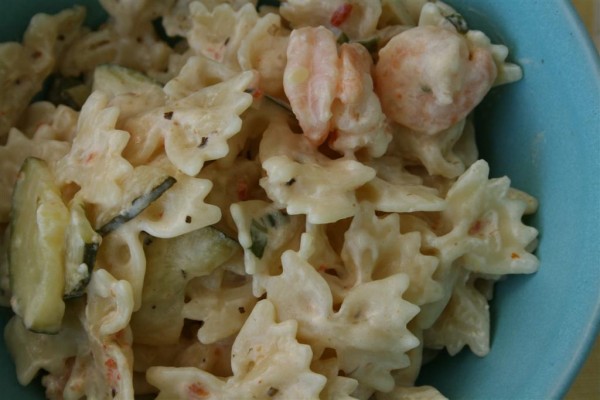 I made this for the first time at the beginning of the summer, and it was a hit.  A few minor adjustments and it's now a family favorite.  My six year old even requested it for her birthday dinner.
Basil Shrimp Pasta
Ingredients:
1 pound peeled, deveined, cooked shrimp.  (I use the 71-90 count.  They're smaller, which is great for my younger children and also allows more shrimp per bite without spending a fortune.)
1 medium zucchini, sliced and quartered
1 cup Kraft Sun Dried Tomato Salad Dressing
2 cups water
2 tsp. chicken bullion
8 oz. Neufchatel cheese
fresh basil (about 6-8 leaves)
1/3 cup parmesan cheese
3 cups uncooked farfalle (bow-tie pasta)
If you purchased frozen shrimp, thaw it.
Cook pasta according to directions on package.
Pour 3 Tb. Sun Dried Tomato dressing into a large skillet.  Add chopped zucchini and stir.  Cook over medium heat until zucchini is tender.
Add water, bullion and remaining salad dressing to skillet.  Cook for about 2 minutes, to heat through.  Add Neufchatel cheese and shrimp.  Cook and stir 2-3 minutes to heat shrimp and melt cheese.
Drain pasta and add to skillet.  Stir to coat pasta.  Slice basil leaves into thin strips.  Add basil and parmesan cheese to pasta, stir lightly.  Serve and enjoy!