Zesty Corn Salad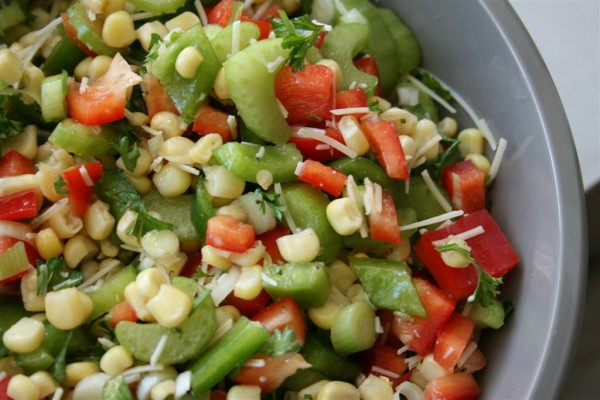 Yum.  Just looking at this picture makes me hungry for more of this salad.  It's healthy and it is PACKED with flavor and crunch.  You're gonna love it.
My mom shared this recipe with me many years ago, and it's been a favorite ever since.  My family likes a lot of Mexican style food, and adding this salad to the mix helps me to lighten it up, add more fresh veggies, and keep the meal as a whole more healthy.
Zesty Corn Salad
Ingredients:
2 cups frozen corn, thawed
1 cup diced green peppers
1 cup diced red bell peppers
1 cup diced celery
1/2 cup diced green onions
1/2 cup minced fresh parsley
1/3 cup shredded parmesan cheese
Dressing:
6 Tb. fresh lime juice
3 Tb. olive oil
1/2 tsp. garlic powder
2 tsp. cumin
1 1/2 tsp. salt
3/4 tsp. pepper
In a bowl, mix together vegetables, parsley and cheese.  In a small bowl, combine dressing ingredients.  Pour over vegetables.  Toss and serve.
This salad is even better the next day.  The veggies retain their crunch well but they absorb the spices much more and make it especially flavorful.
Hope you try it!
Hopeful Homemaker