Ice Cream Cone Party Favor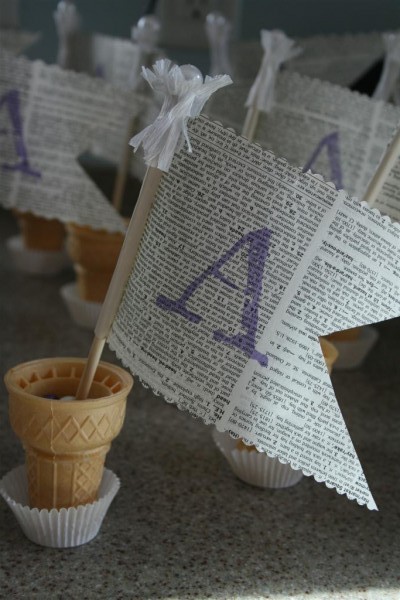 We made a cute party favor for my daughter's baptism last week.   I received a favor like this at one of my favorite local shops recently, and decided to personalize it for our special day.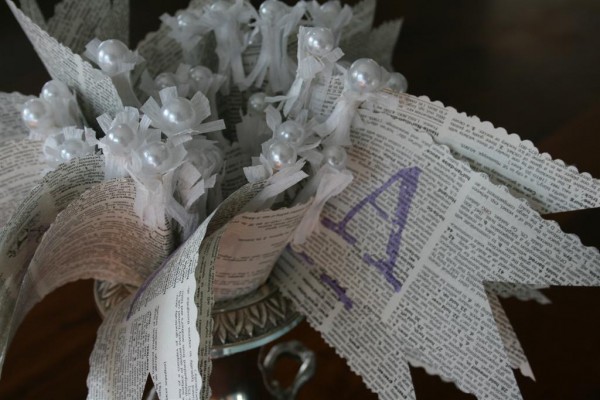 First we made the little flags.  This was a group effort, which made it a special memory.  My Dad cut the wood dowels to the right size for us while we cut the flags from an old dictionary.  My daughter and sister did much of the cutting.  The baptism girl stamped all of the purple "A" initials on each flag.  (We chose to make the type on the pages upside down so there wouldn't be any stress on the eye to decipher it.)  Next we hot-glued the paper to dowels, then added some crepe paper that we had cut slits in.  A pearl bead topped it off.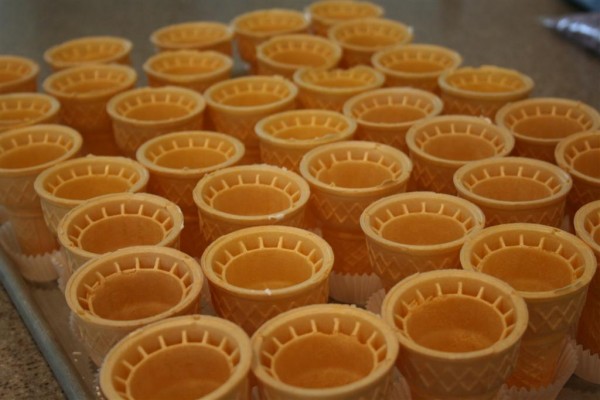 Ice cream cones served as our containers.  I feel like ice cream cones are often wobbly, so we dipped them in some vanilla candy coating and put them in miniature muffin papers to help them stand up straight without tipping over.  It did the trick, and none of them were wobbly.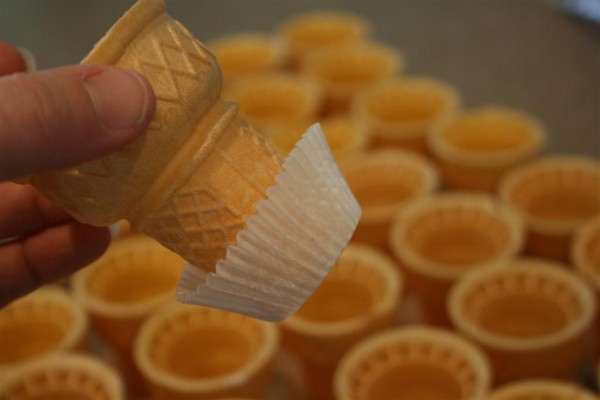 On the day of the baptism we simply placed a flag in each cup and filled it with m&m's in two shades of purple (her favorite color) and white (to celebrate the baptism).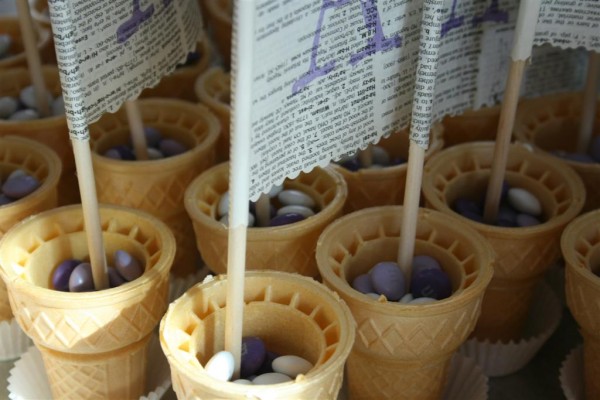 They were a fun way to add some visual flair to an ultra-simple luncheon.  Their grab-and-go style also made them easy to enjoy.  I just set them out on the counter and our guests enjoyed them as they wished.  It was also a simple way to make my daughter feel special and loved.  I think it worked.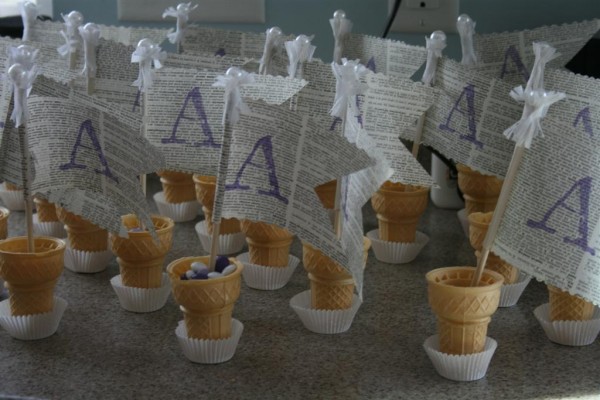 Inexpensive and whimsical, this would be a fun idea to use at a baby shower or birthday party.  You could also use it for the 4th of July with American flags in each ice cream cup.  You can fill the cups with any kind of candy:  jelly beans, m&m's or any other treat whose colors enhance your gathering.
One last tip:  it was a lot of fun to make these flags using old dictionary pages.  I found one at the thrift store that had really small type and pages that were thin and lightweight.  The paper is really fun to work with and I intend to use it with many future projects.  I'm pretty sure that every girl should have an old dictionary like this to be creative with.  Keep your eye out for one!  It's worth the $2.00.
Have a great day!
Jennifer