Christmas 2010 recap
There were so many memorable things about our trip to Denver for Christmas.
There are 34 of us in all (and counting!), and we were all together for the first time in more than two and a half years.
We played games, talked together, had pictures taken, played with the children.  And we cooked.  Lots and lots of food.  I intended to take pictures of so many things, but in the end I spent my time running from one thing to another, being a mom, cleaning, cooking, visiting.
We acted out the Nativity on Christmas Eve, letting everyone choose their parts.  I think we had four Marys and three Josephs.   It was short and sweet.  Very sweet.  Especially the angels.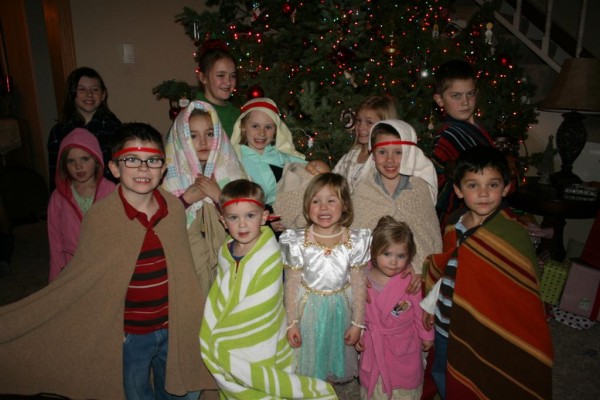 Then the children were tucked in bed, anticipating a visit from Santa.  Our poor baby threw up all night long, making for an interesting development in holiday activities.  Christmas morning dawned with my husband and I exhausted and the children excited.  I was in charge of the meals on Christmas day and in my worry about getting breakfast going I didn't even get a picture of all eight of my children on Christmas morning!  Shame on me.  Oh well.  Gratefully they were all happy with their gifts.
For what it's worth, these are my favorites among the shots I managed to take.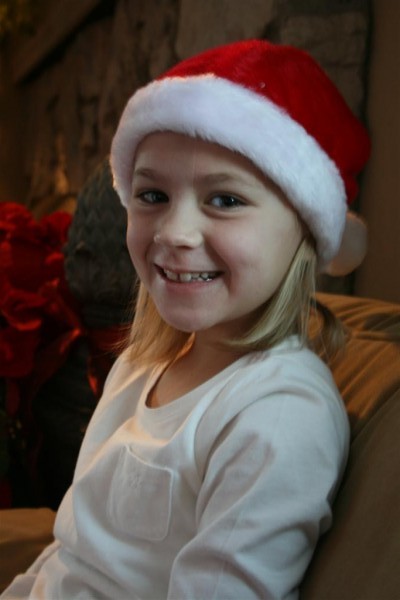 She'd asked for a Santa hat.  He shared one with her.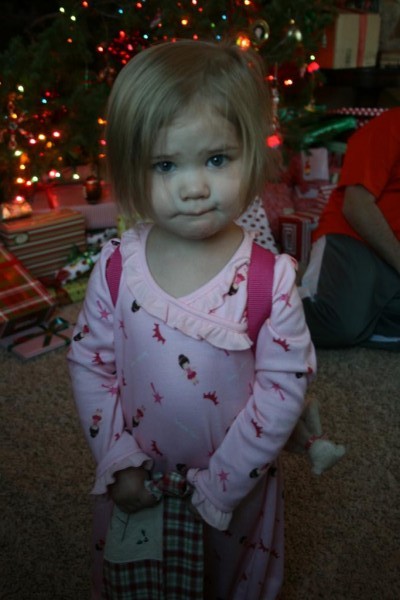 In her new pink nightgown.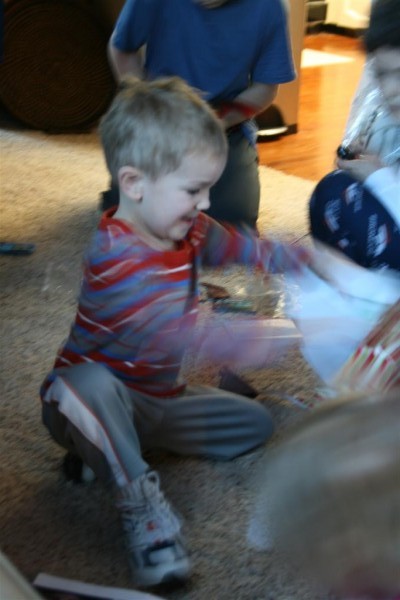 Tearing open gifts with lightning speed.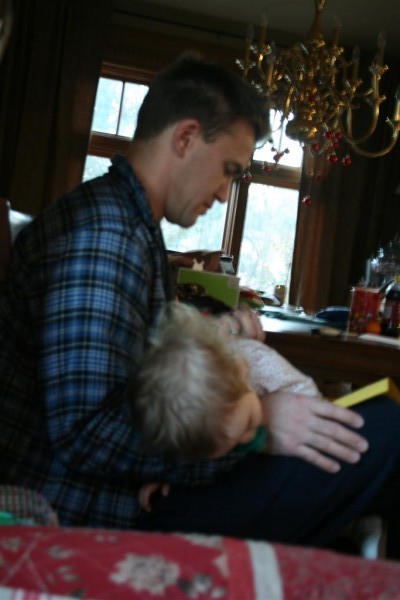 My awesome husband (above) held our vomiting baby ALL DAY LONG so I could oversee Christmas Dinner for 34 people.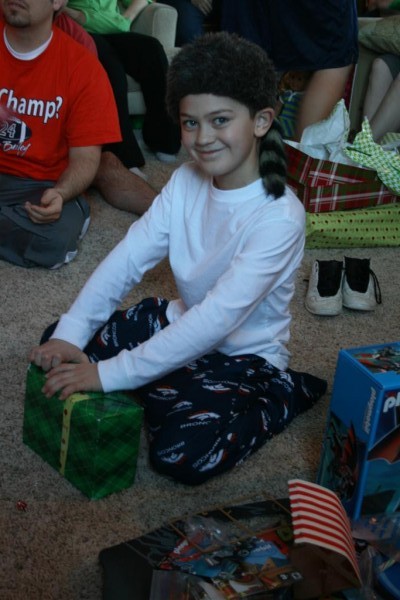 Denver Broncos pjs, a coonskin cap and playmobil toys.  Could a boy be happier?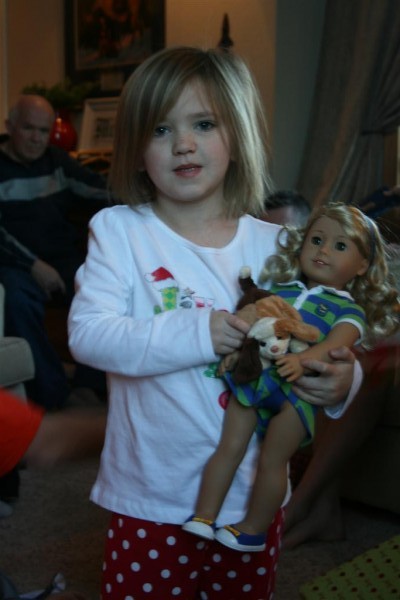 My six year old with her new doll.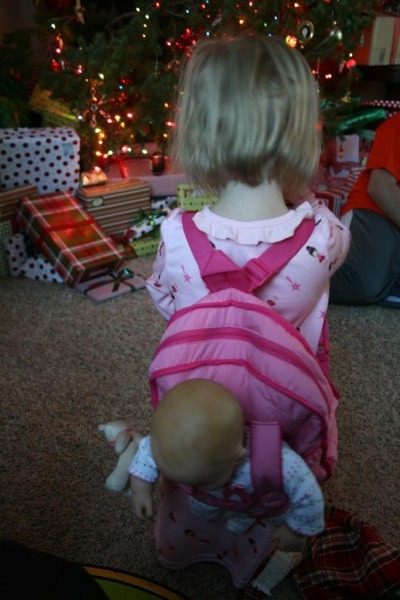 My three year old with her new bitty baby and backpack.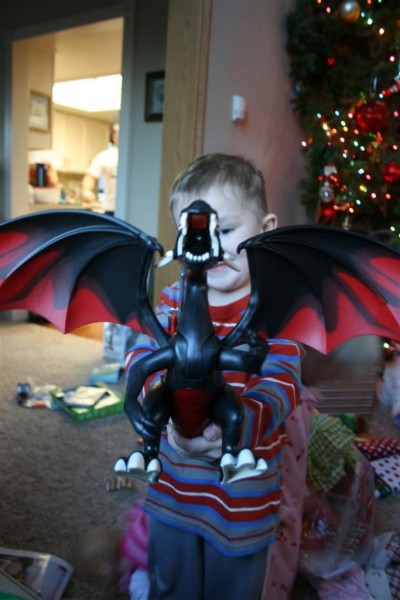 The dreamed of dragon now belongs to this boy!
The best part might have come at the last.  My husband hid our oldest son's gift in the closet next to the broom.  We were all opening gifts when he asked our son to grab the broom and sweep up a little mess.  Of course, the response was "I didn't make that mess."  We asked again.  After some convincing, he reluctantly went to get the broom.
I wish I'd thought to turn on my flash sooner, but these blurry shots still capture the essence of what followed.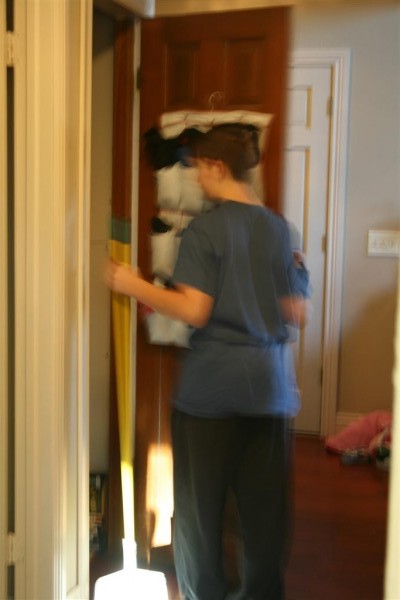 The broom came out and he almost turned and walked away.  Instead he did a double take.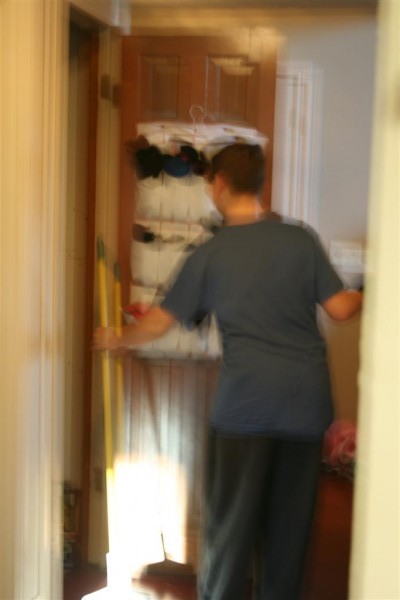 He sets the broom down and leans back against the wall in disbelief.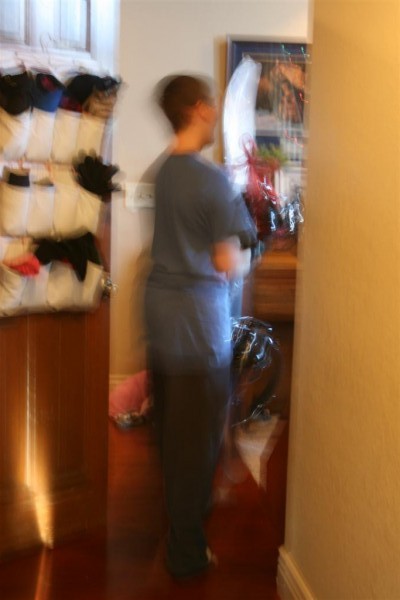 Finally he reaches into the closet and pulls out a new snowboard with his name on it.  He walks to the entryway where he stops to laugh in surprise and joy (and his mom gets her camera working properly… why didn't we video tape this?).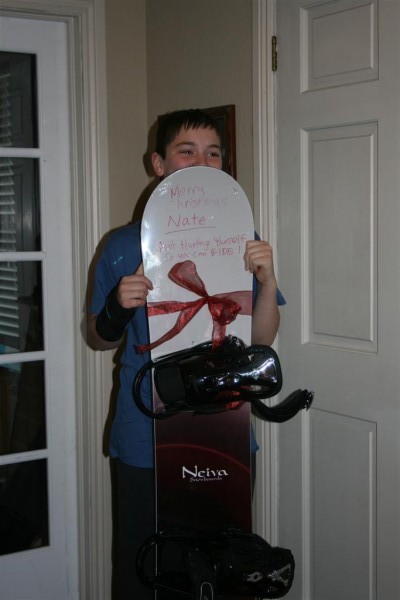 While his Dad stands across the room laughing and smiling that smile that only comes when you do something wonderful for someone because you love them wholeheartedly.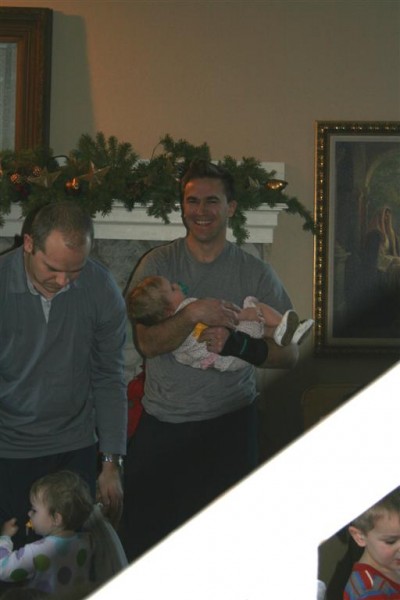 And then I went to the kitchen and before I knew it Christmas was over.  But it was awesome.
Jennifer