Bacon, Asparagus and Cheese Sandwiches
I like funerals.
I was thinking last week that I know more people who have passed away in the past six months than I know people who've had a baby in the same six months.  Is that a function of my age, or are a lot of people dying?
I don't like people dying, but I do like funerals.  I have never been sorry to have attended one, and I've always learned something inspiring.  I also like all the stories and memories that surround them.  I was reminded of this at the viewing for my Dad's cousin on Monday night.  You learn so many things about people and make so many connections when you attend events of this kind.  As sad as they are, they're uppers in their own strange way.  They remind you what really matters in life.
When I was at my Aunt's funeral at the end of January, I learned something about my Dad that I'd never heard before.  He started telling her four sons about how, when their mother died while they were still kids, Aunt Laurie was the one who went to the kitchen and prepared some of the meals that their recently deceased Mom had made for the family.  He spoke of how comforting it was to him, how it made home feel more like home, how much it meant to him and to their Dad.
Then my cousin asked, "What did she make?"
His reply:  "Bacon, Asparagus and Cheese sandwiches."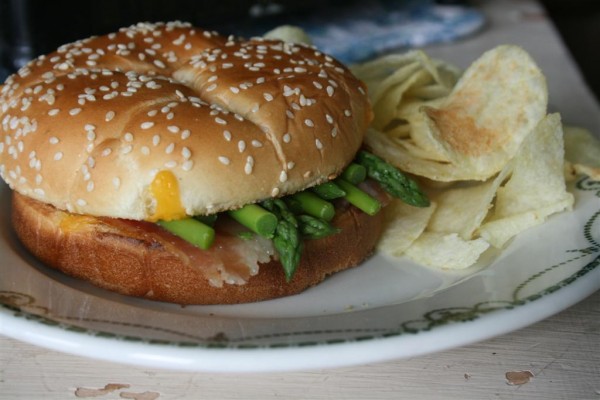 And they all smiled.  They said it was her favorite food all her life, that she would make dinner for the family and then make one of these sandwiches for herself.
My sister and I looked at each other and said, "We've never heard that before!"
So I made some for my family and told them, "This is something that your Grandpa Sheffield ate when he was growing up."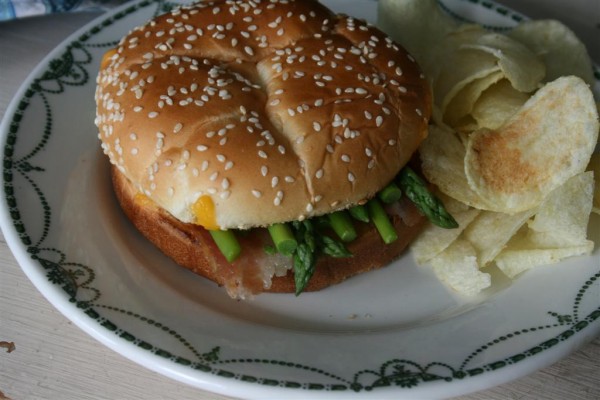 Ingredients:
1 lb. asparagus (I went for super thin so they would be easy for my children to bite)
1 lb. bacon
shredded cheese
hamburger buns
I steamed the asparagus and cooked the bacon.  Then I sprinkled cheese on the insides of the hamburger buns and broiled them until the cheese was bubbly.
Then I cut the bacon strips in half, placed two on the bun and put a bunch of asparagus on top.  Add the top of the bun and you're done.
And guess what?  My family LOVED them.  A few of them aren't partial to the asparagus, but that's no surprise.  In general they were a big hit.  Even my husband was impressed.
Who knew that a long forgotten story of comfort food could turn out to be a new favorite?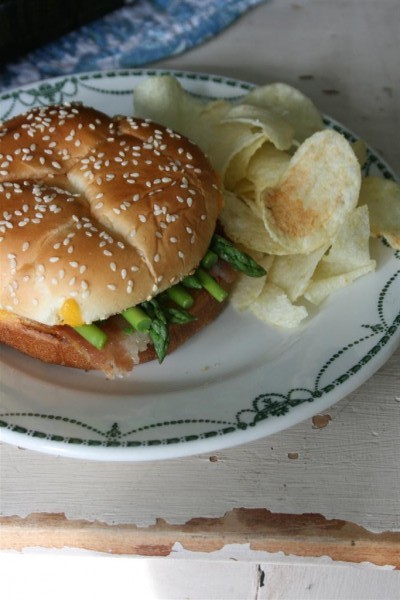 As I said, you learn some great things at funerals.  And occasionally you get a new recipe.
Hopeful Homemaker