Curried Cashew Salad
This might be the most amazing salad I've ever tasted.  The layering of flavors is incredible.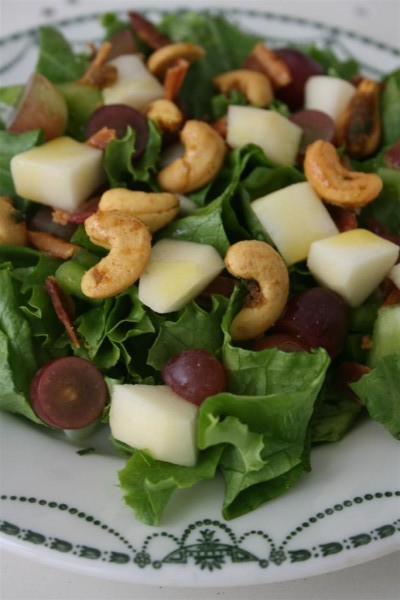 Don't be intimidated by the long list of ingredients!  It's really easy to make, especially if you cook the bacon and prepare the cashews in advance.  If you do that, then it's no more chopping than your average salad.
There is something for everyone in this salad.  The salty crunch of bacon, the sweetness of pears and grapes, a bit of onion, and the curried cashews have a nice bite to them, yet the curry is toned down by the brown sugar and other spices.  I was surprised by how much my family loved this salad.  Everyone wanted third or fourth helpings.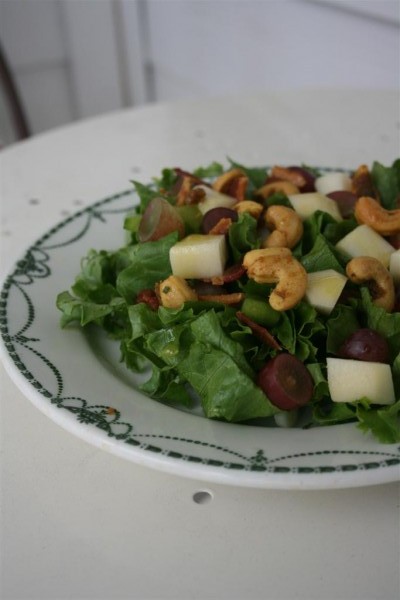 Curried Cashew Salad
Ingredients:
5 slices bacon, cooked until crisp
3/4 cup cashews or cashew halves
1 Tb.  butter
1 Tb. brown sugar
1 tsp. finely chopped fresh rosemary
1 tsp. curry powder
1/2 tsp. salt
1/2 tsp. cayenne pepper
1 large pear
1 cup red grapes, sliced in half
1 large bunch green or red leaf lettuce
1/4 cup chopped green onions
1/4 cup finely chopped green pepper
dressing ingredients:
3 Tb. white wine vinegar
3 Tb. Dijon mustard
2 Tb. honey
1/2 cup olive oil
salt and pepper to taste
Preparation:
Cook bacon until crisp.  Remove from pan, cool on paper towels.  Crumble and set aside
For the curried cashews:  In a small microwaveable bowl, melt butter.  Add brown sugar, rosemary, curry powder, cayenne pepper and salt.  Mix together well.  If mixture seems to get thick quickly, re-heat in microwave for 5-7 seconds.  Add cashews and stir to coat nuts.  Set aside to cool.
For the dressing:  Combine all dressing ingredients and mix vigorously with a small wire whisk until oil is fully combined with the other ingredients.  Note:  you might want to double the dressing ingredients if your family likes a lot of dressing, or if everyone will be serving their own dressing.
For the salad:  This salad is prettiest served in a wide, shallow bowl or platter.  Cut or tear lettuce and arrange in serving dish.  Sprinkle green onion and green peppers over lettuce.  Sprinkle with grapes and crumbled bacon.  Carefully slice pear into 1/2 inch (or slightly bigger) cubes.  You can peel the pear or leave skin on, depending on your preference.  Garnish salad with pear cubes and finally, sprinkle with curried cashews.  Depending on your tastes, drizzle salad dressing over salad, or reserve in small dish for individual servings.  Serve immediately.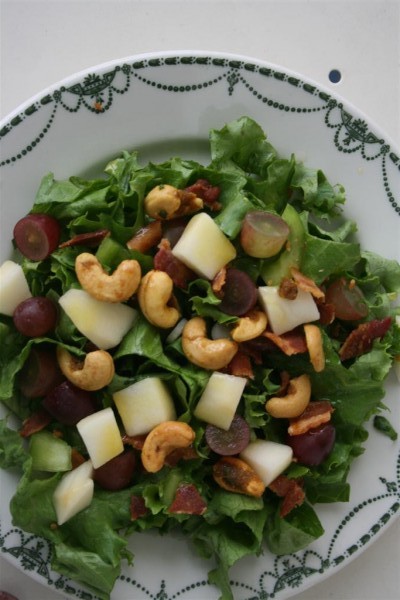 Additional notes:  This salad would also be the perfect start to a formal dinner.  In that case, prepare individual salads on salad plates.  On the other end of the spectrum, I have small children, so when I served this salad to my family I reserved the cashews and offered them in a separate bowl.  That way only those children that were interested in adding a bit of spice to the salad had the nuts (thus leaving more for my husband, and sparing us a crying two year old!)  Interestingly, as family members commented on how the nuts really rounded out the whole salad, almost everyone tried the curried cashews and no one complained that they were too spicy.
I hope you love this recipe like we do!
Jennifer