Sashiko Embroidery
Once upon a time I loved embroidery and always had a project going.  Then all of a sudden I had so many little ones who wanted my lap every time I looked like I might sit down that I let the hobby go.  Lately, however, (and also as my children get bigger) I've found myself looking with interest again at various embroidery projects.
Early in the summer I came across some photos of Sashiko embroidery samplers.  Sashiko is a Japanese style embroidery and I was intrigued, so I ordered a couple of them.  It wasn't until we went to the beach that I finally started one.  Interestingly, as I took my first few stitches I was sitting outside near the sidewalk watching my children play and a woman in her 70's walked by in a group.  She glanced at me and said, "Is that Sashiko?"  I was completely surprised by her comment, answered that yes, it was, and it was my first attempt.  She said, "You'll love it!" and kept walking.
So I finally finished it and she was right.  I love it.  It's easy, relaxing and fun.  I like the graphic design and it was really fun to stitch something on navy colored linen.




The question now is what to do with it?  I was originally planning on a pillow of some kind, but when I'm honest with myself I have to admit that more pillows in this house merely means picking more things up off the floor.  They NEVER stay where I put them, and they usually end up with something unsightly wiped across them.   Making a pillow sort of flies in the face of my mission to simplify everything in our house this month.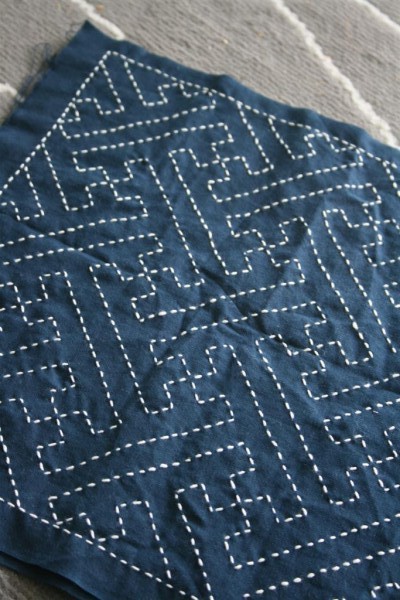 So now I'm wondering how it might look as the center block in a quilt.  Hmmm.  It might just work.  What do you think?