Last letter pillow
My mom's birthday was last month.  It seems as we get older that the perfect gift is something we really cannot grant.  We wish we could give something large enough to erase a burden or fix a worry and all the little things we buy just don't seem sufficient.  My mom is also in a stage where she's working enough that there is little time left for other things, so much of what I see when I shop for her just seems like another empty "thing" that doesn't really mean much.
This year I really wanted to do something special.  I knew it would have to be small, but I wanted so much to offer a gift from the heart.  And then it arrived, about six weeks after her death, a note from my Grandmother (my mother's mother) to my son, who is the oldest great-grandson on that side.  It was a birthday note, very sweet in it's own right, but much sweeter because it came after she was gone.  Even my big strong teenager son had the sense to be touched by it all, and he tucked it away for safe keeping, perhaps the first time he's done that in his life.
My mom misses her parents so much.  Her Dad died last summer, and her mom passed away on July 5th of this year.  I can see the missing on her face when anyone speaks of them.
Slowly an idea formed.  The last line of the note was so touching, and it was  a great sentence to remember my Grandmother by.  I went to the copy center, enlarged it and prepared to embroider the words in her handwriting.  I wanted to make a pillow, but not a cutesy pillow.  I wanted one that looks classy, which is totally my mom's style, and one that would look at home in her house.  I also wanted something that would work in whatever room she might choose to put it.    Finally I settled on a piece of wide striped fabric and went to work.
Here it is:




I feel so good about it!  Just the quote, on two of the stripes, placed in the upper left hand corner of the pillow.  No coordinating fabrics, no borders, nothing else.  Simple and straightforward.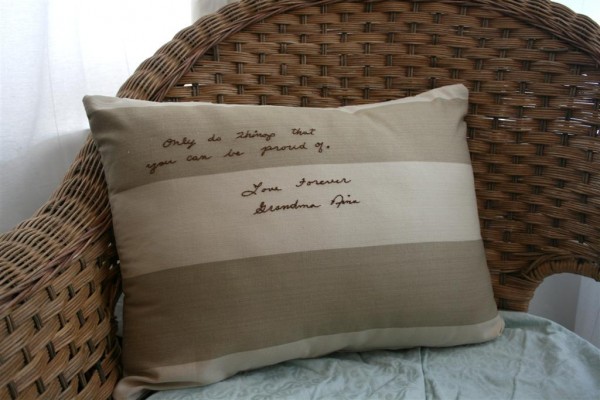 I placed the embroidery where it would be easily seen and read by someone standing nearby.  I tried to highlight the "Love Forever Grandma Nina" because it was most likely the last thing she ever wrote, and I know that she really does love all of us forever, especially her daughters.  I loved the way, even at the last, some of her handwriting was still hers.  The "love" is exactly how she always wrote it, and the "N" in Nina is her N.  My embroidery isn't a perfect rendering, but I hope it comes close enough.  I wanted my Mom to have all of that in some simple, everyday way.  And I do hope that all of us will only do things we can be proud of.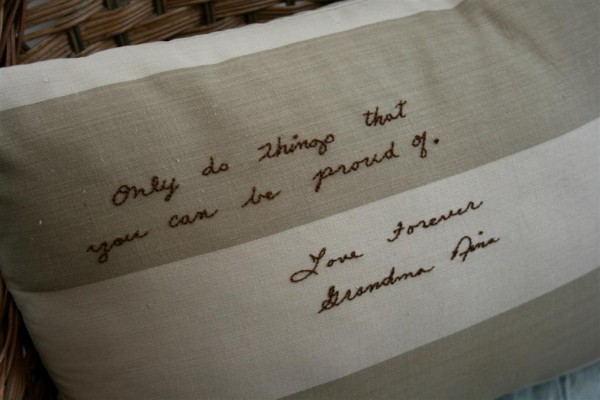 I was able to give my Mom her gift in person, along with a couple of pillow covers I made to update the colors on her family room couch.  It felt so good to give her a hug and to watch her open it, then slowly register what it was.  I love my parents so much.  They're at a stage in life when it seems they should have much less to worry about, and yet it's still there, the stress of life and concern for those they love most.  I really hope this gift can be one small bright spot in some cloudy trials.  And it felt so good to me to give this gift!
Happy (late) Birthday, Mom!  And Grandma, we miss you so much!
Jennifer