Fourteen Years!
Fourteen years ago today, my oldest daughter was born.  What a gift the years have been, and how thankful we were to celebrate her birthday today.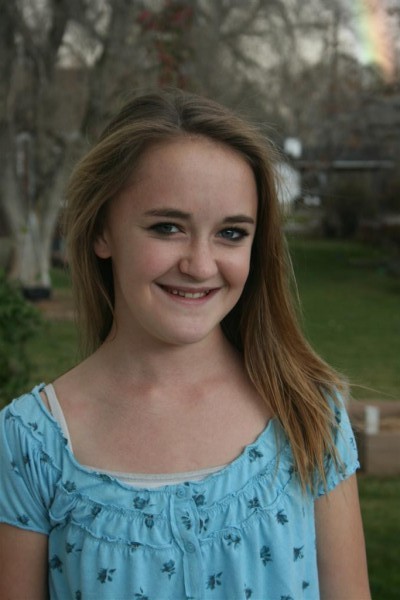 She is strong, beautiful, happy, spontaneous, smart and funny.  She has a natural tendency to enjoy being alive.  She's a dream come true and I love her heart.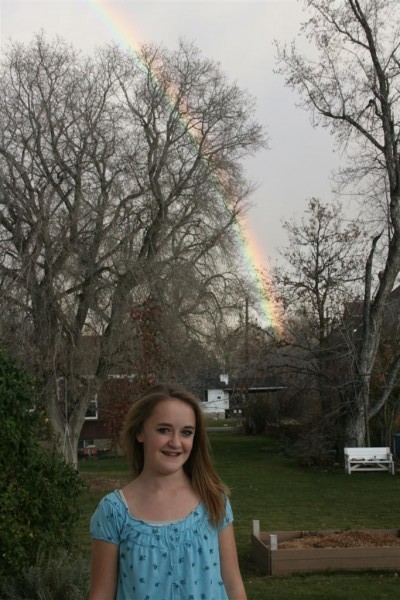 Notice the rainbow?  How often do you look outside on your birthday when it hasn't been raining and see a double rainbow in the sky?  We all went outside to watch it until it disappeared.
Yesterday we went shopping together for her birthday.  We picked up one of her friends and went to the BYU Women's soccer game – the first game I've ever attended for any sport that is part of the NCAA tournament, and this was a Sweet 16 game!  The rain kept to a drizzle and we had a fantastic time.  We found front row seats across from the Cougar bench and watched 110 minutes of  intense soccer, only to have the game still scoreless after two sudden death overtimes.  Next came a shootout in which both teams tied again, 3-3, followed by a second shootout, this one sudden death.  Both teams matched each other and then Marquette missed a shot, giving BYU an opportunity to win.  The shot was good, BYU won, everyone was screaming and jumping for joy, and they're in the Elite 8, which will also be played at home!  Going to that game was kind of a last minute addition to our weekend, something that complicated several other things but was such a great opportunity that I couldn't bear to have her miss it.   After watching her screaming and loving every minute of it, I realized that these seemingly small decisions to make time for special outings is an essential part of the memories we package together of our childhoods.  I watched her and thought that someday she'll be watching a game with her children and she'll tell them what it felt like, all those years ago, to be at that game.  I also realized how close she is to leaving home, how soon this swarming crowd of college students will be her world.  Oh, we made a priceless memory at that soccer game!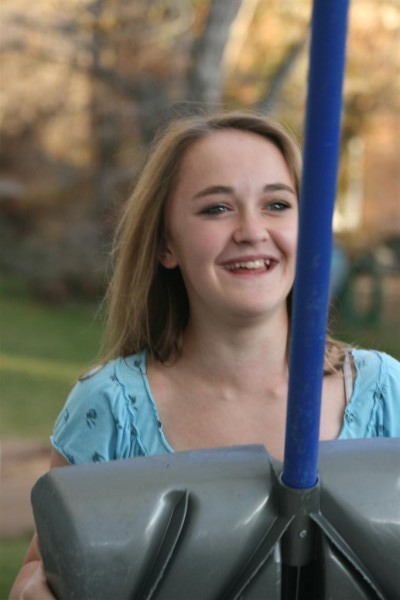 (Yes, in the picture above she's hugging a snow shovel.  She was messing around with her Dad.  It's so goofy but what I love about it is that it's totally her.  The smile – she's actually laughing – the light in her eyes, everything about it is who she really is.  She has this habit of striking a comical pose for all her pictures, so they're always funny but never really her.  I can't tell you how happy I was to snap this one.)
Today brought breakfast in bed, a new skirt to wear to church, ping pong in the basement with her Dad, and a game of chess with him as well.  I made one of her favorite meals for dinner topped off by what's become the norm for her:  dutch apple pie instead of cake.   It was a great day and I think my favorite part was the warm, genuine hug of thanks that she gave me.
I am not always the mother she needs or deserves, but I am so thankful to be her mother.  She has been a joy to me all her life.  I wish I could slow down these years just ahead, but I know we'll live them more like we're in front of a fire hose.  Today, at least, was a day to slow down and enjoy, and for that I am grateful.
Jennifer