How the day turned out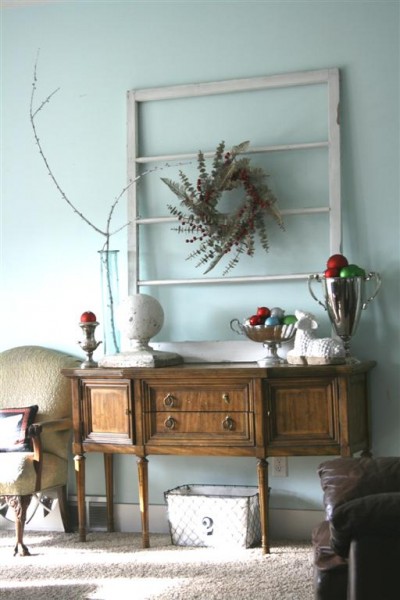 I wish the family room looked like this.  It looked like this last week, but tonight there is stuff everywhere.
I ought to finish decorating for Christmas.  I started last week when I had an hour to work on it but haven't made time for it since.  Part of me wants to keep it minimal, just so we can live with less "stuff" this month.  We'll see how it turns out!
We said good-bye to my parents this morning, then got the children off to school.   I took four of my girls to the dentist to have some work done and while we were there, ran into an old friend.  I found myself reflecting later in the day on how kind our children's dentist has always been to us, how his office is a safe place to be.  I felt prompted to ask a question while we were there today that ended up saving us $200.  I am so thankful.
While driving this afternoon I saw two girls, arms clasped, skipping down the sidewalk together.  The sight brought a smile to my face.
Our afternoon and evening took some twists and turns as various children, especially those with numb mouths, fell asleep on the couch.  Some would wake up after others fell asleep and it turned out that I had one or two people sleeping on the couch for six hours today.   At one point my three year old woke up and was very distraught so I sat down to hold her and she went back to sleep in my arms.  I looked at her lovely face and remembered how common it once was for me to hold sleeping babies.  It rarely happens now, and so I sat and enjoyed it.  There were a thousand things I could have run around and done, but it was good to sit and hold her.  Dinner was simpler than usual but there was a peaceful feeling in our home as everyone quietly accommodated others.
I finished reading a book today while holding my sleepy girl.  I don't know about you, but I always feel like I'm dragging myself out of another world when I finish a book.    This book was interesting and I'm eager to discuss it with the ladies in our family book club.  One thing it did for me:  I want to write.
I'm feeling grateful for our city library lately.  Without the pressure of a due date I have finished more books than I would have if I owned them.  For years I have avoided that library because it never has what I'm looking for, but this year  I've had great luck.
I was so proud of my husband today.  He received a hurtful email that someone meant to send to someone else, and it was about him!  He really could have gone after them for it,  but chose to be kind and forgiving.  Because of his choice, the individual had an opportunity to fix the situation and we've had lots to chuckle about since.
Tonight I read two of my all-time favorite Christmas stories to the children.  I always love the way they center our hearts in what really matters.
Some of my late afternoon nappers are now wide awake, keeping me company on the couch while their brothers and sisters sleep soundly upstairs.   It's nice to have company.
Life is good.
HH