The Trees of the Dancing Goats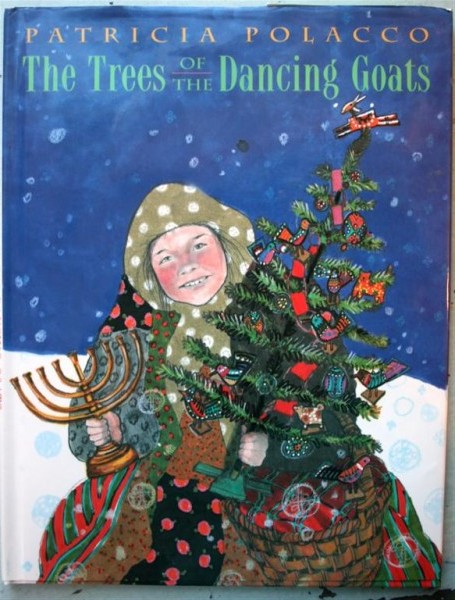 This gem of a story was another gift from a friend, and it makes me smile with joy each time I see it.  Patricia Polacco is a masterful storyteller, and her gift for weaving stories that mingle Jewish culture with Christian culture is marvelous.  I love everything about her work and this is no exception.

The Trees of the Dancing Goats

is the story of a small farming community in Michigan, told from the perspective of Trisha, a jewish girl.  Her family is excitedly preparing for their Hanukkah festivities and she tells of the traditions her Grandma and Grandpa work hard to keep alive.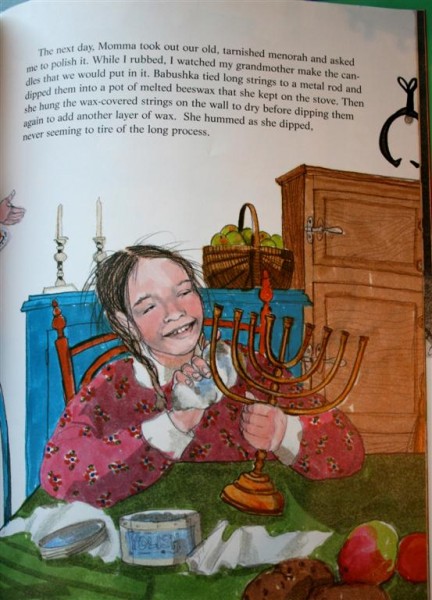 Her Grampa carved small wooden toys each year for the children and this year was no different.  When Trisha and her brother peeked at them, there were brightly colored dancing goats among the carvings.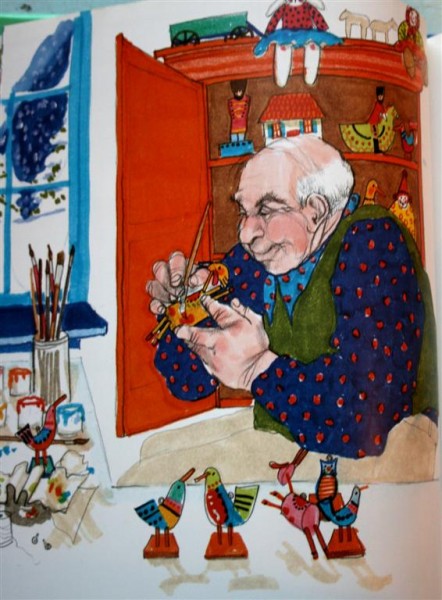 Soon, however, disturbing news came which dampened the excitement for the upcoming holiday.   Most of the neighboring families contracted scarlet fever, and much of the community was bedridden.  Trisha's friend Cherry and her family were among them, and Cherry cried with worry that Santa would forget them because they hadn't got a Christmas tree.  Trisha's family began their celebration and their Grampa handed them the first of their gifts with a troubled look on his face.  They began talking about their Christian neighbors and an idea came to them.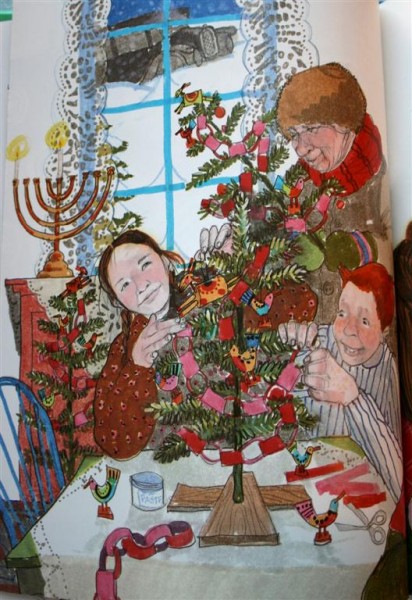 Excitedly they began their preparations, rushing out into the snow to cut small trees and decorate them with the wooden carvings.  They packed baskets of food and Trisha's grandparents went out into the darkness to pay some Santa visits to their neighbors, sneaking into their homes to deliver trees and food.
I love the beauty of the story, and a surprise visit from Cherry and her family at the end of the book shows a lovely feeling of reciprocity and respect between friends of different faiths.   Patricia Polacco's illustrations are vivid and full of character and this story she calls her "heart song" because it is written in memory of an incredible winter on her family's farm outside of Union City, Michigan when she was a girl.  I love knowing the story is based in her own experience.