Confirmed.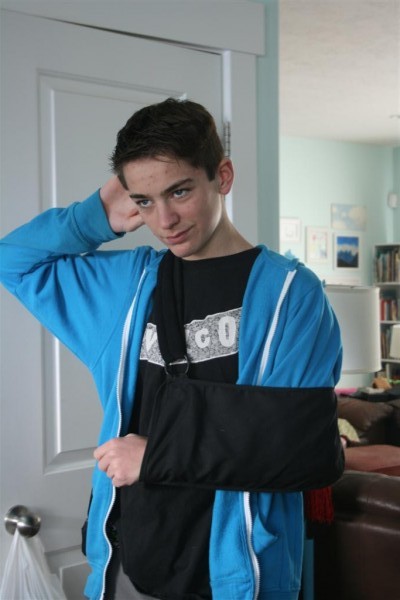 I can read his thoughts:  "If I stand here without looking at her, and try to keep the smirk off my face, and pretend to pose or scratch my neck or something, then maybe my crazy mother won't take this picture of this sling before she drives me to get a breakfast burrito and then to school?"
My verbal response to his unspoken thoughts:  "Don't worry.  Someday no one will believe the stories you tell them about all your broken everything and you'll have MY pictures to prove it."
Yup.  He's done it again.  Broken collarbone?  Check.  Collarbone separated from the shoulder in a second spot?  Check.    Snowboarding over Christmas break?  Nope.  And when our son pressed the doctor on this one, the response was simply, "Well, if you even bump this wrong before it heals, you won't be snowboarding for another three years."  And so our son was happy about a three

week

break awfully fast.  (We should have tipped the doctor for that!)  Three weeks or three years?  Well, even a fifteen year old can make that decision in a snap.  We don't want plates and several years of surgery to deal with on this one, so we'll just hope nobody decides to punch him in the shoulder at school this week.  And to think that he continued to snowboard with this injury, with his lung a tiny impact away from being punctured, for another SIX hours, kind of makes me sick.  And really grateful to the Lord for watching out for our stubborn, snowboard-loving son.
Did I mention that I love this kid?  So much.  I'm so sad for him, but I also shake my head and laugh.  What else is there to do?
Get some ice and ibuprofen, I suppose.  And update the family Christmas letter that I still haven't sent.  🙂
HH