Parmesan Zucchini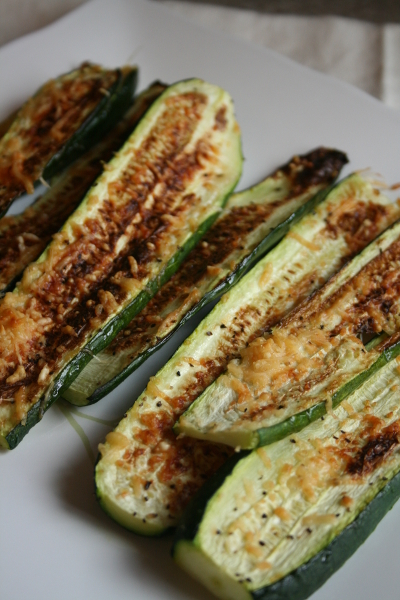 I know the common joke in late summer and early fall is that you can't get rid of all your zucchini, but I must admit that it's my favorite vegetable.  This simple recipe might just make it your favorite as well.   I'm pretty sure I could eat this three meals a day and not get tired of it, and I just might be saying that because I've done it.
Ingredients:
zucchini
1 Tb. olive oil
salt pepper
1/2 cup shredded Parmesan cheese
Preparation:
Rinse zucchini, cut off ends and then slice into thin ribbons.  Lay zucchini flat on parchment paper lined baking sheet.  Brush or drizzle with olive oil, then sprinkle generously with salt and pepper.  Sprinkle Parmesan cheese over zucchini.  Broil until cheese is crispy and zucchini is browning.  Try not to eat the whole pan before your family gets to the dinner table.  🙂
Note:  3-4 small to medium zucchini will fill one jelly roll sized pan, depending on how thinly you slice them.  The thinner the ribbons, the more crispy the zucchini will be.  At my house, three large pans of this dish is devoured in about 5 minutes!  It makes a perfect side dish, but I often make it for lunch too.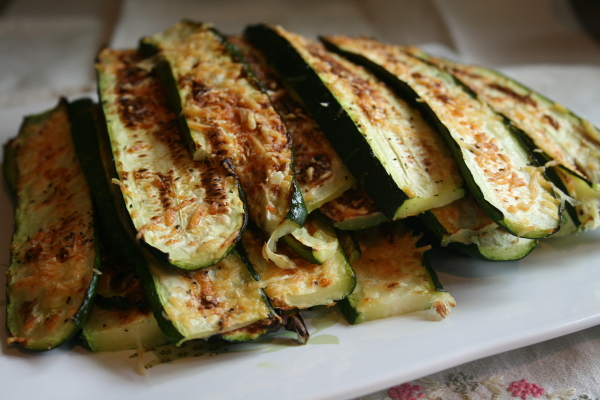 So go get some zucchini.  You'll thank me.
Have a great day!
Jennifer